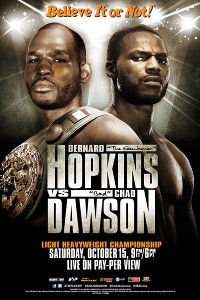 Welcome to SportsNation! On Tuesday, we're going inside the boxing ring when Chad Dawson stops by to chat about his WBC light heavyweight title fight this weekend, as he attempts to re-gain the belt.
Dawson (30-1, 17 KO) takes on Bernard Hopkins (52-5-2, 32 KO) for Hopkins' WBC belt. The fight will be live from the Staples Center in Los Angeles on Saturday at 9 p.m. ET/6 p.m. PT on HBO PPV.
Dawson made four successful WBC light heavyweight title defenses from 2007-09 before losing his belt to Jean Pascal in August 2010, for the first loss of his career. Hopkins fought Pascal to a draw last December before taking the championship from him in May. This fight will be his first title defense.
Send questions now and join Dawson Tuesday at 2 p.m. ET!
More Special Guests: Previous chats | SportsNation
Chad Dawson
(2:03 PM)
I appreciate the fans logging on and wondering about my training camp, and being interested in what's going on in my life! Ready to get started.
Peter (RI)
How long did you go to training camp for this fight?
Chad Dawson
(2:03 PM)
This has been a full eight-week training camp. Everything went great. I think it's the best one I've had in recent years. I have high expectations for this fight and am looking for a great victory.
Jason (Las Vegas)
How many rounds do you anticpate it taking for you to demolish Hopkins?
Chad Dawson
(2:04 PM)
I'm gonna go in and take my time and break him down. I'll test his body because it hasn't been tested in recent years. As soon as I have him where I want him, I'll go in for the kill.
KEvin (NYC)
how much do you want another shot against Pascal? Or is that all in the past?
Chad Dawson
(2:04 PM)
I definitely want to avenge that loss against Pascal. We'll see what happens after I beat Hopkins. Maybe we can do it after this fight, but maybe not -- there's a lot of great champions out there. Definitely in the near future.
Alan (Washington)
are you going in looking for a ko or are you prepared to go the distance?
Chad Dawson
(2:05 PM)
I'm prepared to go the distance, but my strength and conditioning are way up. We worked on building my jab up, and I have a great plan for the fight. The knockout is very possible, but a unanimous decision would be good too. It doesn't matter, so long as I come out with the victory.
Dave (Trenton, NJ)
How strict is your diet while you're in a training camp?
Chad Dawson
(2:06 PM)
I don't have any weight problems, so my diet isn't that strict, but a week before the fight, I cut back on bread, fried food, greasy food. This week, I'm drinking a lot of water, eating a lot of greens and baked foods, like chicken.
Stephen Rogers (Philly)
What do you eat when you cheat on your diet? Don't worry, I won't tell any of your coaches. Just between you and the Nation.
Chad Dawson
(2:07 PM)
I try not to cheat a lot, but I might slip in a slice of pizza, or a piece of a snickers bar. Other than that, I try to eat the right foods and do what's best for my body.
Mitch H. (Charlotte,NC)
What is your favorite city to box in?
Chad Dawson
(2:07 PM)
I've boxed in a lot of cities. I think Las Vegas was probably my favorite to fight in. I trained there for a while and made a lot of friends there. It's good to fight in a place where you have friends and people support you.
Darryl (New Haven, CT)
Do you have many opportunities to get back to New Haven?
Chad Dawson
(2:08 PM)
The last time I fought in Connecticut, the turnout wasn't so great, but hopefully in the near future we'll do a big fight in New Haven.
Aaron (St. Louis)
Do you see yourself ever moving up to heavyweight?
Chad Dawson
(2:09 PM)
That's another goal I have. In the next two or three years, I think I can contend at heavyweight. But I want to take care of business in the light heavyweight division first.
Timo (San Diego)
If you could go back in time and box anyone from history, who would you want to get in the ring with?
Chad Dawson
(2:10 PM)
That's a good question. I would definitely say Marvin Hagler, Tommy Hearns, Sugar Ray Leonard. If you can hang with those guys, you can say you were great. That's when boxing was boxing. You can't say that today.
Tim Heller (Orlando)
How long do you think you can stay boxing at such a high level? What do you think you'll do when your boxing days are over?
Chad Dawson
(2:11 PM)
I want to box at this level as long as I can. I don't see myself boxing past 35. Hopefully I have other things on my tray -- maybe commentating, some acting.
Thomas (Brooklyn)
Do you think Pacquiao and Mayweather will ever fight each other? Do you want to see it as much as us fans?
Chad Dawson
(2:11 PM)
I definitely want to see it, because I'm a fan of both of them! I think it will happen in the very near future.
Jeff (CT)
How excited are you to get a shot against a legend like Hopkins?
Chad Dawson
(2:12 PM)
I'm very excited to get this opportunity against a legend like Bernard. It's a fight I've wanted for the past two or three years. I want to make the best of it, and I'm looking forward to beating him.
Marc (Charlotte)
Do you prefer to grill with gas or charcoal?
Chad Dawson
(2:12 PM)
Gas!
Will (San Francisco)
Are you excited to be fighting in Los Angeles?
Chad Dawson
(2:13 PM)
Very excited. This is one of the places I've wanted to fight in for a long time. It's a great event and I'm very excited about the whole thing. Great weather, nice people -- it's a great feeling to be over here.
Chad Dawson
(2:14 PM)
Thanks to the fans, and it's gonna be a great night on October 15th. Looking forward to bringing the title back to my hometown!