Chat with Paulie Malignaggi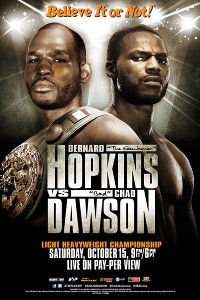 Welcome to SportsNation! On Thursday, we're going inside the boxing ring with welterweight Paulie Malignaggi as he prepares for his fight on Saturday.
Malignaggi (29-4, 6 KO) takes on Orlando Lora (28-1-1, 19 KO) as part of the undercard for the Bernard Hopkins-Chad Dawson title fight. The event will be live from the Staples Center in Los Angeles on Saturday at 9 p.m. ET/6 p.m. PT on HBO PPV.
Malignaggi is coming off of two straight wins, both coming at welterweight, following his move up from light welterweight. His first fight as a welterweight was a win over Michael Lozada in December 2010 when he was also fighting on a Hopkins undercard. It was Hopkins' first fight against Jean Pascal, whom he fought to a draw.
Send questions now and join Malignaggi Thursday at 4 p.m. ET!
More Special Guests: Previous chats | SportsNation
Buzzmaster
(4:02 PM)
Paulie should be here shortly to take your questions!
Buzzmaster
(4:06 PM)
We've got Paulie!
Jeff (Miami)
You're fighting on the undercard of Hopkins and Dawson....what do you think of the night's main event?
Paulie Malignaggi
(4:07 PM)
I think it's a fight between the two best light heavyweights in the world. I think it will be a tactical fight. You have to have the fight to knock one off to have a set guy at light heavyweight.
AW (PHX)
How are the hands Paulie? Good Luck on Saturday
Paulie Malignaggi
(4:07 PM)
The hands are better. I had a layoff due to injury after the last fight. I hope they remain healthy after Saturday so I won't have to have such a long layoff.
Chris Fiegler (Latham,NY)
What is your Favorite Sports Facillity to fight in?
Paulie Malignaggi
(4:08 PM)
I don't know. I enjoy fighting in New York, because I'm from there. Madison Square Garden is fun. I like the MGM Grand as well. The whole ring set up. If I had to pick my favorite, for sentimental reasons, I would pick the Garden because it's in New York, but I like the MGM Grand.
Karl (LA)
It seems like everyone in boxing has an opinion on the subject, so I'll ask you yours....do you think we'll see Mayweather and Pacquiao fight?
Paulie Malignaggi
(4:08 PM)
No.
Joe (Staten Island, NY)
Hey Paulie - in your opinion which fight is your best performance and best win?
Paulie Malignaggi
(4:10 PM)
Based on the pressure of the night and what was at stake and the result, I would say probably the first Ndou fight. I have been better and sharper in other fights, but when you add the pressure and the occasion, that was my best.
Nick (Seattle)
Big fan, Paulie. This Lora guy looks big... Do you think you could mix it up and be fine on the inside if he is somehow successful at cutting off the ring or pinning you against the ropes? Have you seen any footage of the guy?
Paulie Malignaggi
(4:10 PM)
Yeah, we'll see. I don't tell myself I will fight one way or another. I try to stick to the game plan. If I have to change, I adjust as I have to. If I have to do more, I have no problem doing more.
Mike (Los Angeles)
If you get past this fight, who would you like to face if Mayweather and Pacquaio are unavailable?
Paulie Malignaggi
(4:11 PM)
Yeah, I think everyone wants to face Mayweather or Pacquiao, but realistically speaking, I would pick any big welterweight fight. And if it were meaningful to my career, I wouldn't mind going back to 140 for 1 or 2 fights.
Jeff (RI)
What's your best weight?
Paulie Malignaggi
(4:12 PM)
I feel more comfortable at welterweight, but if the opportunity presents itself and is beneficial to my career, I would make the sacrifices to get back to 140.
Kyle (VA)
How hard is it to cut weight?
Paulie Malignaggi
(4:13 PM)
Making weight is always a big factor in training camp. It's never fun. And it's never easy. When I moved to welterweight, it's eased the pressure. While it's more work, I am not spending as much time on it as I used to.
Stephen (Kansas)
A little while back you and Devon Alexander were going at it on twitter, any chance we can see the two of you fight in the future?
Paulie Malignaggi
(4:13 PM)
Yeah, that's always a fight that interests me and I'm sure it interests Devon. I think that's a fight that everyone would like to see.
Jared (MN)
How long was camp?
Paulie Malignaggi
(4:14 PM)
I trained for a couple of months.
Joey (Thousand Oaks, CA)
Paullie! Im a big fan. Are we going to see vintage Magic Man on saturday? Or have you incorporated some new things into your game?
Paulie Malignaggi
(4:14 PM)
You're always going to see vintage Magic Man, but I'm always trying to pick up new things. Tune in Saturday night and see for yourself.
Steve (Kansas)
Yo Paulie big fan, can we get a prediction? I wasn't going to buy the PPV until you were added to it.
Paulie Malignaggi
(4:15 PM)
I predict a strong performance. I predict a performance that will catapult me back into the world class. And thank you for ordering because of my fight.
Stephen (Kansas)
Would love to see it, thanks for the response Paulie, I'm a big fan.
Paulie Malignaggi
(4:16 PM)
I don't know what I'll do after the fight is over. I'm in California, maybe I'll go to DisneyLand!
Paulie Malignaggi
(4:17 PM)
I want to thank all of my fans. Sometimes it's not always easy to be a fan, I have a lot of critics, but I appreciate you always having my back. I hope to put on a show Saturday night, so you can be proud to be a fan.