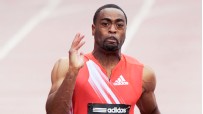 Gay is a three-time World Championship gold medalist.
Welcome to SportsNation! On Tuesday, American Track and Field sprinter Tyson Gay stops by to chat about his pre-Olympic plans and his partnership with EAS.
At the 2007 World Championships, Gay won both the 100 and 200 meters, setting personal best records with times of 9.69 (an American record) and 19.58 seconds, respectively. His times established him as the second fastest athlete in the 100 and the third fastest athlete in the history of the 200.
Gay has teamed up with EAS to promote the company's 100% certified program, through which all EAS sports nutrition products are banned substance tested by industry-leading, independent, laboratories and marked with a "tested and true" seal.
Send your questions now and join Gay Tuesday at noon ET!
More: Previous Special Guest chats | SportsNation
Buzzmaster
(12:00 PM)
Hello everyone! Tyson should be joining us shortly. Keep your questions coming!
Tyson Gay
(12:07 PM)
I'm here!
Justin (Roanoke)
How's rehab going?
Tyson Gay
(12:08 PM)
It's going good. I have about two more weeks left. I have a test on Nov. 15 with some lateral movements and jumping to see if I can go full speed.
TJ (NJ)
When did you start running track and why did you stick with it over other, more popular sports?
Tyson Gay
(12:09 PM)
I loved the sport. That's it. I just stuck with it because I love it more than any other sport. Everyone races someone when they are young and I just stuck with it. I started around age 14.
Marisa (Richmond, VA)
What can you tell me about the EAS 100% Certified program and do you have plans to be a part of the US Anti-doping team in London?
Tyson Gay
(12:10 PM)
Yes, I'm with EAS on the 100 percent program. It's making a statement that there are no banned substances in the product and they are third party tested. We both believe there are no shortcuts out there and we want to promote that.
Harold Freeman (Philadelphia, PA)
Why the recent domination of Jamaican sprinters, and what can the US do to even the field?
Tyson Gay
(12:11 PM)
I can't speak to it a lot but I think some guys will make coaching changes to improve on some areas but it will just take time. Jamaica has made a real stance and the younger runners are hopping on the bandwagon for them. It's like the old saying ... if you want to fly like an eagle you have to train with an eagle. They are really taking that to heart in that country.
alber (barcelona )
hi, tyson how many hours do you train every day?
Tyson Gay
(12:12 PM)
I spend about 4 hours a day training. That's weight room, on the track and recovery.
Steve (Ann Arbor)
Do you think there was something you were doing, or not doing, in your training program that led to your recent injury problems? If so, what changes have you made to your approach to allow you to run fast but injury free?
Tyson Gay
(12:13 PM)
It really couldn't be avoided. After the MRIs we noticed my hip socket was a little small .. it's just the body I was born with. But I will try to train better to get around it.
Piotr (Warsaw)
Hi Tyson,How realistic do you think your chances are of getting back into the fray in time for London 2012?
Tyson Gay
(12:13 PM)
I'm very optimistic. The doctor says everything is going well so I'm looking forward to the test on Nov. 15.
boom (south dakota)
Tyson, What are your goals for this season? Also, do you feel that you will be stronger than ever coming off of surgery?
Tyson Gay
(12:14 PM)
Yeah, my goal is to focus on mentally staying strong. Surgery can be tough and you can get down. Then your body break down. I just want to stay focused on being positive. Yes, once I'm back I will be better than ever.
Markese Hayden (Frostburg,MD)
Will you approach your training this year different to ensure you wont get any injuries this year?
Tyson Gay
(12:15 PM)
I've talked with my coach and he wants me to throttle it down some. I'm going to try and really control my speed better.
Red Shannon (Eugene, Oregon)
Tyson, will you ever draw away from the 100m and seriously consider focusing on the 200m/400m as a double, much like Micheal Johnson?
Tyson Gay
(12:16 PM)
Maybe. It's possible in a few years. I won't rule it out.
Jarod (Charlotte)
What types of exercises and training have you been able to do since your injury?
Tyson Gay
(12:17 PM)
I just started jogging a couple weeks ago. I do step ups and lunges. Light squats. And High knees with resistent rope.
Justin (Roanoke)
Who's influenced you the most and why?
Tyson Gay
(12:17 PM)
I would say my agent's assistant Art Huff. John Drummond. My mom as well.
Mitch (utica ny)
Tyson huge fan of yours!! When can we expect to see you run again? need someone to beat bolt!! best of luck.
Tyson Gay
(12:18 PM)
I want to try and run a meet in February if I'm fit enough. If not Februrary, definitely April.
Marshall (Spokane)
What is your vertical jump?
Tyson Gay
(12:18 PM)
I'm not exactly sure. I want to say 40 something.
Thomas Smalls (Jersey City, NJ)
Are you going to run the 60m this indoor?
Tyson Gay
(12:19 PM)
I want to try that in February. But I have to ask the doctor first.
Chris Fiegler (Latham,NY)
Who is the Best Sprinter that you have seen besides yourself?
Tyson Gay
(12:20 PM)
Probably Maurice Green.
Kevin (Honolulu)
What do you feel about Nick Symmonds and his attempt to change the requirements for sponsor logos when competing?
Tyson Gay
(12:21 PM)
It's been going around for years. The shoe companies have stopped a lot of that. They make our hats, shoes, uniforms. We have rules to abide by so back in the day it was allowed more. A chance would be cool, I respect where he is coming from.
Otis (Naples, Florida)
Tyson, do you think you will be in the same shape you were in prior to the surgery for the London Olympics which is just months away?
Tyson Gay
(12:21 PM)
I do feel that is possible. Even better surgery. I was probably 75 percent before the surgery. I think I will be a lot better by then.
Tyson Gay
(12:22 PM)
Thanks for the questions! You can follow me on Twitter at #TysonLGay. I'll try to answer your questions there as well! Take care.