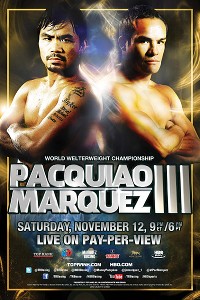 Welcome to SportsNation! On Thursday, boxing trainer Freddie Roach will stop by to chat about Manny Pacquiao-Juan Manuel Marquez 3.
Roach currently trains Pacquiao, the No. 1 pound-for-pound fighter who has won nine world titles in eight different weight classes. Pacquiao (53-3-2) faces Marquez (53-5-1) Saturday at 9 p.m. ET/6 p.m. ET on HBO PPV live from the MGM Grand Garden Arena. This will be the third bout between Marquez and Pacquiao. The first one ended in a split decision draw in 2004, while Pacquiao won the second fight via split decision in 2008.
Roach, a Massachusetts native, won the trainer of the year award in 2003, 2006 and 2008. As a professional boxer, Roach went 39-15 before retiring in 1986.
Send your questions and join Roach Thursday at 1 p.m. ET!
More Special Guests: Previous chats | SportsNation
Buzzmaster
(12:50 PM)
Manny Pacquiao's trainer Freddie Roach will be here at the top of the hour to take your questions!
Buzzmaster
(12:59 PM)
We've got Freddie!
Liljo (Lake Worth Fl)
Mr. Roach, do you think Marquez having fought Pacquiao twice gives him more of an advantage than any other fighter that has fought Pacquiao?
Freddie Roach
(1:00 PM)
No, because they've known each other so well and know how to make adjustments. I don't think it's an advantage.
Darin (Silver Spring, MD)
Do you think this time Marquez will respond better to the weight gain that how he did when he fought Floyd?
Freddie Roach
(1:01 PM)
He's on a strength program and put a lot of muscle on for this fight. He's making the right adjustments, but maybe too much too soon.
Chris Garza (San Antonio, Tx)
What aspect of Marquez do you think will be a threat against Pacman? What do you think Pacman ought to stay away from when fighting Marquez Saturday night. Thank you for your valuable time. - Chris Garza
Freddie Roach
(1:01 PM)
He's counterpunching ability is his biggest threat. But since he put the muscle on, I think he'll want to exchange with us. I don't think we'll see the counterpuncher we once knew.
Liljo (Lake Worth Fl)
Can you plz use your influence to make a pacquiao mayweather fight so that manny shuts up floyd once and for all!!
Freddie Roach
(1:02 PM)
If I had influence, it would have already happened.
Qi Guy (Sarasota)
Hi Freddie - Ever wonder how you'd train Manny's opponents?
Freddie Roach
(1:02 PM)
I know Manny very well and I would never do that. But I would come up with a good game plan.
one9combo (florida )
Has Manny lost any speed since he last faced Marquez?
Freddie Roach
(1:03 PM)
Definitely no. I think he's probably gained speed because he knows how to use the power and the weight bag better now. He fills out the weight very well.
Chris Fiegler (Latham,NY)
Did you ever knew "Smoking" Joe Fraizer who Passed Away of Liver Cancer at the age of 67 on November 7?
Freddie Roach
(1:04 PM)
Great loss to boxing. He was a great guy. He was one of the best heavyweights ever. Great loss to boxing. He'll be missed.
Bing (Philly)
Any concern that Manny's leg problem from the Mosley fight might flare up again?
Freddie Roach
(1:04 PM)
I think we have that under control right now. Manny's calves are so big that's always a possibility, but we have it under control. They're working on keeping the cramps from happening.
Steve (SF)
What do you think of Manny's singing career?
Freddie Roach
(1:04 PM)
I don't really get involved in that.
Freddie Roach
(1:05 PM)
But he does have a good album.
josh (brooklyn)
with the 1st two fights being so tough why do you think this fight will be more of a clear cut victory for manny?
Freddie Roach
(1:05 PM)
Bigger, stronger, better fighter.
Matt H (Phx, AZ)
Hello!What do you think is the best way to develop speed of punches? My friend thinks it's using weights such as dumbbells when you train.
Freddie Roach
(1:05 PM)
Being loose and acclimated to the ring will help. But it's pretty much a gift that people have. Some people have it and some people don't.
Josh (Virginia)
How do you avoid Marquez's pinpoint accuracy with his counter-punches? They seem to throw Manny off-rhythm, and Manny seems to be very much a rhythm fighter.
Freddie Roach
(1:06 PM)
I think with the muscle he's put on, I don't think he'll be as accurate, punching a little wider. I see the muscle getting in the way. THat was his biggest asset and he took it away from himself with the weight program.
alexis (new jersey)
how many rounds do you think it will take before manny knock out jmm?
Freddie Roach
(1:07 PM)
Manny never looks for knockouts. They just tend to come. The way Manny is motivated for this fight, I don't think it will last 6 rounds.
Johnny, Greensboro, NC [via mobile]
What's the one thing that Manny does that frustrates you the most.
Freddie Roach
(1:07 PM)
Yeah, plays basketball.
Bing (Philly)
So after Floyd ducks Manny again, any interest in fighting Martinez at a catchweight?
Freddie Roach
(1:08 PM)
Yeah, Martinez is one of the only other interesting fights out there for Manny. We'd definitely be interested, but I can't see Martinez making 150 pounds. That's what he'd have to come down to.
Mark (Philippines)
what was the best gameplan you put together?
Freddie Roach
(1:09 PM)
The Oscar fight, we had a great gameplan and it worked perfectly. I knew that fight was over the first punch we landed.
Eric Estro (Shirley, NY)
Freddie, does Marquez's weight warrant him enough strength for a K.O. victory or does it create even more of a gap between his and Pacquiao's trademark speed? Thus giving Manny the edge.
Freddie Roach
(1:09 PM)
I definitely think that he's doing the best he can to get in the best shape he can. He's going to use the power instead of boxing. It could work.
Chris (Los Angeles, California)
Freddie,How many fighters do you currently train besides Manny Pacquiao, Amir Khan & Julio Cesar Chavez Jr?
Freddie Roach
(1:10 PM)
I have 12 fighters. I have some good young boxers coming up.
Billy
what's the biggest weight for Manny?
Freddie Roach
(1:10 PM)
154 is pushing it a little bit. The highest I would like is 150.
Darin (Silver Spring, MD)
May 5, why not just take the date, fight Floyd, make him look silly and walk away into the sunset?
Freddie Roach
(1:11 PM)
They sent over his gopher. They said they were going to fight the "little guy" and never named Manny. They're just BSing right now.
Freddie Roach
(1:12 PM)
Thanks for all of your support. Watch Pacquiao. I think you'll see the best Pacquiao yet.