Chat with Timothy Bradley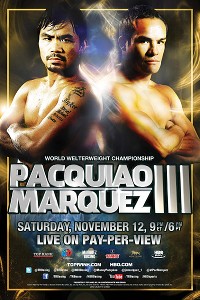 Welcome to SportsNation! On Wednesday, we will go inside the ring when light welterweight belt holder Timothy Bradley stops by to chat about his fight on Saturday.
Bradley (27-0, 11 KO) takes on Joel Casamayor (38-5-1, 22 KO) for the WBO light welterweight title on the undercard of Manny Pacquiao-Juan Manuel Marquez 3, Saturday at 9 p.m. ET/6 p.m. ET on HBO PPV live from the MGM Grand.
Bradley first won the WBO light welterweight title on May 10, 2008 by spilt decision against Junior Witter and continued to hold onto the title by defeating four different fighters. In April 2009, he unified both the WBO and WBC light welterweight titles in a 12-round decision over Holt, though the WBC later took his belt because he did not face the WBC's next challenger. He again unified both belts with a win against Devon Alexander in January.
Send your questions now and join Bradley at 1 p.m. ET!
More Special Guests: Previous chats | SportsNation
Buzzmaster
(1:04 PM)
Hey everyone, we're tracking down Timothy!
Buzzmaster
(1:16 PM)
We've got Timothy!
Timothy Bradley
(1:17 PM)
I just want to thank all the boxing fans out there who supported me through this long layoff. I'm excited to be back in the ring. Ready and hungry to show the world that I'm one of the best boxers in the game.
Kyle (VA)
How do you deal with being the world champion, knowing that everyone in your class wants a piece of you and to take your belt?
Timothy Bradley
(1:18 PM)
Just staying in shape year-round. I continue to work hard and never get relaxed. I take on all comers. I try to challenge myself to get better each and every day.
Sammy (Houston)
You're 12 years younger than Casamayor, so do you think you can use your youth and quickness to your advantage?
Timothy Bradley
(1:18 PM)
Absolutely. He's way more experienced than I am. I do have some big fight experience. Going into camp, it was no adjustment whatsoever. I think I'll be able to use my speed and determination to beat this guy.
Derron (NYC)
This is your first fight in Las Vegas....how excited are you to be in the city where all of the big fights take place? How cool is it to be out there this week?
Timothy Bradley
(1:19 PM)
It's a dream come true. I'm very excited and determined to put on a great show. This is the fight mecca here. I'm very happy to be here.
Ryan (MD)
How will you try to eliminate your opponent's knockout power?
Timothy Bradley
(1:20 PM)
He can't hit what's not there. I'm great defensively. He's a smaller guy, and I've been in there with some big punchers. I've tasted the canvas twice in my career, so I'm not worried about his power.
Hussain Ali (Romeoville,Il)
When your getting ready for a fight , do you have to dehydrate to make the 141 lbs weight limit or are you naturally 141 lbs ?
Timothy Bradley
(1:20 PM)
I have to squeeze down to 141, definitely. Right now I'm at about three percent bodyfat.
dylan (austin)
What's your greatest victory? The Holt fight is most memorable for me...
Timothy Bradley
(1:21 PM)
I wanna say Whitter. That was the greatest victory in my whole career -- me not fighting out of California, really being an unknown, the fact that I flew over to England and beat him on his soil.
Walter (San Francisco)
Who do you want to fight next?
Timothy Bradley
(1:22 PM)
Only the best fighters in the world. I want Manny and Floyd Mayweather.
Evan (Baltimore)
how prepared do you feel for this fight?
Timothy Bradley
(1:22 PM)
This is the best shape I've ever been in. It's probably one of the best camps I've had in a very long time.
Aaron (Dallas)
Will you work for the KO or are you going to just take what he gives you on Saturday night?
Timothy Bradley
(1:23 PM)
I'm working for the KO. That's what I've been working for in camp, sitting on my shots and turning them over.
Jordan (Florida)
How excited were you to unify your two light welterweight belts?
Timothy Bradley
(1:23 PM)
Very excited. I unified twice, actually. I'm the only one who's done that in a very long time. I'm very excited about it. It's a great accomplishment in my career.
Don (Chicago, IL)
Who was the boxer you idolized growing up?
Timothy Bradley
(1:24 PM)
Roy Jones Jr. and Evander Holyfield.
Juan (Riverside)
Besides pac man and mayweather who else is on your list you will love to fight?
Timothy Bradley
(1:25 PM)
Amir Khan, Marcus Modano, Marquez, a few others.
Joel (Queens,NY)
what is your walking around weight?
Timothy Bradley
(1:25 PM)
165 pounds.
dylan (austin)
How are you going to win new fans Saturday night?
Timothy Bradley
(1:26 PM)
By going in there and putting on a dominating performance. Doing the best that I can possibly do. That's how I'm going to win over the fans. Everything that I trained for, I just have to do it in the ring, and I'll look spectacular.
Juan (Riverside)
How confident are you on defeating Manny if you get to fight?
Timothy Bradley
(1:27 PM)
Very confident, due to the fact that I've been studying this guy for years. I think I have the speed, ability, footwork, and brains to defeat him. I feel that I can compete with anybody at the highest level, even Manny and Mayweather. They have to prove that they can defeat me, that's how I feel.
Timothy Bradley
(1:28 PM)
Anybody that wants to follow me on twitter, it's @timbradley. My website is timbradleyjr.com, and I'm timbradleyjr on Facebook. Stay tuned, god bless, and tune in on the 12th!