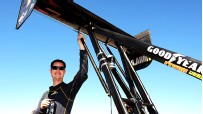 Massey was the NHRA rookie of the year in 2009.
Welcome to SportsNation! On Friday, drag racer Spencer Massey stops by to chat as he eyes the 2011 NHRA Top Fuel championship at this weekend's Auto Club Finals at the Auto Club Raceway in Pomona, Calif., the sixth, and final, leg of the Countdown to the Championship.
Massey made it to the finals of the fifth event of the Countdown, vaulting him into first place in the points standings headed into the season finale. Massey made his Top Fuel debut in 2008 and has six wins in 12 career final rounds.
Send your questions now and join Massey Friday at 1 p.m. ET!
More Special Guests: Previous chats | SportsNation
Buzzmaster
(12:56 PM)
NHRA Top Fuel points leader Spencer Massey will be here at the top of the hour to take your questions!
Buzzmaster
(12:59 PM)
Spencer is here!
Ellie (Upland, CA)
After sitting out last season, did you ever imagine that you'd be going into the last race of the season with the points lead and a chance to win the championship?
Spencer Massey
(1:00 PM)
At the end of last season, I knew I wanted to drive, obviously. I knew that I could be driving Don Schumacher's race car. Being in the car now, it's easy to say yes, but at the end of last year, no, I can't say that. It's quite awesome.
Alex (Lockport,NY)
Since the weather could promote it, will you be going for the national record during the weekend?
Spencer Massey
(1:01 PM)
The way the weather is playing out, it's not going to look good for tomorrow. Right now, it's just making sure we get down the track. It's a little out of reach with Del's 73. That will be the record for some time now.
Kevin (CT)
What's been the key to your success so quickly at the Top Fuel level?
Spencer Massey
(1:02 PM)
I think it comes from working on sportsmen race cars and having a passion behind this sport. I've wanted to drive a Top Fuel car since I was 4. I dreamed about it and now I'm living the dream.
James (Rochester, NY)
What is the biggest challenge for you in order to win the championship this weekend?
Spencer Massey
(1:03 PM)
In drag racing, especially Top Fuel, every run is tough. You have to be consistent and focused all season long. The hardest thing is being focused and being committed all year long. This team is dedicated and focused and that's what it takes to be at the top in this category.
Alex (Lockport,NY)
What are your thoughts on 1000' racing? Would you like to go back to 1/4 mile?
Spencer Massey
(1:04 PM)
I feel like 1,000 foot racing is just as fast and just as cool to watch and we're still going 320 MPH. I feel it's safer. I don't think we'll go back to 1/4 mile unless they slow the cars down and I don't want to slow down.
Cody (Rochester, NY)
How much are you going to be watching Del, Antron, and Larry this weekend?
Spencer Massey
(1:05 PM)
Hopefully I don't get to watch them very much. Hopefully they get to watch me drive away! I'll be watching them and focus on them on the sheets and their times, but I won't change my routine. That's worked for us all season long and I won't change what's worked for us.
rick johnson (alvarado texas)
how do they make your car react so quick regularly
Spencer Massey
(1:06 PM)
I don't really work out to train my reaction times. I can't tell my foot to go, if I do, I'm late. It's a direct line from eye to foot. I try to help the guys work on the car. But I'm just used to seeing that light come on. That helps me be consistent. Every bracket racer has to be consistent.
Alex (Lockport,NY)
If it comes down to you and Del in the final, would you be up to the task considering the pressure?
Spencer Massey
(1:07 PM)
I would much rather it be Antron and myself in the final. It would be awesome. I could see Del and myself or with Antron in the final. It will be a great show for everybody. I am ready to make that run rightn ow.
Derek (CA)
best run this year? Best weekend?
Spencer Massey
(1:08 PM)
I would have to say Maple Grove, final round. We were running 377's all day long. We beat the world record number in the other lane and the light came on in our lane. That's probably the coolest race I've been involved in.
David (Leesburg, Fl)
How much of an influence has Tony Schumacher been so far in your career
Spencer Massey
(1:09 PM)
Tony helps me out a lot. Just the other day he texted me telling me to be calm to win. That's what he's been trying to get over on me. He's been coaching me to stay calm, stay cool and to get the win. He's kind of helped me with that and it's really cool of Tony.
Billy Archibald (Mexia, Texas)
Spencer, congradulations on a great year. I look forward to see you being crowned the new NHRA Top Fuel Champion Sunday on ESPN. Take care. Billy Archibald. Mexia, Texas.
Spencer Massey
(1:10 PM)
I'm knocking on wood right now. I don't even know what to think about that happening. I'll wait until Sunday night to think about being champion.
dave (louisville, ky)
how did you get involved in racing?
Spencer Massey
(1:11 PM)
My father worked on a dragster when I was young. I started cleaning parts. Next thing I know, I started taking parts out and learning how to build motors. I started building other parts and started off as a crew member, working my way to driving.
Spencer Massey
(1:11 PM)
I appreciate everyone following and supporting us. Hopefully we can get it all done. Keep your fingers crossed!