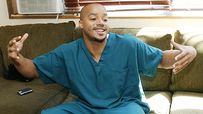 "The Exes" debuts Wed., Nov. 30 at 10:30 p.m. ET on TV Land.
Welcome to SportsNation! On Wednesday, Nov. 30, we'll be visited by actor Donald Faison, who starred for nine seasons as Dr. Christopher Turk on "Scrubs."
Faison's newest TV show is "The Exes" which premieres Wednesday at 10:30 p.m. ET on TV Land. The show features Faison, a self-proclaimed New York Giants fan, in the comedy about three divorced men sharing an apartment across the hall from their female divorce attorney. The trio gets off to a shaky start, as they realize their issues as roommates are the same ones they had with their ex-wives.
Faison has more than 50 credits to his name, including 1995's "Clueless" and later the TV show by the same name. A huge NBA fan and a fantasy football nut, Faison regularly uses his Twitter account: @donald_faison.
Send your questions now and join Faison Wednesday at 3 p.m. ET!
More Special Guests: Previous chats | SportsNation
Buzzmaster
(2:25 PM)
Dr. Turk from "Scrubs," aka actor Donald Faison, will be by at 2:45 p.m. ET to take your questions. His new show The Exes debuts tonight at 10:30 p.m. ET on TV Land!
Buzzmaster
(2:56 PM)
Sorry, make that Donald will be here at 3 p.m. ET to take your questions!
Buzzmaster
(3:01 PM)
Donald is here!
Paul (Boston)
3 divorced guys living together on your new show?? That sounds like it could make for some interesting story lines....anything crazy that you can share with us?
Donald Faison
(3:03 PM)
There's a lot of girlfriend stealing. THere is a lot of invasion of privacy. Yeah, three guys living together is tough, especially when they're all successful, one's a dentist, a sports agent and a couch potato, it's weird they can't afford their own places.
Nate (Woburn, MA)
Donald, loved your work on Scrubs. Any chance Kristin Johnston gets the 'eagle' treatment on your new show?
Donald Faison
(3:04 PM)
No. Kristin Johnston is 6-1. If anybody is going to Eagle, it's going to be me!
Eric (RI)
Turk (i hope you dont mind if i call you Turk, much like your character called Billy D Williams "Lando" when he met him) diehard Scrubs fan here - many think I have a problem - anyway - when did you realize how big a hit the show was going to be? And how often do you get called "Turk" over your real name? must be alot...
Donald Faison
(3:05 PM)
After a while it does kind of get old. It was on 9 years. If you don't know that I'm Donald Faison after watching the show for 9 years, there's a problem. But it's also endearing that people recognize the character.
Donald Faison
(3:05 PM)
We didn't know that it was going to be a hit. We didn't see it as a hit, we were just happy to be on the air.
Derrick (Florida)
The Exes looks like it could be pretty funny. How much fun has it been working on this show?
Donald Faison
(3:06 PM)
It's been a blast so far. What's crazy is that I came into this, I guess a vet of TV now, but Wayne Knight and Kristin Johnston are super vets. If I'm a vet, they're like OGs. Kristin has two Emmys and Wayne was on Seinfeld. I've never been in front of a studio audience before. It's really intimidating at first. But we have a blast now.
Pete (Milwaukee)
Who in the cast of Remember the Titans was really the best football player? Did the cast participate in any type of training camp before filming began?
Donald Faison
(3:07 PM)
Remember the Titans was awesome. It was a dream come true to work with Denzel. WE had to do 3 weeks of football camp before. That was one of the most challenging things we had to do. I know how to play football, but I didn't know how to play football.
Greg (Denver)
Scrubs is over now....what happened to Rowdy?
Donald Faison
(3:08 PM)
I wish I knew who took Rowdy. I wish I knew where he was. I wish I had him. But he's gone.
Vanilla Bear (Chicago)
Eeeeeaaagggllllleeee!!!! How do you think my bears will do without Jay? Our schedules pretty weak so I think we'll be alright.
Donald Faison
(3:09 PM)
Some seem to think you guys will make the playoffs still. I think you'll make it but you're not contenders. But you're better off than Miami. So there's that.
Eric (RI)
Rowdy might be gone, but Stephen is still out there somewhere...
Mike (Ohio)
John McGinley is hilarious in real life, isn't he? He has to be.
Donald Faison
(3:09 PM)
Yes, he's hilarious in real life.John C. couldn't make me become a hockey fan if he tried.
Chris (FL)
any projects in the future for you and Zach? I hear you are great friends off camera, and on camera a riot - it would be great to see!
Donald Faison
(3:10 PM)
We're thinking about it. We're trying to put an idea together now. It's tough with schedules and finding the right idea. We can't play JD and Turk again, unless they make a Scrubs movie, but that doesn't look like it's happening.
Steve (Sacred Heart)
do you still keep in touch with any of your mates from Scrubs, since the show ran so long?
Donald Faison
(3:11 PM)
I keep in touch with Zach and Sarah. Every now and then we run into each other. It's Hollywood, small town.
Eric (RI)
oh yeah - my girlfriend would like me to personally thank you (sarcastically I might add) for making bromances acceptable all over the world - my ringtone for my best friend is "Guy Love" - so, thank you.
Donald Faison
(3:12 PM)
You're so welcome.I don't think your girlfriend is going to be happy when you're spending all of your time with your guy, whom you love.
Scott (Indy)
Donald? Mr. Faison? Turk? I know it is the wrong time of year to ask, but do you grill on charcoal or gas?
Donald Faison
(3:13 PM)
It depends on what I'm grilling on. If I'm grilling on my smoker, it's definitely charcoacl. If I'm on my gas grill, then it's got to be gas. I do like the flavor that charcoal gives though. But smoking your food is not healthy for you at all.
LeAnne (Washington)
Hi Donald! Do you play fantasy football? If so, how is your team doing so far?
Donald Faison
(3:13 PM)
I do play. We're 3-8 right now. That's not good. It's my first year, so I'm thinking my next year will be much better.
Slagathor (Cali)
favorite cameo appearance on Scrubs? mine is a toss up between Ryan Reynolds and Colin Farrell
Donald Faison
(3:14 PM)
Both good choices. I liked when Billy D Williams did the show. Lando. The only black man in the galaxy.
Mitch (NC)
Hey Donald, not many people have been in a movie and go on to play the same role in the TV show...which was more fun? Clueless the movie or Clueless the TV show?
Donald Faison
(3:14 PM)
Clueless the movie. Clueless the TV show did bring me out to LA though. I wouldn't be working still. I wouldn't have a home in LA if it weren't for that TV show.
Mark (Wyoming)
I see your new character is a diehard Giants fan. who do you support in real life? As a Cowboys fan, I could never pretend to like the Giants - unless I got that Denzel money!
Donald Faison
(3:15 PM)
Absolutely, I love the Giants. I will always love the Giants. It looks like we're done right now. I will always love the Giants, though.
Jorge (Chicago)
Hey Donald - How much medical education did you need to go through for Scrubs?
Donald Faison
(3:16 PM)
We didn't do any of that. Heck no!
Greg (Ellicott City)
What was your favorite episode of Scrubs?
Donald Faison
(3:17 PM)
The musical episode. A lot of fun. Learning how to dance with background dancers. I felt like Bobby Brown.
Mike (Tampa)
hey Donald, good luck with the new show. It seems your comedy roles (clueless, scrubs, etc) get you more popularity and recognition than your serious roles (Remember the Titans, Skyline, etc) - do you feel typecast or not appreciated for your overall acting abilities?
Donald Faison
(3:18 PM)
It's just how the cookie crumbles. I don't think you've seen me in anything where I'm truly serious, I've always been a goofball. Hopefully you get to see my serious side.
Donald Faison
(3:18 PM)
Thank you all for allowing me to answer your questions. Thank you for not being jerks and saying negative things to me. I appreciate that. And those of you who did, it's going to get you.