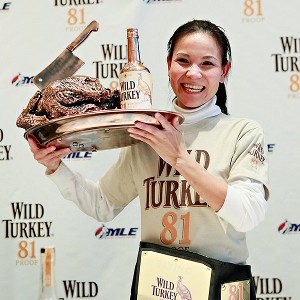 Welcome to SportsNation! On Wednesday, champion eater Sonya "The Black Widow" Thomas stops by to chat about her win at the Wild Turkey 81 Eating World Championship on Tuesday.
Thomas downed 5.25 pounds of turkey in 10 minutes to take home the trophy. Back on July 4, Thomas won the first women's hot dog contest and over Labor Day, she defeated top-ranked Joey Chestnut in a wings contest, with a record 183 in 12 minutes.
Thomas is the world champion in: cheesecake (11 pounds, 9 minutes), crawfish (3.25 pounds, 10 minutes), clams (26 dozen, 6 minutes), oysters (46 dozen, 10 minutes), jalapenos (274, 10 minutes).
Send your questions now and join Thomas Wednesday at noon ET!
More Special Guests: Previous chats | SportsNation
Sonya Thomas
(12:01 PM)
Hi everyone!
Steve (Florida)
Do you have different ways of approaching your different eating contests?
Sonya Thomas
(12:01 PM)
Yes, I do have different ways of approaching each contest. Each food requires a different technique.
Dave (NJ)
You once won a jalapeno eating contest???? How awful was the heartburn following that ordeal?
Sonya Thomas
(12:01 PM)
It was not heartburn, but one hour later, I felt absolutely awful!
Luke (Maine)
How many days will you go before eating again?
Sonya Thomas
(12:02 PM)
I usually wait about twelve hours to digest. Then I can eat something light, like fruit.
Willie (San Francisco)
Do you ever get grossed out by a food that you eat competitively? Will you ever eat chicken wings as a snack or only when you're in a contest?
Sonya Thomas
(12:03 PM)
No, I can enjoy myself if I eat, say, ten or twelve chicken wings in a sitting.
aroznowski (USA)
How do you train to be a successful competitive eater?
Sonya Thomas
(12:04 PM)
I try to make myself mentally strong. If I can prepare myself for that, I can eat a lot of food. You have to make sure that you are mentally prepared for, say, eating ten pounds of chicken in ten minutes. It's really more mental than physical.
Dana (Texas)
How excited were you to beat Joey Chestnut in that wings eating contest?
Sonya Thomas
(12:05 PM)
I felt like I was in heaven! He ate sixty-eight hot dogs in ten minutes -- I can't even touch that record. Mine is only forty-one. I was so happy to beat him. I think it was the different technique required in each food.
Derek (Chicago)
Eating turkey at Thanksgiving makes me tired....how tired were you after eating all of that turkey on Tuesday?
Sonya Thomas
(12:05 PM)
We started at 11, and we finished at 1. I took a four-hour nap afterwards in my hotel room, so pretty sleepy!
Aaron (Denver)
What was your strategy heading into this turkey eating contest?
Sonya Thomas
(12:07 PM)
I just hoped that the turkey was not dry. Sometimes dry meat is hard to actually swallow. It ended up being warm, which made me think I was doing good. I started off with the breast meat, because the majority of the turkey is there. Then I went for the legs and wings. It was moist and tasted pretty good!
aroznowski (USA)
Which of the following is your favorite: cheesecake, crawfish, clams, oysters, jalapenos, hot dogs, wings, or turkey?
Sonya Thomas
(12:07 PM)
I'd say that lobster and oysters were my favorite! And crab cakes! All the seafood.
Jeff (NYC)
How are you able to stuff over 5 pounds of turkey into your stomach?
Sonya Thomas
(12:08 PM)
Five pounds of meat, plus some liquid to help with eating it. I think it ended up being about ten pounds. It was comfortable, even with such a big meal.
Sonya Thomas
(12:08 PM)
Regular people can't eat that much, but for me, it was comfortable.
Chris Fiegler (Latham,NY)
Do you think that you will eat a lot of turkey on Thanksgiving Day?
Sonya Thomas
(12:09 PM)
I've had enough turkey! I'll just eat different dishes on Thanksgiving.
Greg (North Carolina)
What method do you use to attack the wing in such a contest? I have a competition coming up and need to perfect a technique!
Sonya Thomas
(12:10 PM)
Chicken wings are all about hand speed -- how much you can use your finger to grab the meat off the bone. That's why I'm good at that.
Darryl (Washington)
how hard is it to eat a lot of cheesecake quickly? That seems like it would be a hard contest to win.
Sonya Thomas
(12:11 PM)
The cheesecake was very hard. When I was eating it, it was not difficult, but afterwards, it was very hard. I don't eat anything beforehand on competition day, so it's eating sweets on an empty stomach, which can be a problem. You need some pepto-bismol or something!
kevin (maryland)
what can u say to any inspired competive eater or any who are taken by the sport even though they may not be able to consume but so much how can they expand their compacity?
Sonya Thomas
(12:13 PM)
If any competitive eater wants to train for that, you need to train your mind to do that. You can try out some contests to see how it works for speed-eating. I'm very competitive at anything, but when I started out, I didn't do really well. I kept building my affinity for it through more and more contests. It's really mostly mental -- about sixty percent. You can do well if you go about it that way.
Tim (Seattle)
Has competitive eating ruined any foods for you?
Sonya Thomas
(12:14 PM)
No! You don't even have time to taste it, so if you eat them regularly, you can take your time and enjoy them.
Sonya Thomas
(12:14 PM)
Thanks everyone!