Chat with Antonio Margarito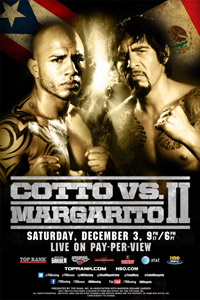 Welcome to SportsNation! On Wednesday, we will go inside the ring when Antonio Margarito stops by to chat about his WBA Super World light middleweight title fight against champion Miguel Cotto on Saturday.
Margarito (38-7, 27 KO) takes on Cotto (36-2, 29 KO) in a rematch of their 2008 bout in which Margarito handed Cotto his first loss. The fight will take place Saturday at 9 p.m. ET on HBO PPV live from New York's Madison Square Garden.
Margarito's last fight came over a year ago when he faced Manny Pacquiao in November 2011 at the first fight held in the new Cowboys Stadium. Over a four-year period from 2002-06, Margarito made seven title defenses of his welterweight belt.
Send your questions now and join Margarito on Wednesday at 10 a.m. ET!
More Special Guests: Previous chats | SportsNation
Buzzmaster
(9:49 AM)
Antonio will be here at the top of the hour to take your questions!
sam (boston)
With new trainer in corner, what do you expect Cotto to do different this fight?
Antonio Margarito
(10:11 AM)
I don't really care about who his trainer is or his style. The second time I fought Cintron, he had the same trainer. I don't deny he was a good fighter, but I don't think it will be any different.
HS (Ct.)
Are you concerned about the officials and the crowd in NYC?
Antonio Margarito
(10:12 AM)
The crowd does not preoccupy me. In the ring, it will be just me and Cotto in the ring. So that doesn't worry me.
james (pittsburgh)
After you destroy cotto again do you finally think that will end all the hand wrap talk. And people will again give you the respect you deserve as a warrior and a great fighter.
Antonio Margarito
(10:13 AM)
Yes, I think so. I've always said I'm a clean fighter. I told Cotto that if it hurt the first time, it will hurt again this time.
james (pittsburgh)
Antonio i think your heart and ability to put pressure on cotto will be to much. My only concern is do you worry bout bad stop of the fight if your eye takes some damage. Go tijuana tornado
Antonio Margarito
(10:14 AM)
No fear. I'm not overconfident, but I have no fears that he will cut me, I will just put more pressure on him.
John H (Augusta GA)
AM, Good luck on Saturday. You and Cotto have both had some pretty brutal fights since your initial match. Has the battles with Pac and Mosley for you and Clottey and Pac for Cotto taken anything out of either of you to make either of you less of a fighter then you were before or is evertyhing all green lights, both guys 100%?
Antonio Margarito
(10:15 AM)
I feel over 100%. I dare to say that this is my best preparation. I was up in the mountains in Mexico. I feel really good.
Dennis Florida [via mobile]
If u get by cotto would you fight mayweather if they offered you a fight
Antonio Margarito
(10:15 AM)
Yeah, sure, I will fight anyone that our company decides. I will fight anyone they decide.
Shane Rufo (California)
How are you going to beat Miguel Cotto.
Antonio Margarito
(10:16 AM)
Something very similar to the first time. Put a lot of pressure on him and avoid his punches.
Okoth Nairobi, Kenya [via mobile]
Will you be up to a trilogy if you lose to Cotto on Saturday?
Antonio Margarito
(10:17 AM)
I'm not thinking about losing the fight. I'm only fighting about winning. It will be a victory on Saturday.
alex chicago il [via mobile]
will the fight go the distance or knockout?
Antonio Margarito
(10:17 AM)
I don't think so. I think this time I will knock him out earlier than the first time.
Hector Pena (Houston,TX)
you have a different trainer in this fight, how prepare do you feel coming into this fight compare to first time you face cotto?
Antonio Margarito
(10:18 AM)
I went to high lands and I had the proper sparring partners, fast guys. I also worked a lot in my running.
Neto (Tejas)
After you KO cotto again. will you ever consider a rematch with Mosley to avenge your lost?
Antonio Margarito
(10:19 AM)
I already mentioned that I will fight anybody that the company thinks I should fight. If it's him, it's him. If it's someone else, it's someone else.
Lamar (Oakland)
Antonio, have you had the chance to see Andre Ward fight? He's an olympic gold medal winner and is still undefeated.
Antonio Margarito
(10:20 AM)
Yes, he's a tough fighter and he comes to make war in the ring.
Eric (CT)
Do you think we'll ever see Pacquiao and Mayweather fight?
Antonio Margarito
(10:22 AM)
I don't know what to say about that. It seems that Mayweather can't reach an agreement with the company. I'm not sure if they will fight.
Antonio Margarito
(10:22 AM)
Thank you to the fans for your support. You'll see a new Mexican champion come Saturday night.