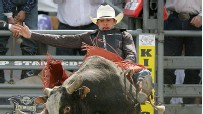 Duncan has earned over $300,000 in his career.
Welcome to SportsNation! On Friday, Jan. 6, we'll go inside the bull arena with Professional Bull Riders' Douglas Duncan, one of the world's top 40 riders that will appear in the 2012 season-opening event at New York's Madison Square Garden Invitational.
The Invitational begins with preliminary rounds on Friday and ends with the championship rounds on Sunday. Duncan will be competing against defending PBR champion Silvano Alves and defending Invitational champion Valdiron de Oliveira.
Duncan, in his sixth year in PBR, finished with a career-best eight top 10s in 2011.
Send your questions now and join Duncan Friday at 4 p.m. ET!
More Special Guests: Previous chats | SportsNation
Buzzmaster
(3:57 PM)
We've got Professional Bull Rider Douglas Duncan stopping by at the top of the hour to answer your questions!
Buzzmaster
(4:09 PM)
Hang on folks, we're waiting for Douglas.
Buzzmaster
(4:11 PM)
Douglas is here!
Sammy (Boston)
Have you ever been scared before a ride?
Douglas Duncan
(4:12 PM)
It's not so much scared. It's more of an adrenaline rush. The first time I went out, I had that feeling and it's stuck with me ever since. It's why I do it. It's not the money. I love my job.
Dave (NJ)
Douglas, what's the worst injury you've sustained?
Douglas Duncan
(4:12 PM)
Broke pelvis. Out for two year.
Peter (Fl)
Do you do a lot of work outs to prep to ride a bull?
Douglas Duncan
(4:13 PM)
Yes. I do a lot of core work. A lot of cardio. I stay like a gymnast. Not a bulky weight lifter. You want to be symmetrical. Pound for pound you want to be fit.
Carl (Denver)
How do you prepare for an event?
Douglas Duncan
(4:14 PM)
It's no different than any of them all year long. You have to go in with a strong attitude and confidence. You just come in with a strong mind. You have the ability to ride these bulls. When you show up there are no excuses, it's game time.
Jeff (RI)
What kind of safety precautions do you take when you're out on a bull?
Douglas Duncan
(4:14 PM)
It's about as safe as it's going to get. You're not really thinking about that when you're out there.
Carole Mead (Fancy Gap, VA)
Why are the Brazilians so tough and good?
Douglas Duncan
(4:14 PM)
I'm not sure. If I knew the answer, I would be right up there with them.
Maesie Clarkson (Old Greenwich CT)
How did you come to have "All Right Now" by Free as your favorite song? ( It's mine too, I heard you on Imus this morning)
Douglas Duncan
(4:15 PM)
There are a bunch of different ones, that's the one that came to mind. I like old classic rock.
Douglas Duncan
(4:15 PM)
I had to give a list of five songs. I had some Coolio and Free, so I have a wide variety.
randy schaff (new salem. nd)
What do you do to mentally perpare yourself for each ride
Douglas Duncan
(4:16 PM)
You just come in there and have a clear mind. You don't have one thing. It's all reactions. If you're thinking about what moves to make, you're already a step behind. You execute like you prepare all week. When I'm at the event, I feel like I'm physically and mentally ready.
Dave (NJ)
hardest part of your job?
Douglas Duncan
(4:17 PM)
Travelling. Sometimes it gets a little old. As far as bull riding goes, I love my job. I think of myself as blessed that I get to travel and ride bucking bulls. You go from New York to California. It's nice to get some time away. I'd rather drive than fly.
Clark (Madrid, Spain)
Some guys wear helmets...you don't. Why not? Don't you want to protect your canteloupe?
Douglas Duncan
(4:18 PM)
I like being a cowboy. I never grew up wearing one. Probably not in the near future will I wear one.
Chris Fiegler (Latham,NY)
How many Rodeos have you been to?
Douglas Duncan
(4:18 PM)
I wish I had a dollar for every one. There's no telling how many. That's all I've done my whole life since I was born. I've always been taken to rodeos.
Jasno (NYC)
excited to perform in NYC?
Douglas Duncan
(4:20 PM)
There is a lot of history in this arena. My dad rode bulls here in the 70s. You don't get many chances to come to New York City to ride bulls. THey welcome you with open arms. It's such a good event for us. New Yorkers are interested in bull riding and they're real excited for us to return.
Tayler (MIami)
do you hear the crwod out ther for your 8 seconds?
Douglas Duncan
(4:20 PM)
After I get off, I can hear them, but once the rides gets going, I can't really hear them. I get pretty focused and block everything out.
Douglas Duncan
(4:21 PM)
I appreciate everyone of y'all supporting us. If we didn't have you fans of PBR, we wouldn't win anything. We wouldn't get paid. I hope you enjoy it and that we keep growing.