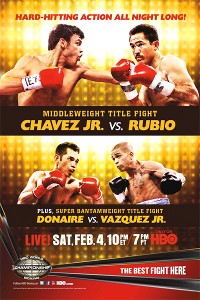 Welcome to SportsNation! On Thursday, we're going inside the boxing ring when Nonito Donaire stops by to chat about his title fight against Wilfredo Vazquez Jr on Saturday.
Donaire (27-1, 18 KO) takes on Vasquez (21-1-1, 18 KO) for the vacant WBO super bantamweight belt. HBO will broadcast the fight from the Alamodome in San Antonio, on HBO's World Championship Boxing, starting at 10 p.m. ET/7 p.m. PT.
After winning the bantamweight belt and making a successful defense of his title in 2011, Donaire will be moving up in weight for a shot at the vacant super bantamweight championship. After losing the second fight of his professional career, Donaire has won 26 straight fights over the last 10 years.
Send your questions now and join Donaire Thursday at noon ET!
More Special Guests: Previous chats | SportsNation
Buzzmaster
(12:05 PM)
We've got Nonito!
KEvin (CT)
What's your training camp been like for this fight?
Nonito Donaire
(12:06 PM)
It's been different. I started training in Vegas instead of the usual northern California. I have done mostly sparring with new guys.
Carl (Denver)
How do you feel at the higher weight?
Nonito Donaire
(12:07 PM)
I feel great. This is the first time that I feel really normal and healthy.
Derrick (NY)
was it hard to put the weight on?
Nonito Donaire
(12:07 PM)
The weight is normal for me. I'm small for this division. It's pretty much almost my walking weight.
Craig (Sarasota)
Is there more pressure on you to score a knockout because of your last fight?
Nonito Donaire
(12:08 PM)
I want to score a knockout, but there's no pressure. I want to get one.
Sam (Indy)
Nonito, how far up in weight do you see yourself going up to?
Nonito Donaire
(12:08 PM)
Right now, I'm still pretty small for this weight class. I don't know how far I could get. But I am definitely going to start using weight and training with weight.
Chris Massara aka DonairePacman (Houston Tx)
Mabuhay Donaire! Come Visit us Pinoys in Houston.My question is have you seen any big issue during your training at this weight? Do you feel comfortable?Salamat! Mabuhay Pinas and Donaire!
Nonito Donaire
(12:09 PM)
No issues at training. I've been able to do everything. To maintain the weight, I've just been eating a lot.
Tommy (boston)
any plans for after this fight?
Nonito Donaire
(12:10 PM)
Well, there are guys I've target since last year.
DC
what do you think of the arena?
Nonito Donaire
(12:10 PM)
I think it's a great opportunity to be here. A ring is a ring to me. It will be a big crowd. When you're int he ring, it's the same everything.
Kevin (NYC)
any differences to training in vegas?
Nonito Donaire
(12:11 PM)
It was more convenient for me. Any time I wanted to train, or couldn't sleep, I could go up there. It could be 2 a.m. and I could go. That was the best thing about it.
Greg (Colorado)
best fighter growing up?
Nonito Donaire
(12:12 PM)
Sugar Ray Leonard, was who I based my style on. but Roy Jones was someone I really liked. Robinson, Hagler, Hearns are the guys I grew up immitating.
Greg (Colorado)
why do we see so much excitement at the lower weights?
Nonito Donaire
(12:13 PM)
We're just hungry. We're not afraid to go out there and prove ourselves. We're exciting. Being a smaller guy, we're able to use everything, speed, power, endurance. We go out there and work the crowd. Have fun.
Chris (Massachusetts)
Nonito, what inspired you to start boxing?
Nonito Donaire
(12:14 PM)
It was an after school program. I did it for my father.
Nonito Donaire
(12:15 PM)
I just want to thank you for tuning into the chat. Stay tuned for the Feb. 4 fight on Saturday. I'll give you the best I can. Thanks for all of the support! I'll be coming out with a 24/7 episode for the training camp.