Chat with Devon Alexander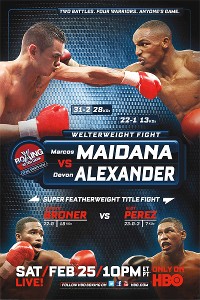 Welcome to SportsNation! On Wednesday, we're going inside the boxing ring when Devon Alexander stops by to chat about his appearance on HBO's "Boxing After Dark" on Saturday.
Alexander (22-1, 13 KO) takes on Marcos Maidana (31-2, 28 KO) as both fighters make their welterweight debuts. The fight will be live from Scottrade Center in Alexander's hometown of St. Louis at 10 p.m. ET/7 p.m. PT on HBO's Boxing After Dark.
Alexander defeated Lucas Matthysse back in June as he won his first time back in the ring following the first loss of his career in Jan. 2011. Five of his last seven wins have come via knockout.
Send your questions now and join Alexander Wednesday at noon ET!
More Special Guests: Previous chats | SportsNation
Buzzmaster
(11:58 AM)
Devon Alexander will be here to take your questions at the top of the hour!
Buzzmaster
(12:07 PM)
Devon is here!
Willie (LA)
Do you feel any slower at the new weight?
Devon Alexander
(12:09 PM)
Actually I feel fast and stronger. The speed is still there and I feel much much much better.
ed (butler p.a)
alex whats up?maidana said he is knocking you out what are you going to do?
Devon Alexander
(12:10 PM)
Well, he says that, I'm going to be shooting for the same thing. The name of the fight is Arch Enemies. It's going to be a war. It will be a good fight.
Bill (Ridgeland MS)
What is your biggest concern when facing your opponent this Saturday night?
Devon Alexander
(12:10 PM)
My biggest concern? I don't have any concerns, other than getting hit in the back of the head. I don't have any concerns. He's an all around clean fighter. No concerns.
Greg (VA)
Is your new weight closer to your walking around weight?
Devon Alexander
(12:11 PM)
Yeah. Sort of. I walk around at 158. It's more comfortable getting down to 147 than 140. It's kinda, sorta closer to my walking around weight.
Jeff (Colorado)
In your last bout you defeated a very powerful puncher in Lucas Matthysse. Now your going against another big puncher in Maidana, will you change your strategy any that used against Matthysse for Maidana?
Devon Alexander
(12:12 PM)
For my last fight, I wasn't 100 percent. I was 65 percent. Going into this fight with a power puncher, I will be able to handle it more and control the pace at the same time. Add more power too. More speed and more combinations. My legs will be fresher.
Karl (Detroit)
What made you decide to move up in weight?
Devon Alexander
(12:13 PM)
I've been fighting 140 since I was 15. I'm older now, I'm 25. I've grown. I'm becoming a man. My man strength is there. It's hard to make the weight now. It's hard to make weight with more muscle. Leaner and less fat. That's why I moved up, it was harder to make 140.
Vicmatic_TKO (north jersey)
If you beat Maidana, what would would you want to go after next?
Devon Alexander
(12:13 PM)
After this fight, the sky is the limit. 147 is packed with the most talent. It has the most talent in boxing. I'm sure they'll be coming after me after I beat Maidana.
Jeff (Colorado)
Often times a Boxer can be defined not by a win but how he handles a loss. How did in any way did your loss to Timothy Bradley change you as a Boxer? If at all?
Devon Alexander
(12:15 PM)
I'm actually a competitive person. I hate to lose. It was hard to lose that fight. I have a lot of positive people around me. THey said it could be for the best. I want to get that loss revenged. But I feel that I believe in my skill. I know what I'm capable of doing. That loss will be revenged one day and I'll be back to where I need to be.
Samuel (Indianapolis)
Devon, Do you feel it should be you fighting pacman?
Devon Alexander
(12:15 PM)
Ha...yeah. I definitely believe that. But I believe everything happens for a reason. I guess it's his time to get that shot. My time is probably not now. I took a different route. It will come back. I'm patient.
Craig (Sarasota)
If you win Satrurday night do you want the winner of Pacman vs Bradley or the winner of Cotto vs Mayweather?
Devon Alexander
(12:16 PM)
I would want to fight the winner of Pacquiao-Bradley. That would be a better chance of me getting that fight than Mayweather. You never know what Mayweather is going to do. Plus, I want to get Bradley anyway. I'll be watching closely.
Ry (OH)
Do you try to only fight in the St. Louis area so the judges will give you gift decisions even when you get beat up like you did by Matthysse?
Devon Alexander
(12:17 PM)
It doesn't matter where I fight at. I'm a big draw. It's not my fault that the opponent isn't a big draw. The fans come out to see me. They choose to take the fight. It's definitely not my fault.
Larry (Phoenix)
How does it feel walking around at your new weight?
Devon Alexander
(12:18 PM)
It feels good. During this week, I've got some bounce to me. I've got some energy in my legs. Less stress. I'm able to focus at the game plan. I don't have to worry about making the 140 limit. I have a lot more energy.
Jaron (STL)
Is training in St. Louis a distraction with everyone from your old neighborhood being around?
Devon Alexander
(12:19 PM)
People know that when I'm training in St. Louis, I'm secluded. If anyone says they see me anywhere, it's a lie. I have a private gym in St. Louis. I'm a private person when I'm training. I don't even stay with my family most of the time. I'm secluded during camp.
Ry (OH)
Haha I have to give you props for posting and answering that question.
Vicmatic_TKO (nother jersey)
why was thight fight only 10 rounds? Both are you are world class, why not 12/
Devon Alexander
(12:20 PM)
We both can handle that. We are both top notch guys. We can go 12 rounds. But it's not a title fight. My manager and Maidana's people had a mutual decision to go 10 because it's not a title fight.
Devon Alexander
(12:21 PM)
Saturday night, it's going down. You'll see me back in action. You can see a good performance. Tune in Saturday night!