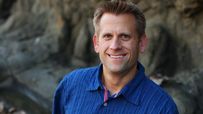 Welcome to SportsNation! On Monday, Sport Science host John Brenkus stops by to chat about his Emmy Award-winning TV show.
Sport Science uncovers sports' biggest myths and mysteries by utilizing cutting-edge technology to measure momentum, friction and the laws of gravity. In addition to his role as host of Sport Science, Brenkus, a Univeristy of Virginia graduate, is also the director and creative director of all BASE Productions programs.
Send your questions now and join Brenkus Monday at 2 p.m. ET!
More Sports Science: Chats | Index | Videos | Blog | @Sport_Science
Buzzmaster
(1:58 PM)
Sport Science host John Brenkus will be here at the top of the hour to take your questions!
Buzzmaster
(2:02 PM)
We've got John!
Aaron (San Francisco)
Did the power of the thrower's arm have as much to do with the paper airplane flying so well or was it more in the design of the plane?
John Brenkus
(2:03 PM)
A combination of the two. Obviously, the powerful arm with a crappy design wouldn't give the same results. A great design with a weak arm would do the same.
Larry (Dallas)
Did anyone from the NFL combine impress you so much that you now want to bring him in for a sport science episode?
John Brenkus
(2:03 PM)
RGIII is going to be a star. He just has that special X factor.
Darryl (FL)
How impressive is Javelle McGee's wingspan in person?
John Brenkus
(2:04 PM)
I honestly don't know if there's another player in the NBA who could pull off the double dunk. The combination of height, wing span, vertical leap and agility is a rare combination. Needless to say we were blown away.
Steve (Miami)
How did you guys decide to make a segment on the paper airplane?
John Brenkus
(2:05 PM)
It was the perfect "outside of the box" story that we love to persue.
Jeff (RI)
Was the record paper airplane segment one of the most bizarre segments you've done on the show?
John Brenkus
(2:05 PM)
Dating back to the origins of Sport Science, we've done almost 400 segments, so there have been some pretty bizarre segments. I wouldn't call this one bizarre. I would just call it outside of the box.
Paul (LA)
How many cookies did Javale McGee get to dunk?
John Brenkus
(2:06 PM)
What you saw was the first take. He didn't even eat an extra cookie off camera. He must be watching his figure.
Sam (Boston)
are there any athletes that you'd like to get into the SS lab but haven't yet?
John Brenkus
(2:07 PM)
There is always someone new we want to get into the lab.
Jacob (MA)
What did you think of the MIT Sloan Sports Stats conference? What is the cutting edge of physical science analytics in sports?
John Brenkus
(2:08 PM)
I actually just got back from being on one of the panels at the conference. What's most impressive to me is how that conference has grown in the past three years. Every year it gets bigger and bigger. The list of panelists is very impressive. The use of technology in sports is only growing.
John Brenkus
(2:08 PM)
We were very grateful to be included in such an amazing conference.
Ryan (Detroit)
ARe the plans for the 2012 QB combine in place yet? When will those episodes be put together?
John Brenkus
(2:09 PM)
We're starting to shoot our combine segments this week. Our combine special should air sometime before the actual draft. Stay tuned.
Steve (Chicago)
is there ever a time when you can't get to all of the experiments you hope to do with an athlete during your time in the lab?
John Brenkus
(2:09 PM)
You'll always want to do more, no matter what the situation is, but we always get what we need to make a great segment.
John Brenkus
(2:10 PM)
Our athletes have to go 100% in order to generate accurate results, so I'm not sure they really could do much more. We put them through a pretty good workout.
Jaaron Johns (Richmond, KY)
I hear Skip Bayless talk frequently about having a "clutch gene"... How significant is this with certain athletes? Is this a real thing? I am also a firm believer of it but it would be cool if there is some way of scientifically proving it on your show. Maybe heart rate monitors, blood pressure, adrenaline, in certain pressure situations... Thanks!
John Brenkus
(2:12 PM)
I don't think there's a way to determine how clutch someone is by analyzing their DNA. Being "clutch" is mysterious for two reasons: 1) it's hard to define what it is and 2) there seems to be very few people who are actually clutch. If you do a real analysis of how clutch someone is, you come up with some interesting statistics. For example, some of the greatest NBA players who we associated with being clutch, have a very poor shooting percentage in the final seconds of the game. Does that mean they're not clutch? It's an argument we have around the office all of the time.
Doug (Chicago)
How many different episodes do you work on in one day? How many do you tape?
John Brenkus
(2:13 PM)
We can shoot anywhere between 1 and 4 segments in a day. On any given week, we can work on as many as 10 different segments simultaneously. We have a rolling delivery with ESPN, so there are a lot of balls in the air in any one time.
Greg (VA)
Were you surpised at how many people were interested in the paper airplane record?
John Brenkus
(2:14 PM)
"Outside of the box ideas" seem to garner a tremendous amount of attention. We got a ton of fan mail for our competitive eating segment. Sport Science in and of itself is a bit outside of the box itself and I think that's what people love about it.
Chris (Miami, FL)
How does Lebron James never run out of energy or even appear to sweat on some occasions?
John Brenkus
(2:15 PM)
All athletes eventually run out of energy. But it is true that some athletes sweat more than others. It's actually most pronounced in endurance sports like the Iron Man. Some guys are known for being "sweaters."
David (Houston)
are the athletes usually pretty open to doing what you ask them or has there ever been a time when they didn't want to do something?
John Brenkus
(2:16 PM)
We like to collaborate with the athlete but we also like to surprise them a little bit. To get real results, we have to do something that the athletes love to do, but can't practice them enough so that we're getting real results.
John Brenkus
(2:17 PM)
More great segments coming your way! Stay tuned. Appreciate your support.