Chat with Sergio Martinez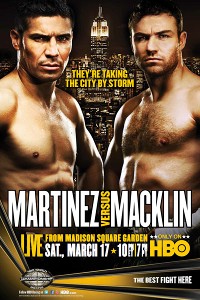 Welcome to SportsNation! On Tuesday, we're going inside the boxing ring when Sergio Martinez stops by to chat about his middleweight bout this weekend.
Martinez (48-2-2, 27 KO) takes on Matthew Macklin (28-3, 19 KO). The fight will be live from Madison Square Garden Saturday at 10 p.m. ET/7 p.m. PT on HBO.
Over the last two years, Martinez has won four fights since losing the second fight of his career in late 2009. Prior to that loss, he won 28 straight fights from 2000 to 2009. He earned ESPN.com's 2010 Fighter of the Year award for his defeat of Kelly Pavlik and second-round KO of Paul Williams.
Send your questions now and join Martinez Tuesday at 1:30 p.m. ET!
More Special Guests: Previous chats | SportsNation
Buzzmaster
(1:19 PM)
Sergio Martinez will be here at 1:30 p.m. ET to take your questions about his fight on Saturday!
Mariel Rodriguez (Nashville )
What do you think is your strengths going into the fight
Sergio Martinez
(1:40 PM)
The strengths are to hold up the pressure in the first few rounds. Keep moving around, fight smart and then everything will be fine.
Cameron (Florida)
You may be reluctant to answer this honestly in a public forum, but what was it that inspired you to become a professional boxer?
Sergio Martinez
(1:41 PM)
In the beginning, I was hoping to become a professional soccer player. My uncle took me to a boxing gym and after that I wanted to become a boxer and a world champion.
Ryan (North Kingstown, Rhode Island)
Sergio, can't believe I'm sending something to one of the best middleweight champions ever. Do you predict a knockout of Macklin this Saturday or do you think Macklin will stick around and take punishment until the final bell?
Sergio Martinez
(1:41 PM)
This fight is going to be done before Round 12.
Greg P (Staten Island,NY)
Sergio, was wondering if you ever consider coming back down to 154 for bigger $$$ fights? Do you see any big $$$ fights at 160 besides maybe JCC JR(who wont fight u anyway)?
Sergio Martinez
(1:43 PM)
As a matter of fact, I'm going to stay at 160 to get my title, which was stolen from me. Then, later on, I could drop to 154 to fight Floyd Mayweather. My body has a tendency to drop weight, not to gain weight.
Chris Romero (New Jersey)
Being that that you win vs Macklin, there is two fights that are out there for you which is Chavez Jr and Floyd Mayweather. If both fights materialize for you which one interests you the most and why?
Sergio Martinez
(1:43 PM)
No doubt to the question, it would be Mayweather. That is the fight we were looking for.
Jeff (Boston)
Do you consider yourself to be the greatest boxer in the world pound for pound?
Sergio Martinez
(1:44 PM)
I consider myself the No. 1 pound for pound fighter in the world right now.
Jeff (Boston)
What exercise do you dread the most during training camp?
Sergio Martinez
(1:45 PM)
For fast movements inside the ring. That's the one that I do in the camp.
Sergio Martinez
(1:45 PM)
Footwork drills.
John Dyer (San Antonio)
Would you ever consider moving up in weight to challenge Andre Ward?
Sergio Martinez
(1:46 PM)
No, no. My body has a tendency to go lower in weight, not higher in weight.
Greg P (Staten Island,NY)
Sergio, how much longer do you see yourself fighting?
Sergio Martinez
(1:46 PM)
I'm thinking 3-4 more years of fighting.
Darrell [via mobile]
Do you see yourself fighting Chavez Jr. in the near future?
Sergio Martinez
(1:47 PM)
As far as that, we've seen the situation. He seems like a good fighter. I don't know if it will happen. We'll try to make it happen, but we want action, not talk. Let's make it happen.
Sergio Martinez
(1:48 PM)
I'm thankful for all of the support you provide me. You'll see a beautiful fight on Saturday. Thank you so much.