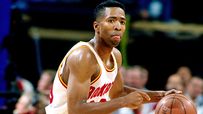 As a freshman at UNC, Smith averaged 9.1 ppg and 5.0 apg.
Welcome to SportsNation! On Tuesday, former NBA player, and North Carolina Tar Heel, Kenny Smith stops by to chat about his work covering the NCAA Tournament with TNT and CBS.
Smith was a freshman with the Tar Heels in 1983-84 during Michael Jordan's final season at Chapel Hill. He went on to be the sixth overall pick in the 1987 NBA draft. Smith had a 10-year NBA career, winning two titles with the Houston Rockets. He's been with TNT since 1998.
For the 2012 NCAA Tournament, Smith is working with Coke Zero to reward fans with chances to win prizes. Unique codes found on Coke Zero products entered through My Coke Rewards on EnjoyMoreMadness.com give fans a chance to win a variety of prizes, including trips to the 2012 and 2013 NCAA Final Four.
Send your questions now and join Smith Tuesday at 1 p.m. ET!
More Special Guests: Previous chats | SportsNation
Buzzmaster
(1:02 PM)
Kenny is here!
zac (chicago)
Kenny, it seems when analysts are looking for upsets in the early rounds, they pick what ever team is playing Wisconsin. Why do the experts have such a hard time embracing Bo Ryan's teams?
Kenny Smith
(1:03 PM)
They shorten the game, which makes the game always going to be a 2 or 3 possession game with their deliberate style on defense and offense. Most teams don't practice for that.
Superman Jr. 12 (home)
Can Nc state make a run in the ncaa tournament?
Kenny Smith
(1:04 PM)
Well, I really thought this is where they'd be. This is one of my "sleeper" teams. They're very difficult to guard in their front court. I feel this is accurate.
Kenny Smith
(1:04 PM)
Saying that, I don't think they can beat Kansas. I had them losing to Kansas.
Deven (New York)
Since your working with Coke Zero, what's your favorite kind of Coke?
Kenny Smith
(1:04 PM)
I'm a Classic guy, man. I'm a Coke Classic kind of guy.
Joey (SC)
What do you think about Baylor's Brady Heslip? He is a clutch kid! NINE 3's in one game? That's THREEdiculous!
Kenny Smith
(1:05 PM)
He's shooting the ball extremely well. He's probably the biggest reason they are where they are. He's the guy that I feel has kept them in the tournament.
Jason (Indy)
Do you think we can blow Kentucky out? They're kinda overrated, don't you think?
Kenny Smith
(1:05 PM)
Instead of trying to blow them out, you better try to slow them down. Keep the game in the 50s.
Zack (Los Angeles)
I've been seeing those pop-up ads during the tournament for Coke Zero. What can I win (and is there a site to go to if I'm not an instant winner?)? Also: how much more weight could Chuck lose if he started drinking Coke Zero?
Kenny Smith
(1:06 PM)
Well, first thing you have to text to win. Then you watch those scores and text to win. You can win a trip to the 2013 Final Four, ultimate basketball prize, home entertainment makeovers. Those are just some of the prizes.
Matthew (Columbia, NJ)
Kenny: How impressed were you with Lehigh and the way they were able to beat Duke, and played in the 1st half against Xavier?
Kenny Smith
(1:07 PM)
I was very impressed. One of Duke's weaknesses is their big guys don't score particularly well. And CJ was able to match the guards for Duke.
Andrew (Philly)
How many of the sweet 16 teams did you pick in your bracket?
Kenny Smith
(1:07 PM)
I picked 12.
Kenny Smith
(1:08 PM)
My Final Four is still alive.
Andrew (Philly)
Who's you pick for Thursday night's all Ohio matchup between Cincy and OSU?
Kenny Smith
(1:08 PM)
Wow! That is my toughest pick. I'm going with Ohio State, only because I've seen them play two more times. No other reason.
Chris Fiegler (Latham,NY)
Who do you think will be the 2011-2012 National Champions in NCAA Men's College Basketball?
Kenny Smith
(1:09 PM)
Well, I had picked North Carolina to win it all, however with Marshall's injury, it puts a question mark next to that.
Becs (Kansas)
Can the Jayhawks get past NCSTATE if they can do you think they have a real chance at beating UNC now that k.Marshals out?
Kenny Smith
(1:09 PM)
Well, they'll have to go through the state of North Carolina to get there, huh? They're one of the most talented teams in the country for sure.
Chris (NJ)
Which double digit seed remaining is most likely to make it to the Final 4?
Kenny Smith
(1:10 PM)
NC State.
Sally (DC)
If MSU and Kentucky meet in the Final Four, is Coach Cal's team too strong for Tom Izzo's team, or can Sparty find a way to gut it out?
Kenny Smith
(1:11 PM)
The one advantage that MSU has is they know how to slow the game down and make it a possession game, instead of a fast break game.
Zack (Louisville)
Why is it that people are putting UofL rather low in their rankings. I understand they are not the best team in the tourney but I think they are a little better than people think.
Kenny Smith
(1:11 PM)
Interesting team. Last year, when UConn did what Louisville did, it was a national story, this year, no one's paying attention to it. Watch out for the Cardinals.
Brad (Toronto)
Any word on how long Marshall will be out for UNC?
Kenny Smith
(1:12 PM)
The surgery was successful. We're all just playing it by ear now.
Andrew (Philly)
Who's your tournament MVP so far?
Kenny Smith
(1:13 PM)
Wow. That's tough....But if I have to choose one, I would say, Draymond Green from MSU.
Matt (Lexington)
Do you prefer doing the college basketball shows, or Inside the NBA?
Kenny Smith
(1:14 PM)
They're both different. I don't prefer one, they're just different. In the NBA we have more time to talk and joke around. We can do both, so it makes our job easier. With the tournament and so many games, we don't have that flexibility.
Brad (Toronto)
What upset was more suprising in your opinion? Missouri or Duke?
Kenny Smith
(1:14 PM)
Missouri losing to Norfolk State.
Cindy (ATL)
Who do you have in the Final Four as of now?
Kenny Smith
(1:14 PM)
My Final Four: MSU, OSU, Kentucky and UNC.
Deven (Buffalo, NY)
Who do you got winning the national title on your bracket? Let me guess, North Carolina right?
Kenny Smith
(1:15 PM)
Yes, UNC. They're good, not great any more. They were great before the injury.
Jenn (Hollywood)
How does it feel to be the dad of a pop star?
Kenny Smith
(1:17 PM)
Oh man! This is the most fun time I've had, so follow her at KaylaBrianna.com and @KaylaBriannaX.
Kenny Smith
(1:17 PM)
Enjoy more Madness!