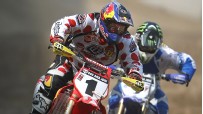 All-time great racer Ward has hung up his helmet to run his own team.
Welcome to SportsNation! On Friday, two-time X Games motocross gold medalist and owner of Jeff Ward Racing, Jeff Ward stops by to chat about his new team.
Ward brings a wealth of success to the ownership of his organization. He owns seven AMA national championships, 56 AMA wins and a spot in the AMA Motorcycle Hall of Fame. In addition, after moving on from motocross, he won the 1997 IndyCar Rookie of the Year, the IndyCar's 2002 Boomtown 500 at the Texas Motor Speedway and the 2009 Dirt Sports Rookie of the Year.
Ward brings his first-year team, with riders Josh Grant and Kyle Chisholm, to Toronto for the AMA Supercross event on Saturday. To keep up-to-date on the team follow the team on Facebook and on Twitter: @JeffWardRacing.
Send your questions now and join Ward Friday at 3:30 p.m. ET!
More Special Guests: Previous chats | SportsNation
Buzzmaster
(3:31 PM)
Jeff is here!
Greg (DC)
What's been the toughest part about starting up your own team?
Jeff Ward
(3:32 PM)
The toughest part was manufacturers. I didn't have one at the time. My involvement with Kawasaki goes way back. That was the first call I made. It was 8 weeks it took to get it up and running.
Jeffery Reeves (Charlotte, NC)
Will you have a lites class team for the outdoor season or for the 2013 Supercross?
Jeff Ward
(3:33 PM)
For the outdoor season, we're in the 450 class. We're working with Kawasaki and we may have the lites team at some point so we can have the riders from the Kawasaki stable. It might be that we have a lites team too.
Dave (NYC)
How long were you thinking about putting together your own team before you finally did?
Jeff Ward
(3:34 PM)
It was a few years. I worked with another team and helped them. I've always had an interest. And L-M was there and we got together and formed Jeff Ward Racing.
Steve ( NJ)
Do you have any plans to add more riders?
Jeff Ward
(3:34 PM)
This year? No. But next year we're talking to quite a few guys that want to ride for us. We'll probably add one more rider at least to have three total. We're definitely looking to add a few more.
Kevin (CT)
Any race in your career that stands out above the rest?
Jeff Ward
(3:35 PM)
In motorcycles, your first national win is big. Your first championship. But for me, the Indy 500 was probably the biggest and scariest feeling you could ever have. That probably takes it over motocross, because I grew up in it. Indy 500 was totally different and out of my realm.
David (San Diego)
Any tracks you're looking to see your team run on?
Jeff Ward
(3:36 PM)
Good question. For the outdoor stuff, I like Michigan. That was a great track. It will be great going back to those tracks that I enjoyed racing on and see my team out there.
Charlie (NJ)
How hands on are you?
Jeff Ward
(3:38 PM)
Quite a bit. I work with the riders. I go into the shop twice a week. What we're going to do, where we're going to go. I help with training, because I was there. I know what they're going through. Helping with the PR. Riders want to be on the bike and hate to take away from training. I was the same way. Make them feel good about getting to the track on the weekend and making it as simple as possible.
Keith (VA)
Has this first season gone about how you thought it would?
Jeff Ward
(3:39 PM)
Well, yes and no. I'm disappointed that Josh Grant got hurt. He was a guy that can run up front and has the speed to run with the top guys. He got hurt in the third race. We were expecting without him getting hurt to be running top 5s. With Kyle, that end of it is going well. But injuries are part of it. You have a top guy and then he's hurt the next week, that's motocross, the sport is so brutal.
Jeff (RI)
best part of this year?
Jeff Ward
(3:40 PM)
I just like going to the races week in week out and seeing people that I haven't seen in a while. Getting back into the sport full time. I never left it, but I was never this involved in it. A lot of the guys that I raced with are working with teams. I get to see them all that I raced with for 15 years. It's cool to be back in that scene.
Sam (CT)
What's one thing you want to change for next year?
Jeff Ward
(3:42 PM)
We're talking with riders, when contracts are up, their agents are calling around. There is a big influx of interest in our team. Also, sponsorships, we have DNA and Kawasaki and that's huge. We're talking with others. I'm at the NASCAR race in California and that's why I'm here, I have some meetings with sponsors. It's a constant battle to keep them and find them.
Chris (TX)
What's one thing you didn't anticipate?
Jeff Ward
(3:43 PM)
I've been involved in a lot of race teams. There are a lot of fires to put out or a conflict. As a racer, I just focused on what I had to do and that was it. There is a lot more behind the scenes to deal with. That's probably the biggest thing, you have to manage people in other areas other than being just a rider. I have four kids, so that's as good a training ground as there is.
Jeff Ward
(3:44 PM)
Thank everybody for the support. Find us on Twitter and Facebook. I'm real excited, because I'm in this for the long haul. I want the team to be successful. I appreciate all the fans that I have and the sponsors like DNA and Kawasaki and helping the team grow.