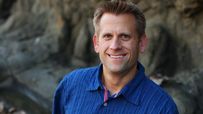 Welcome to SportsNation! On Monday, Sport Science host John Brenkus stops by to chat about his Emmy Award-winning TV show.
Sport Science uncovers sports' biggest myths and mysteries by utilizing cutting-edge technology to measure momentum, friction and the laws of gravity. In addition to his role as host of Sport Science, Brenkus, a Univeristy of Virginia graduate, is also the director and creative director of all BASE Productions programs.
Send your questions now and join Brenkus Monday at 3 p.m. ET!
More Sport Science: Chats | Index | Videos | Blog | @Sport_Science
Buzzmaster
(2:01 PM)
Hey folks, John's just wrapping some stuff up, so we're going to push the chat back to 3 p.m. ET/noon PT.
Buzzmaster
(3:00 PM)
We've got John!
John Brenkus
(3:01 PM)
Great to be with you!
Karl (Miami)
What was the most fun part of the Quinton Coples combine?
John Brenkus
(3:01 PM)
The part where he squashes me. It looked reminiscent of Independence Day, eh?
John (LA)
So, John, you got tossed again leading into the NFL draft....how did Michael Brockers' toss compare to Suh's?
John Brenkus
(3:02 PM)
Very comparable. Both are big, powerful defenders.
Dave (NJ)
John, how impressive was it watching Michael Floyd in the SS lab?
John Brenkus
(3:03 PM)
Floyd is a great all around receiver. He's not the biggest, fastest, strongest, but he's really fast, great hands, great vertical leap. He's an all around stud. He's going to be a great fit in Arizona.
David (NJ)
John, Have you ever done any episodes on sports injuries? I'm asking because I wonder if there's anything that could be done in your lab to explain all of the injuries we saw in the NBA this year.
John Brenkus
(3:05 PM)
We've done quite a few segments on injuries. Injuries are a tough thing to analyze. People want to claim that the lack of a preseason and a more concentrated schedule has contributed to an increase to player injuries. It seems very logical, but it's very hard to scientifically to prove. If it were universal, everyone would be hurt. We tend to analyze a specific injury rather than the situation leading up to it.
Kevin (GA)
Does your Base Productions just do Sport Science? What else is the company involved in?
John Brenkus
(3:05 PM)
We do a bunch of different shows, just log on to BaseProductions.com to see the complete list.
Steve ( NYC)
John, you've done a lot of experiments over the years and worked out many athletes....which would you say is more important for an athlete - overall strength or quick bursts of strength?
John Brenkus
(3:06 PM)
Depends on the position. It's hard to determine who's the best "overall." You need to analyze it more specifically.
Garrett Burroughs (Littleton, CO)
I love the show, but there is one person you havent brought in to test, and thats trent richardson! He would blow up the results for whatever tests you would do
John Brenkus
(3:06 PM)
Working on it.
Jeff (RI)
what was your impression of this year's NFL draft prospects in the lab?
John Brenkus
(3:08 PM)
I think each draft class is going to progressively be more impressive than the previous one, because the athletes in general are getting bigger, faster, stronger. So the guy taken in the 5th round could have been a first rounder 10 or 20 years ago.
John Brenkus
(3:08 PM)
I think we're seeing the evolution right before our eyes.
Derrick (Seattle)
Do you have guys wanting to contact you to come into the lab?
John Brenkus
(3:18 PM)
Believe it or not, we're going into our sixth season, so we've had athletes contacting us for many, many years.
Eric (LA)
John, Floyd Mayweather just won again. Is there anything you can do in your lab to try and match him up with fighters in the past?
John Brenkus
(3:18 PM)
Potentially.....
David (Miami)
The Olympics are coming up, so I'm guessing you'll have plenty of material....anything you might be able to let us in on now?
John Brenkus
(3:18 PM)
We have a bunch of Olympic segments coming up. Very exciting stuff.
Chris (Atlanta)
Are you still amazed at Javelle McGee?
John Brenkus
(3:18 PM)
Indeed! I still think the double dunk is one of the most amazing I've ever seen. It takes such a rare combination of height, vertical leap, wing span and athleticism to be able to do that dunk. I'd love to see someone else do it!
Darren (Chicago)
Do you and your team have discussions, even heated ones, about what experiments to do or what the results mean?
John Brenkus
(3:19 PM)
Most of our job is arguing about what we're going to do next. We have a ton of fun with spirited debate. We have a list of hundreds of experiments to come and we're always passionately discussing what we want to do next.
Peter (RI)
Do you have experiments you want to try and have to find the athletes to perform them or do you have the athletes first and have to figure out how to test them?
John Brenkus
(3:19 PM)
There is no set pattern. It's really a combination of the two. Sometimes we get the idea first and sometimes we're presented with the athlete first. Either way, it seems to work out well!
John Brenkus
(3:19 PM)
Stay tuned for more great segments to come. Appreciate your support