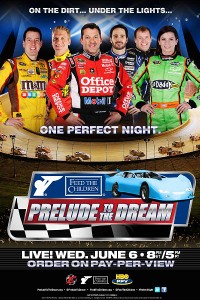 Welcome to SportsNation! On Wednesday, we'll have the driver of NASCAR's No. 15 Toyota Clint Bowyer stopping by to chat about the upcoming Prelude to the Dream children's charity race.
On June 6, HBO PPV will host coverage of the event starting at 8 p.m. ET/5 p.m. PT on Tony Stewart's dirt track at Eldora Speedway in Rossburg, Ohio. This year's race will benefit the Feed The Children charity.
Fans can stay up-to-date on all of the latest news on the Prelude race on Twitter: @PreludeToDream and Facebook.
Bowyer is in the first year of a three-year contract he signed with Michael Waltrip Racing to run the 5-Hour Energy-sponsored car.
Send your questions now and join Bowyer Wednesday at 3 p.m. ET!
More Special Guests: Previous chats | SportsNation
Buzzmaster
(3:04 PM)
Clint is here!
Bobby Klimas (Concord, North Carolina)
Clint,how does it feel to be racing in the Prelude to the Dream, racing a charity race for children?
Clint Bowyer
(3:05 PM)
I grew up racing dirt cars. It's a wonderful event for me and my team. It's something we have a passion for and participate in. To have a fun night and see the different talent levels from all over motorsports on a track filled with champions. It's a real cool event for a fan to see all of these different drivers. You never see anyone frown or without a smile. It's fortunate to be a part of something so successful.
James (Rochester, NY)
How did you feel about your performance in this year's sprint all star race?
Clint Bowyer
(3:06 PM)
I was a little bit disappointed with the race in general. With the rules that they changed around didn't seem to do what they wanted them to do. At the end of the race, you were just working on something for this weekend's race.
Rick Mosher Jr. (High Point,North carolina)
hey clent so u a big fan of dirt racing at the track eldora tonys track would u like to see it in cup
Clint Bowyer
(3:07 PM)
That would be wishful thinking. It would be cool. There is an ARCA race on dirt that's a cool race.
Jessica (Iowa)
What changes are you and the team looking for from the All-Star race car to the 600 car?
Clint Bowyer
(3:08 PM)
The biggest thing is we're bringing what we are confident is a better car. One that we've run and had success with. The all-star format with 20 lap sprints, you set up your car differently. You use last week as a test session and hope we can put it to good use this weekend.
James piccarreto (Rochester, NY)
What was the biggest challenge for you on coming to Michael Waltrip Racing this year?
Clint Bowyer
(3:08 PM)
There really hasn't been much of a challenge. It's been a breath of fresh air and a lot of fun. Knowing a lot of new faces. I've been very happy with the team. It's been good.
Patrick (New York)
Besides Tony Stewart, who do you feel is a big threat in this year's Prelude? What are your thoughts on Danica Patrick participating this year?
Clint Bowyer
(3:09 PM)
I look for Austin Dillon to do better than last year. I know those kids race a lot of dirt. Those two Dillon boys will do well. Kahne always has a shot.
Jason (St. Louis, MO)
Do you think there are too many 1.5 mile tracks on the circuit? What is your favorite type of track to race on?
Clint Bowyer
(3:10 PM)
Yes. One of my favorite size of race tracks are like Richmond. I wish there were more like that on the circuit. The 1.5 miles are still a good venue. You get a sense of what we do with the 200 MPH speeds and presents a good platform for our sport.
James Piccarreto (Rochester, NY)
Do you feel confident about making the chase this year?
Clint Bowyer
(3:11 PM)
I do. I have a lot of confidence in our team. We've had some bad luck happen. We've battled adversity and we're still looking good in the points. I think we can stay in this thing, hopefully get a win before the Chase.
Jeff (RI)
best part about racing on dirt?
Clint Bowyer
(3:12 PM)
It's the closeness of the action. You beat and bang on each other. The sensation of speed is greater. You feel the motor pulling. The track is rough. You're bouncing around. I feel like it gives you more of a sensation of speed.
James (Rochester, NY)
What is your favorite racing memory?
Clint Bowyer
(3:12 PM)
Winning my first race, with a close second being winning Nationwide championship. But you win your first Cup race at this level, it's the cream of the crop, the top of the ladder. When you can win on that platform it's big.
Timmy (KS)
how much as prelude changed?
Clint Bowyer
(3:13 PM)
It really hasn't, that's been the neatest thing. It's stayed fun and good racing at one of the neatest tracks in the country. The only thing that really changes is all of the different causes that Tony's chosen to put the money towards. It's reached a lot of peoples' lives.
Carl (Denver)
How serious do the drivers take this race?
Clint Bowyer
(3:14 PM)
We all want to say it's for fun and we are just farting around and enjoying the night. Which we do, we have fun. But the competitor in your, once you put that helmet on, it's pretty serious until you take the helmet off.
Jason (St. Louis, MO)
Is it nice to have a really cool full time sponsor and not have to worry about contract or sponsorship issues?
Clint Bowyer
(3:15 PM)
Absolutely. I think it speaks volumes about how good a job MWR has done of managing the program. And 5 hour Energy, they've seen positive impact in their business and they've elected to buy the rest of their races. I think it speaks volumes about the sport and the direction its headed in our sport.
Kevin (MO)
how much time do you get on the track during the week?
Clint Bowyer
(3:17 PM)
It seems like the job description has definitely changed since I got into the sport. We used to do a tremendous amount of testing. Basically, your communication and feedback drove the changes in the racecar. But now the engineers have a good say in that too. As far as the day to day role as a driver, we focus a lot on giving our sponsors their biggest bang for their buck.
Clint Bowyer
(3:17 PM)
I am really looking forward to the Prelude. If you can't make it to the track, buy it on TV, it's always a good time and a good race.