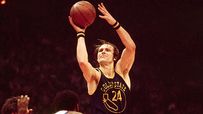 Barry averaged 29.8 points and 16.5 rebounds per game during his college career at Miami.
Welcome to SportsNation! On Thursday, NBA legend Rick Barry stops by to chat about the NBA Finals, just hours before the tip-off for Game 2 (9 p.m. ET, ABC).
Barry, who was elected into the Pro Basketball Hall of Fame in 1987 is the only player in history to lead the NCAA, ABA and NBA in scoring for at least one season. He was name a member of the 1996 NBA 50th Anniversary All-Time Team.
Barry won the only title of his career during the 1974-75 season while with the Golden State Warriors. During the 1975 NBA Finals, Barry faced off against fellow All-NBA First Team forward Elvin Hayes. For only the second time ever, the 2012 NBA Finals features a matchup of All-NBA Firest Team forwards in LeBron James and Kevin Durant.
Send your questions now and join Barry Thursday at 3 p.m. ET!
More Special Guests: Previous chats | SportsNation
Buzzmaster
(3:02 PM)
Rick is here!
Jeff (RI)
Which team is better defensively?
Rick Barry
(3:02 PM)
Wow...The Thunder. Mainly because of Ibaka.
Kevin (Miami)
just how much of a grind is an NBA finals? 7 games against the same team after already having played a long playoff season as well as 82 regular season games?
Rick Barry
(3:03 PM)
It's actually like a vacation, because you don't have to do extensive travel. You don't have back to back games. Your focus is on one team only.
Erik (Dallas)
Do you think we all have too high expectations for LeBron as compared to other players?
Rick Barry
(3:04 PM)
Definitely. Everybody expects the guy to win all of the games and win the championships. You don't win them by yourself, you need a team to do it. He has his kinks in his armor, but he is the most talented player. There are little things that he was never told as a youngster, like in his shot. He has a flaw in his shot, but no one ever told him how to do it right.
Greg (VA)
in your mind, what's the single biggest factor in this series?
Rick Barry
(3:05 PM)
Probably the biggest factor in this series right now is that Wade and Bosh aren't 100% and their injuries.
Luke (Houston)
how much fun was playing in the aba?
Rick Barry
(3:06 PM)
The ABA was real uptempo game. They didn't have, initially, the great centers. It was a fun, uptempo game.
JC (LA)
Would you enjoy playing in the NBA today with the constant media scrutiny?
Rick Barry
(3:08 PM)
I was scrutinized when I played. There's always scrutiny. Yeah, I'd enjoy playing, because I'd have three more zeros on my contract. You get more recognition, because of ESPN and all that. Our Finals were tape delayed. Heck yes, I'd enjoy playing today. I'd be a better player. I'd have all of the technology with the eating habits, the lifting. I'd be a 20-25% better player.
Kevin (Texas)
What's teh biggest difference between your days and the league now?
Rick Barry
(3:09 PM)
The players in my day knew how to play the game. They knew the fundamentals. You could take any five players and put them together and they'll look like they were playing together their whole lives. Today's players are more athletic but they're limited in terms of not knowing the game as well. I look at LeBron, there are so many things that he could be taught that could take his game to an entirely different level. He could be better than what he is. Just subtle things.
Dave (NJ)
Rick, where do you keep your NBA ring?
Rick Barry
(3:10 PM)
I wear it all of the time. The only time I take it off is when I go fishing...fishing and golf. Those are the only times I take it off.
Tim
better accomplishment, making the NBA or watching your sons play in the league?
Rick Barry
(3:12 PM)
They are two different things. It's been great watching my sons play. There is a personal enjoyment from being able to accomplish what I did. But there's a family, fatherly enjoyment from seeing your kids succeed. As a parent, as much as I enjoyed as much success as I had, I would want my kids to have what they've had even if it meant not having had my career. As a parent you sacrifice for your kids.
Sam (Boston)
what's your fondest memory of the ABA?
Rick Barry
(3:12 PM)
Probably playing for Lou Carneseca. Being a part of the championship team was great, but I was hurt and didn't get to play.
Brian F. (San Diego)
Rick, how come NBA players (specifically centers) who are bad foul shooters do not shoot foul shots under hand? Is it a pride thing? Just imagine how many more points Shaq would have had if he was a 70% foul shooter.
Rick Barry
(3:13 PM)
Yeah, I think it's ego. It's their ego, that they'd be made fun of. My dad said, son if you're making free throws, they can't make fun of you.
Rick Barry
(3:13 PM)
Plus there's nobody other then me around to teach it.
Greg (WA)
what do you think of this year's NBA Finals matchup? Who do you think comes out on top?
Rick Barry
(3:14 PM)
I think it's a great matchup of two outstanding teams with great players on them. Great young players. I think OKC will win.