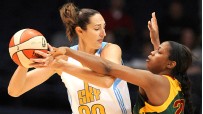 Riley was the fifth overall pick in the 2001 WNBA draft.
Welcome to SportsNation! On Friday, Chicago Sky's Ruth Riley of the WNBA stops by to chat about Chicago's game with the defending champion Minnesota Lynx on Saturday (12:30 p.m. ET, ESPN).
Riley, @ruthriley00, joined the Sky, her fourth WNBA team, in February. Chicago currently sits 7-2 and in second place in the Eastern Conference, behind first place Connecticut.
Riley, a member of the 2001 NCAA champion Notre Dame Fighting Irish, won WNBA titles in 2003 and 2006 with the Detroit Shock, earning the WNBA Finals MVP in '03.
Send your questions now and join Riley Friday at 3 p.m. ET!
More Special Guests: Previous chats | SportsNation
Buzzmaster
(2:55 PM)
Ruth is here!
Andre (Canada)
Toughest player to guard in your career?
Ruth Riley
(2:56 PM)
That's a tough one. I would say there are probably two players that are equally talented. They are Lisa Leslie and Lauren Jackson.
Andrew (Virginia)
Was playing with Swin your main factor in signing with Chicago? You two played on some great teams in Detroit.
Ruth Riley
(2:57 PM)
It was one of the factors. I signed for multiple reasons. I really like what they've done in building the team. Chicago is a great city to play in and I felt I could bring my experience to help bring us to the playoffs and beyond.
Wung (USA)
Ruth, what do you do to try and avoid injury?
Ruth Riley
(2:58 PM)
Throughout my career I've been blessed to play into my 12th season. My training has gotten smarter over the years. I do core, yoga. I mix in spinning, swimming. They are activities to make me stronger and keep me in shape as well.
Andrew (Pasadena)
You've looked great this season! How have you been able to fit into the Sky and their style of play? Was it easy or hard to adjust?
Ruth Riley
(2:59 PM)
It's been relatively easy adjustment so far. I think our style has changed with the addition of a lot of new people this year. We've all been able to come in and shape our team which is different than it's been in the past.
Erin (Miami)
How great of a city is Chicago?
Ruth Riley
(3:00 PM)
Chicago is a great city. Obviously, it's a very good sports city as well. It's been exciting so far for me to get acclimated to everything that Chicago has to offer. It's going to take quite a long time to get to know everything Chicago has.
Andre (Canada)
Do you keep up with any ND alums in the NBA? i.e. Troy Murphy, Harangody, Quinn, etc.
Ruth Riley
(3:01 PM)
Yeah, I follow some of my other Notre Dame counterparts, especially ones that I went to school with. I've followed them throughout their careers.
Andre (Canada)
Who is your favorite non-WNBA female athlete?
Ruth Riley
(3:02 PM)
It would probably be Misty May-Treanor, the beach volleyball player. When I'm not playing basketball, volleyball is my second love. Misty and Kerri Walsh are tremendous players in that sport.
Jen (DC)
what's your favorite off day activity?
Ruth Riley
(3:03 PM)
It's probably do a little yoga in the morning then head out to the beach. Play a little volleyball, hang out and grab some dinner with some friends.
Penny (Orland)
how long did it take to gel with all of the new player?
Ruth Riley
(3:04 PM)
We're off to a good start. But I think there's still room to grow, even though we're getting wins. It's a work in progress.
Ryan (Sacramento)
How has the WNBA changed since you first ented in 2001?
Ruth Riley
(3:05 PM)
It's changed tremendously. From the talent level to the sponsorships. The fans. The rules have changed as well.
kevin (macon ga)
You are the only player left in the league who played for the Sol. Will Miami ever get another WNBA team?
Ruth Riley
(3:06 PM)
I loved playing in Miami. It's still home for me now in the offseason. I wish I could say there would be another team down there, but I don't see it happening in the near future. I'm obviously very excited about the Heat win last night!
Ryan (Sacramento)
Where do you think you fit in within Chicago's game plan?
Ruth Riley
(3:06 PM)
I think I bring a dynamic of championship experience. The ability to complement Sylvia. I bring a lot of intangibles which helps our team be successful.
Chris (LA)
best basketball memory in your career at any point?
Ruth Riley
(3:08 PM)
I would say that's a hard one to differentiate between winning an NCAA championship my senior year at Notre Dame, that's the first championship I've won. And also winning a gold medal in the 2004 Olympics. That's the biggest honor an athlete can have.
Ruth Riley
(3:09 PM)
Thanks for all of the support over the years. I'm really looking forward to our game tomorrow on ESPN, where we're celebrating the 40th anniversary of Title IX, which is legislation that has completely altered the course of my life, allowing me to go to college and play sports.