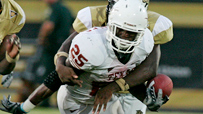 Texas owns a 59-42-5 record in the Red River Rivalry.
Welcome to SportsNation! On Wednesday, we'll have Kansas City Chiefs, and former Texas, running back Jamaal Charles stopping by to chat about the upcoming NFL season, as well as his role with EA Sports' NCAA Football 13, released Tuesday, and the game's rivalries. DeMarco Murray, alum of Texas' rival Oklahoma, chats Wednesday at 3:30 p.m. ET.
Charles, @jcharles25, won the BCS national title with Texas on the Vince Young-led 2005 team. He finished 2-1 against Oklahoma while at Texas, rushing for 260 yards on 38 carries. In the NFL, he has two 1,000-plus yard rushing seasons, including finishing second in the NFL with 1,467 in 2010.
Send your questions now and join Charles Wednesday at 3 p.m. ET!
More NCAA Football 13: Playbook's review | Behind the scenes | ESPN in NCAA 13
Rocky (Colorado)
Hey Jamaal, got any touchdown celebrations planned for this upcoming season?
Jamaal Charles
(2:55 PM)
Oh yeah, I cant wait to get into that endzone. I'm gonna dust off all the haters and grass on my jersey when I get in there.
skylar smith (smith)
Besides yourself who would you say was your'e most athletic player on the offensive side of the ball? and defensive?
Jamaal Charles
(2:56 PM)
D-Bowe, the ways he adjusts in there air for the ball is crazy.
Dan (Kansas)
Do you get offended that people keep talking about the Broncos and Chargers and saying they're the obvious favorites to win the division? I've been a Chiefs fan my whole life and I think this might be the best team across the board that I will get to see yet.
Jamaal Charles
(2:57 PM)
Yes, I hear the talk, but there are always teams people like to talk about. We need to show people this year, you know? If we do our part, people will start talking about us.
Ben(NY) [via mobile]
Jamaal I love watching u play man. I can't wait for u to prove all the doubters wrong this year. How do u feel about the peyton hillis acquisition? Is he just your backup or a threat to take the starting job?
Jamaal Charles
(2:59 PM)
I think he will be a great part of the offense. I do not see him as a threat, I see us helping each other. At the end of the day, I want to make the playoffs and win a Super Bowl. Thats what it's all about.
Andre (Canada)
Which former college teammate do you keep in touch with the most?
Jamaal Charles
(3:01 PM)
Derrick Johnson, who is on my team. But all of them. Brian Orakpo. Tim Crowder, Tarell Brown, Michael Griffin. A lot of them. Aaron Ross ... the list goes on. Vince Young ...
Brad (Gadsden,Alabama)
Jamaal, Do you have any pre-game rituals?
Jamaal Charles
(3:02 PM)
Not really, I just like to get focused. I like to go on to the field during pregame and try to get my mind right ahead.
Justin (Oklahoma)
Who was your favorite pro football team growing up and who was your favorite player?
Jamaal Charles
(3:03 PM)
John Elway and the Broncos. I just liked the way he played the game.
Justin (Oklahoma)
What's going to be key for your team to make it back to the playoffs this season? And are you at all nervous about Peyton Manning joining the West?
Jamaal Charles
(3:04 PM)
Not nervous, because we all have to put on pads and go out there and compete. We need to come together. We have one united goal and that is to win the AFC West this year.
John Russell (Kansas City, MO)
Alot of people are saying that you are stronger and faster than before you tore your acl. Is that true?
Jamaal Charles
(3:05 PM)
I would say yes, this is the strongest I've ever been. Now Im lifting stuff at the gym I normally couldn't handle before the surgery.
Chris (Houston)
Hook 'em!! Prediction for UT this year?
Jamaal Charles
(3:06 PM)
I think with the coordinators coming together with some of the top players coming in, I think we have a great chance at making a nice run this year.
Jamie (Kansas)
What should I say to my Bronco friends when they start talking smack??
Jamaal Charles
(3:07 PM)
Tell em, we shall see how things play out. No one's playing football right now. We'll see how everything plays out when the season starts.
Ralph (Temple, TX)
The loss of so many outstanding atheletes at one time was devistating to the program last year. Do you feel all of the Chiefs have recovered for this season?
Jamaal Charles
(3:09 PM)
I think so. It happened to a lot of great players. It all depends on how strong you come back. You can't let it get to your head. But if you can come back and learn from it and get stronger, you can actually improve as a player.
Jeff (KC)
You have to be thrilled with the oline additions. Winston is one of the league's top RTs and the rookies should help in a season or two.
Jamaal Charles
(3:10 PM)
I think we have a great O-line and some of the vets are really going to teach and help develop the young guys. It's a long season, and everyone needs to be ready. I think the young guys are tough, hungry and ready to play too. It is exciting.
Julian (Wichita, Kansas)
Jamaal i loved your break out year in 2010. Do you have any predictions for yourself this year?
Jamaal Charles
(3:11 PM)
Hopefully the prediction is make the playoffs and win the Super Bowl.
Derek (Missouri)
Be honest with us man, who's faster in 100 m dash, you or Chris Johnson?
Jamaal Charles
(3:12 PM)
I don't know, but obviously Im going to pick myself!
Jamaal Charles
(3:14 PM)
Thank you to everyone for supporting me through the hard times, Chiefs Nation and Hook 'Em. Thank you for letting me rock with you today!