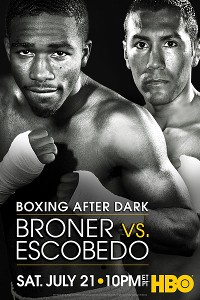 Welcome to SportsNation! On Tuesday, we're going inside the boxing ring when Adrian Broner stops by to chat about his WBO super featherweight title fight this weekend.
Broner (23-0, 19 KO) takes on Vicente Escobedo (26-3, 15 KO) for Broner's super featherweight belt. The fight will be live from the U.S. Bank Arena in Cincinnati Saturday at 10 p.m. ET/PT on HBO's Boxing After Dark.
Broner, @adrienbroner, makes his second fight in 2012, winning his last fight by fourth round TKO in February. Saturday's fight will be Broner's second title defense after he won the vacant super featherweight belt in November 2011.
Send your questions now and join Broner Tuesday at 1:30 p.m. ET!
More Special Guests: Previous chats | SportsNation
Buzzmaster
(1:36 PM)
Hang on folks, we're awating Adrien's arrival.
Buzzmaster
(1:49 PM)
Still waiting folks....
Dayna [via mobile]
Do you have any plans of moving up in weight any time soon?
Adrien Broner
(1:53 PM)
This is my last fight at 130, so after this I will.
Joe (Pittsburgh)
Typically, what is your workout routine like when you are not specifically in training for a fight?
Adrien Broner
(1:54 PM)
Any time I'm in the gym, I'm training my butt off.
Jay (Wichita)
How much longer do you see yourself at Junior Lighweight, and then lightweight for that matter considering all the potential big money fights will be at 140?
Adrien Broner
(1:54 PM)
I could probably go to 154.
Roan Bako [via mobile]
Do you think Nonito is doing a good thing for the sport by unifying? Why or why not?
Adrien Broner
(1:55 PM)
That's good for the sport. He's a world class fighter. He's doing amazing things in the ring and I like watching him fight.
JD (NYC)
What do you normally walk around weight wise?
Adrien Broner
(1:55 PM)
I don't know. I don't walk around the streets any more.
Adrian Zamora (Yuma,az)
My question is how many rounds of sparring have you done to get you ready for chete Escobedo and who are you sparring partners that help you for this camp????
Adrien Broner
(1:56 PM)
Who knows? Nobody does workouts out of a notebook. I just do how many rounds they feel I need. You never know. It could be 20. It could be 10. It could be 16. I know how to work.
CM [via mobile]
Adrien, I am from Scotland, and I am aware you were close to a fight with Ricky Burns last year. Could you give me your opinions on Ricky and do you think you will ever face him in the ring?
Adrien Broner
(1:57 PM)
He's a good fighter. He's another fighter I see myself fighting down the line.
Justin (Sactown,CA)
Yo Mr. HBO I'm a huge fan of yours. What is your prediction for the Escobedo fight? Who do you want to fight at 135?
Adrien Broner
(1:57 PM)
Hahahaha. That's a rhetorical question.
Craig (Cincinnati, OH)
Could you beat Manny Pacquiao at 147 right now? I think you could
Adrien Broner
(1:58 PM)
Easy money.
Joe (Pittsburgh)
What has been your favorite venue to fight in so far in your career?
Adrien Broner
(1:58 PM)
It really doesn't matter, as long as the crowd comes to see me.
bigbootydaddy c.a [via mobile]
Would u ever fight ponce de leon again i thought he beat u the first time but u have look great in ur last fight
Adrien Broner
(1:58 PM)
After that fight I went into the lockerroom and asked him if he wanted a rematch and he told me no.
Joydeep (Philippines)
Hey adrian. Im a huge fan and I hope you win big this saturday. Does the antics like the rapping and joking around help calm your nerves before the fight or is it just a display or supreme confidence?
Adrien Broner
(2:00 PM)
I have no nerves. I show sign of nerves. Any given Sunday you'll catch me rapping and joking. That's just me.
Jake (Utah)
How'd you get so flashy and fly? Looking forward to your fight, Champ!
Adrien Broner
(2:00 PM)
I always had it as a kid.
Justin (Sactown,CA)
What was your reaction when you found out your last opponent tested positive for drugs?
Adrien Broner
(2:01 PM)
I didn't care for it too much. His personal business is his personal business. I don't get into that. I'm just here to fight.
Ben (New York)
What round will you knock Escobedo out?
Adrien Broner
(2:01 PM)
Whichever round the knockout presents itself.
Adrien Broner
(2:02 PM)
Follow me on Twitter @adrienBroner.
Buzzmaster
(2:02 PM)
Thanks for chatting Adrien.