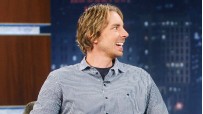 Shepard currently stars on the TV show "Parenthood."
Welcome to SportsNation! On Wednesday, actor Dax Shepard stops by to chat about his newest movie "Hit & Run" which he wrote and co-directed that hits theaters Aug. 24.
In the film, Shepard, @daxshepard1, plays Charlie Bronson, a guy with a questionable past who risks it all when he busts out of witness protection to help his fiance with a once-in-a-lifetime opportunity in Los Angeles. Their road to L.A. becomes complicated when they are chased by the feds as well as Bronson's former gang.
A native of Detroit, Shepard grew up a Pistons, Tigers and Red Wings fan, while also a New England Patriots fan.
Send your questions now and join Shepard Wednesday at 3 p.m. ET!
More Special Guests: Previous chats | SportsNation
Buzzmaster
(3:00 PM)
Dax will be here in a couple of minutes!
Kevin (DC)
How hard is it to juggle all of the jobs you had for this movie - directing, acting, writing?
Dax Shepard
(3:03 PM)
The hours were very long and I was exhausted at the end of it, but I wouldn't describe it as hard. I loved every minute of it, I was with my friends and my fiance. There are much harder things.
Rick (TX)
Do you ever call your Parenthood mom Holly Gennero?
Dax Shepard
(3:03 PM)
I do not. Nor am I positive what that reference is too. Perhaps Die Hard?
Peter (Denver)
How was it to throw out the first pitch for the Tigers?
Dax Shepard
(3:04 PM)
Terrifying. And highly rewarding. I had done it before and lobbed it out like a jerk, this time I went for it. And to my shock, threw a strike.
Erik (LA)
You've started to dabble in writing and directing the last few years...is that an area that you'd like to pursue more?
Dax Shepard
(3:05 PM)
Absolutely. It's no secret that my looks are fading, but I feel like I will be sharp as a writer for the next eight years.
Sam (New Orleans)
So, in light of Hit and Run, the question is, would you leave witness protection for a woman?
Dax Shepard
(3:05 PM)
Heck yeah! Especially if it were for Kristin Bell.
Greg (Baltimore)
Do you think the Tigers will be able to hold on to the lead in the AL Central?
Dax Shepard
(3:06 PM)
Yes I do. And if they can't, it's time to start from scratch because the team couldn't possibly have more talent on it.
Devin (FL)
Since you wrote and directed the movie, how much leeway did you give the cast to improvise or go off script versus doing scenes exactly as you wrote them?
Dax Shepard
(3:07 PM)
We had very limited time during the shooting of Hit and Run, so it didn't allow us to horse around as much as I would have liked to. Most of the movie is verbatim from the script.
Steve (Boston)
So, did you hone your cashier skills for Employee of the Month or did you need a stunt double to check out that fast?
Dax Shepard
(3:07 PM)
They actually hired a man from the circus to train me how to do all of the juggling and cigar box tricks.
Derrick (Chicago)
I see that you're pretty active on Twitter...do you enjoy having that interaction with your fans and followers?
Dax Shepard
(3:08 PM)
I enjoy the positive interactions. And I'm crippled by the negative ones.
Ryan (Detroit)
Craig T. Nelson still looks like he could break a man in half with his barehands. How intimidating is it to work with him?
Dax Shepard
(3:08 PM)
It's an immasculating experience to say the least. He's an alpha bramma bull in every sense of the word.
Darryl (Miami)
How much fun was it working on this movie?
Dax Shepard
(3:09 PM)
I had an excessive amount of fun. I was with all of my best friends, my favorite cars and the love of my life.
Neal (Boston)
When do you start back working on Parenthood?
Dax Shepard
(3:09 PM)
12 days ago.
David (Indy)
Where does your fandom of the Patriots come from?
Dax Shepard
(3:10 PM)
Having stood on the field at a Patriots game.
Dax Shepard
(3:10 PM)
And Tom Brady's modelesque looks.
Lenny (Atlanta)
Do you prefer working on TV or film?
Dax Shepard
(3:11 PM)
That's like asking if I like chili dogs more than I like pepporoni pizza. They're both wonderful. I'm lucky to have either job.
Ryan (Detroit)
How did you end up on punked, and do any of your celebrity targets still hold a grudge?
Dax Shepard
(3:11 PM)
Not that I'm aware of. But I don't interact with them as often as you might think. I got the job through a series of auditions held in LA.
Alex (KC)
What's your favorite thing to do when you're not working on a movie or TV sho?
Dax Shepard
(3:12 PM)
Drive my race car in the desert.
Nick (NC)
On your first day of Parenthood, how impressed were you with the cast?
Dax Shepard
(3:12 PM)
So impressed that I wondered whose clerical error it was that landed me there.
Jared (Chicago)
How cool would it be if you had a son just like Jabar?
Dax Shepard
(3:12 PM)
Not super cool because Kristin is white and I would have some 'splaining to do.
Will (LA)
I love your Parenthood show. Is that the work that you get recognized the most for these days?
Dax Shepard
(3:13 PM)
By older females.
Ryan (Detroit)
Idiocracy is probably the most underrated comedy of this past decade. How could this happen to anything from Mike Judge?
Dax Shepard
(3:14 PM)
Well, that's part of Mike Judge's charm. Office Space was also supremely mishandled, as was Extract. He's the only $100 millionaire underdog we have.
Dax Shepard
(3:14 PM)
Go see Hit and Run Aug. 24.