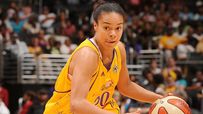 Toliver won an NCAA title with Maryland in the 2005-06 season.
Welcome to SportsNation! On Friday, we'll have Kristi Toliver of the WNBA's Los Angeles Sparks stopping by to chat about the Olympics gold medal game on Saturday as well as the restart of the WNBA season on Aug. 16.
In her fourth season in the league, Toliver has established herself as a major part of the Sparks. She ranks second on the team in scoring (17.4 ppg), leads the team in assists (5.0 apg) and leads the league in free throw percentage (92.7).
After beginning her career as a bench player, Toliver has worked her way into a starting role with Los Angeles, by reinventing her game.
Send your questions now and join Toliver Friday at 4 p.m. ET!
More Special Guests: Previous chats | SportsNation
Buzzmaster
(4:05 PM)
Kristi is here!
FearTheTurtle (Maryland)
What sports did you follow the most in this Olympics?
Kristi Toliver
(4:06 PM)
I always follow the girls gymnastics. I'm a sucker for that. And the track and field and obviously the basketball.
Rylee (CT)
What do you think has been the difference in your game this season from years past?
Kristi Toliver
(4:07 PM)
I think it's just been a balance of the offense and defensive end. Playing with confidence. Things have just come full circle. I'm familiar with the league and playing in it.
Step Back 3 (Boston, Mass)
Kristi, Really cool to see you blossom. Is it because you have #20 back on? Coach Frese is listing 10 memorable games in her first 10 years at Maryland. Are there any that really stand out for you from your four years? We love you.
Kristi Toliver
(4:07 PM)
Absolutely. I knew once I put No. 20 back on, everything would come back together for me.
Chuck (College Park)
What was it like playing for Brenda Frese?
Kristi Toliver
(4:08 PM)
It was great. She was a players coach. She's a great people person. She knows how to connect with each player. She knows how to handle players and knows we're each different. She has positive energy and that helped me as a young player to not get down on mistakes. Move on to the next play and stay confident.
Jess (Boston)
How closely have you been following Team USA in the Olympics?
Kristi Toliver
(4:09 PM)
I'm following very closely. I haven't missed one game. I think they've been playing well. There's no weak link on that team. If one group is struggling, then next will come in and help out. They're getting the right looks for the right people.
Tes (MD)
what have you been doing during the break?
Kristi Toliver
(4:10 PM)
I took about a week and a half off. Time we had away from practice I took off, it was hard, but my body needed the rest. Now we've gone back to the fundamentals and practice. That's what we need to do to continue to play strong in the second half.
Tiffany (Minnesoda)
how bizarre is it to have such a break? How do you handle it?
Kristi Toliver
(4:11 PM)
It's the first time I've had this kind of break and the first time I've had this amount of time without games. We've been playing 5 on 5 a lot in practice. You keep that competitive edge. We don't plan on missing a beat. It's different but it's a good chance to fine tune some things as a team. That's what we've been focusing in on.
Kristin (NYC)
If you could be an Olympian in sport other than basketball, what would it be?
Kristi Toliver
(4:12 PM)
Good question! That's tough....probably....swimming. I think I would want to be like Michael Phelps so I could rack up the gold medals.
Maryland Magic (Laurel, MD)
Hey Kristi,It's great to see you playing so well. Tune in whenever I can. Are Olympic rules the same as the rules you play by in Russia? Is it a big adjustment?Thanks for choosing Maryland.
Kristi Toliver
(4:13 PM)
For them, they should be very familiar. They all play overseas so it should be the same. It might be a little bit of an adjustment because we played the first part of the WNBA season. It might be a little bit different for the men because they don't play overseas, but the women have it under control.
Anthony - Terp For Life (Greenbelt MD)
What was your biggest hurdle going from college basketball to the WNBA?
Kristi Toliver
(4:14 PM)
Honestly, I think it was just getting my way into the right opportunity and taking advantage. In college I knew my way and my place. In the pros it wasn't as quick. But as time passed, I was able to find my way.
Chris (NC)
what will we see against France?
Kristi Toliver
(4:15 PM)
It should be a competitive one. France has been playing well as of late. They've been playing the second best behind the U.S. A lot of good guard play and defintely a lot of good inside play. It should be good. Talent against more talent. Since I've been playing overseas the last few years I know a lot of the girls, so it's fun because I know them on a personal level.
Kristi Toliver
(4:16 PM)
Thanks for the continued support!