Chat with Gennady Golovkin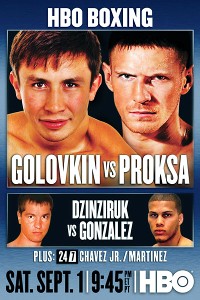 Welcome to SportsNation! On Wednesday, we're going inside the boxing ring when Gennady Golovkin stops by to chat about his WBA middleweight title fight this weekend.
Golovkin (23-0, 20 KO) takes on Grzegorz Proksa (28-1, 21 KO) for Golovkin's belt. The fight takes place in the Turning Stone Resort & Casino in Verona, New York Saturday at 9:45 p.m. ET/PT on HBO's Boxing After Dark.
Golovkin, the silver medalist at the 2004 Athens Olympic Games, makes the fifth defense of his WBA belt. He first won the belt in 2010 following a first-round knockout of Milton Nunez. This will be Golovkin's first fight in the United States; the majority of his fights (18) have been in Germany.
Send your questions now and join Golovkin Wednesday at 2 p.m. ET!
More Special Guests: Previous chats | SportsNation
Craig (Sarasota, Fla.)
Mr. Golovkin does the expectations of a knockout by everyone alter your strategy inside the ring? Can you outpoint Proksa if he wont go?
Gennady Golovkin
(2:01 PM)
Yes. I think so. I can go the distance.
Brian Steven Ross (Riverside, Ca)
Gennady, how do you feel about fighting in the US for the first time and would you like to come back after this fight?
Gennady Golovkin
(2:02 PM)
I love it. This is my first time and my first fight and I love it. It's my dream. And yes! Of course! Yes I would like to come back.
Helge Qvam (Oslo, Norway)
What is your plan to beat Proksa?
Gennady Golovkin
(2:03 PM)
I want to box and then to beat him.
Ry (OH)
Gennady, big fan here. I know your focus is on Proska, but would you like a shot at the Geale/Sturm winner to unify titles after this fight? As Sergio Martinez starts to get up there in age, I believe you will be the next lineal champ at 160! Good luck on Saturday and God Bless.
Gennady Golovkin
(2:04 PM)
Yes, of course, I would like to fight him before he retires. Of course.
brian (dc)
how have you adjusted to the time difference?
Gennady Golovkin
(2:06 PM)
I've been here a few months. I feel great.
David (CA)_
how is your health?
Gennady Golovkin
(2:06 PM)
I am healthy.
Gennady Golovkin
(2:09 PM)
Please watch on Sept. 1! It will be a great fight!