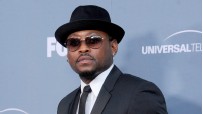 Epps played the role of Willie Mays Hayes in "Major League II."
Welcome to SportsNation! On Tuesday, actor Omar Epps stops by to chat about his career in Hollywood and his favorite NFL team, the Dallas Cowboys.
Epps, @omarepps, just finished up the series "House" after its eight seasons on the air. His 20-year acting career includes more than 31 credits, including "Major League II," "ER," "Scream 2" and "Love & Basketball."
The Brooklyn native grew up a New York Yankees and Dallas Cowboys fan. His new film "You, Me & The Circus" is now available for download on iTunes.
Send your questions now and join Epps Tuesday at 11:30 p.m. ET!
More Special Guests: Previous chats | SportsNation
Buzzmaster
(11:15 AM)
Hey everyone! We just got word that Omar's schedule is changed up and we'll be having him on at 11:30 a.m. ET. Get those questions in!
Buzzmaster
(11:38 AM)
Omar is here!
Mat (NYC)
How often do people walk up to you thinking that you're Mike Tomlin? Since you're from BK, what do you think of the Nets being in town?
Omar Epps
(11:38 AM)
Brooklyn having a basketball team is a little weird, but it's great for the borough. If they can bring a championship, that will be great.
Peter (RI)
have you ever been mistaken for Mike Tomlin?
Omar Epps
(11:39 AM)
No.
al (portland)
what was behind the decision in going with a digital release of your new film?
Omar Epps
(11:39 AM)
Being at the start of the new wave. Taking advantage of the digital platform and just being innovative in distributing the film. Not relying on the system of theatrical release. It's more exciting.
Doug (Chicago)
Actors always seem to be looking for another project, so how weird was it to have such stability working on House these last 9 years?
Omar Epps
(11:40 AM)
That wasn't weird at all. To have stability is the best thing, especially for an actor. It was a really great thing.
Dave (Dallas)
How will our Cowboys do this year?
Omar Epps
(11:40 AM)
I think we'll be lucky to be 8-8.
Alan (DC)
What's next now? Plan on taking time off since House is over?
Omar Epps
(11:41 AM)
Nope. Get back to it. I have a few things in devleopment, TV and film. Don't want to get into specifics.
neil (seattle)
what kind of response are you hoping for with a digital release of your new film?
Omar Epps
(11:41 AM)
A good one. I hope people check out the film and that they enjoy it. In a perfect world, it would be an explosion of a great response. I just want to see the movie, talk about it. Tell their friends about it.
Sam (Maryland)
Was it a good move to get Rob Ryan as DC?
Omar Epps
(11:42 AM)
The jury is still out on that one. I guess we'll really get to see that this season. Last year was his first year in, so we'll see how it comes together this year.
Chris (FL)
Between ER and House, you've done a lot of doctor acting....is that something you enjoy?
Omar Epps
(11:42 AM)
I just enjoy acting.
Omar Epps
(11:42 AM)
Not one particular field or genre.
Paul (St. Louis)
So, can you still run like Mays and hit like Hayes?
Omar Epps
(11:43 AM)
Uhhh, no.
Omar Epps
(11:43 AM)
I can probably hit. But I'm not sliding on the bases.
Derrick (New York)
How did you become a Cowboys fan growing up in Brooklyn?
Omar Epps
(11:43 AM)
I used to play football. I was a running back and Tony Dorsett was my favorite player.
David (Chicago)
how many people see you around and think you're a real doctor?
Omar Epps
(11:44 AM)
None.
Frank (Detroit)
Is Tony Romo the best QB for the job?
Omar Epps
(11:44 AM)
Good question....If we're winning, yeah. If we're losing, I guess not.
Thomas (Boston)
were you happy with how the show ended?
Omar Epps
(11:46 AM)
Yeah, absolutely. I think it was time. I think it was the right time. I thought it got the ending it deserved. Hopefully the audience thought so too.
Jeremy H (Minneapolis)
What are your plans now that House (great show) has wrapped up, do you want to do movies or television?
Omar Epps
(11:47 AM)
Both. Primary goal is to do good work. Work with great people. I love both.
Steve (Houston)
Because of your work on House, when you have to go to the hospital are you looking at things differently, wondering about the setup of the hospital or anything like that?
Omar Epps
(11:48 AM)
A little bit. I kind of became a germophobe. The respect I have for the people in the medical field is immense. A lot of what they're doing is trial and error.
Jeremy H (Minneapolis)
Who is your favorite NBA team?
Omar Epps
(11:49 AM)
I'm a Kobe fan, so I would say the Lakers. I like Durant too, so OKC.
Chris (Denver)
What were the hardest medical words or teminology you had to try to say on House?
Omar Epps
(11:50 AM)
That part, to me, the act of memorizing lines is like a basketball player dribbling the ball. It's not hard, or you have to make it not hard.
Omar Epps
(11:51 AM)
Peace and love. I've got the film "You, Me, & The Circus" on iTunes. Download it. Hit me up on Twitter.