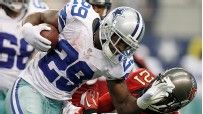 Murray rushed for more than 1,200 yards and 15 TDs his senior year at Oklahoma.
Welcome to SportsNation! On Tuesday, we'll have Dallas Cowboys running back DeMarco Murray stopping by to chat about the Cowboys, who are coming off a Week 5 bye.
In his second year in the NFL, Murray, @DeMarcoMurray, is leading the Cowboys in rushing this season with 237 yards and fifth with 16 catches.
This season, Murray is helping EA Sports' NCAA Football 13 debate college rivalries, including Oklahoma-Texas. Murray, a star at Oklahoma, left OU as the career leader in all-purpose yards (6,498), career TDs (64) and receiving yards by a RB (1,512). See EA Sports' Facebook page for more rivalry talk.
Send your questions now and join Murray Tuesday at 2 p.m. ET!
More Special Guests: Previous chats | SportsNation
Buzzmaster
(2:11 PM)
Hey folks, we had to push DeMarco back to 2:15 p.m. ET, so he should be here in a few minutes!
Buzzmaster
(2:16 PM)
DeMarco is here!
Al Renteria (Frisco)
What is your score for the TX-OU Rivalry this weekend?
DeMarco Murray
(2:16 PM)
I think it will be about 24-21 OU.
David (TX)
Do you just completely get away from football for a few days?
DeMarco Murray
(2:17 PM)
Yeah, I completely got away. I didn't watch any football, college or NFL. I just watched some movies and relaxed.
Josh (Center, Texas)
What RB did you like watching the most when you where a kid?
DeMarco Murray
(2:17 PM)
Barry Sanders, Gayle Sanders' YouTube clips. I liked Adrian Peterson, Reggie Bush. All of those guys.
Sam (florida)
what do you remember the most from the rivalry games?
DeMarco Murray
(2:18 PM)
Just the atmosphere. I was fortunate to be blessed to play in those games. The atmosphere, the fans make those games really really enjoyable.
Hank (OKC)
Hey Demarco, We need you to come up big this week! Think you can take on Ngata and Ray Lewis?
DeMarco Murray
(2:19 PM)
Those are two really good players. Ray is a future hall of famer. We just have to go out and compete. It's a tough game, won't be easy but we're excited for the challenge.
Jason (Dallas)
how much video game do you do?
DeMarco Murray
(2:19 PM)
During the season, I don't get to do it very often but I try to get at least two sessions in per week.
Al (Dallas)
how cool was it first time in the video game?
DeMarco Murray
(2:20 PM)
It was awesome. Growing up playing, I never thought I'd be in one. My freshman or sophomore year, it was surprising and definitely weird.
rashad (long beach california)
ok and tx this weekend, what does oklahoma have to do you pull it out?
DeMarco Murray
(2:21 PM)
For me, it was always preparing, no matter if we playing Texas or Ohio State. You have to be ready to take on those big teams. You have to make sure you're not being overwhelmed by the media or the fans and not do anything over the edge. Just go out there and play hard and the rest will take care of itself.
Josh (Center, Texas)
What things did you work on in the bye week to get ready for the ravens?
DeMarco Murray
(2:22 PM)
We just make sure we're preparing during the week and getting ready for the game.
Steve (New Jersey)
Demarco, do you get back to OK at all recently?
DeMarco Murray
(2:23 PM)
I haven't. I haven't been back to Oklahoma in forever. I definitely need to get back there and check on those guys. I've been real busy. Hopefully I can check them out in the national championship or something.
Josh (Iowa)
What do you think is needed to get the running game going?
DeMarco Murray
(2:23 PM)
We just have to get on the same page. We definitely have been down the last couple of games so we haven't been able to run it as much as we like. We'll get it done and grind it out.
Jerry (Las vegas)
Did you ever try any of the food at the Texas state fair while in town for the Texas OU game in Dallas?
DeMarco Murray
(2:24 PM)
I didn't. I was too busy, so I didn't get a chance to enjoy the food. Hopefully next year!
Brian (Killeen, TX.)
Do you and Dez have any friendly wagers on the Bedlam games?
DeMarco Murray
(2:25 PM)
When that time comes around, we'll figure something out. Last year they got the best of us, hopefully we'll be able to come out on top.
don (cali)
Why the number 29?
DeMarco Murray
(2:25 PM)
There isn't any significance. That's just the number they gave me. I didn't want to switch. That's the first number I got, so I figured I'll keep it.
Ben (ATL)
When will we get to see a DeMarco Murray spin move?
DeMarco Murray
(2:26 PM)
Hopefully this weekend!
David Darmoni (Boston, Ma)
Huge Fan, DeMarco: what is the most frustrating thing for an offensive player?
DeMarco Murray
(2:26 PM)
I don't know. There is a lot. I don't the answer to that one.
Bevo (Austin)
So where you gonna watch UT beat OU this weekend?
DeMarco Murray
(2:27 PM)
That's not going to happen, so I'm not worried about it.
Tom (OK)
what was it like running out of the tunnel?
DeMarco Murray
(2:28 PM)
It was awesome. Having that split of fans. It was awesome.
Craig (TX)
is the lockerroom any different before a big game like OU-Texas than another game?
DeMarco Murray
(2:31 PM)
At times it is. There are some guys who get really pumped up. For me, I just approach it like any other game.
Jake (TX)
Was the big Texas game one that you guys circled on the schedule?
DeMarco Murray
(2:32 PM)
We never circled them, they always circled us. We knew it was a big game, but we never circled anyone.
DeMarco Murray
(2:32 PM)
I appreciate you guys taking the time out of your day. I enjoyed it. I hope you have a blessed day.