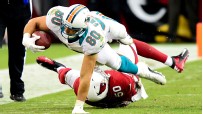 The Dallas Cowboys selected Fasano in the second round in 2006.
Welcome to SportsNation! On Tuesday, we'll have Miami Dolphins tight end Anthony Fasano stopping by to chat about the Dolphins, who are coming off a Week 7 bye.
In his seventh year in the NFL, Fasano, @Anthony_Fasano, is on pace for a career year. Through six games he already has 22 catches, with his career-best 39 catches within reach.
This season, Fasano is helping EA Sports' NCAA Football 13 debate college rivalries, including Notre Dame-USC. Fasano, a star at Notre Dame, left the program with the second most receptions and receiving yards for a tight end in school history. He had 10 catches for 144 yards and a TD against USC. See EA Sports' Facebook page for more rivalry talk.
Send your questions now and join Fasano Tuesday at 3 p.m. ET!
More Special Guests: Previous chats | SportsNation
Buzzmaster
(2:58 PM)
Anthony is here!
David (LA)
what have your early impressions of Ryan been at QB so far?
Anthony Fasano
(2:59 PM)
I've been super impressed. He came into camp really playing and acting like the starter. I think it was a tough decision because Matt Moore and he were playing so well in camp. Ryan has done nothing but a great job and has improved week to week.
Kevin (GA)
What do you remember about your rival games with USC?
Anthony Fasano
(3:00 PM)
Well, unfortunately, I didn't have the best against USC in my time, but it was always an intense rivalry. Even though we lost my senior year against them in the controversial finish, it's probably the best football game I've been a part of.
Paul (Boston)
I saw on Twitter that you just went to your first Notre Dame game since you played? Is that true? How was it?
Anthony Fasano
(3:01 PM)
It was true. It just worked out with the bye week at a good time. I was really excited to be back and see changes on campus and to see the team that's playing well. It's a little different from an outsider's point of view. I had a good time seeing the new players and coaches and being a part of the experience again.
Corey (Camden, DE)
Anthony, Your game play has really picked up this year and it seems as though you're on pace to have a career year. To what do you attribute your recent success?
Anthony Fasano
(3:02 PM)
I don't think I've played too differently, but some different opportunities have come my way. I've been involved in the passing game more consistently. A little more consistent performace has shown up this year. I attribute being on the same page as Ryan and our coaching staff putting us in a good position to succeed.
Greg (FL)
How cool was it the first time you saw yourself in a video game?
Anthony Fasano
(3:02 PM)
It was fun. I think my younger brother had a little more fun with it because he was more into video games. I think he won me the Heisman a few times. It was more fun to see him have fun with it.
Rich (Cedar Grove, NJ)
Do you and Reggie Bush have a friendly wager on the ND-USC game this year?
Anthony Fasano
(3:03 PM)
Of course. Yeah. I finally feel confident that I will be able to win this one. What will be on the line is yet to be determined. Reggie along with any other teammate of mine whose school is playing Notre Dame, we often have some sort of wager.
Peter (Denver)
What do you think of your old QB Brady Quinn getting a start this weekend?
Anthony Fasano
(3:04 PM)
Excited for him. He probably hasn't had the career path that he envisioned, but he just needs a good opportunity to succeed and he might have that. I know he'll make the most of it. He's a hard working guy and a great teammate. I look for good things from him.
Steve (Dallas)
What do you think about Notre Dame's season so far?
Anthony Fasano
(3:05 PM)
I think it's really impressive that they're winning and finding ways to win in games that they might not really beat the other team statistically. The juggling of QBs is always tough to handle. Getting wins out of that is impressive. Coach Kelly has the team believing in the system.
Knish (Piscataway)
what is the best part about coming home when the Fins play the Jests?
Anthony Fasano
(3:06 PM)
For me, it would have to be playing in front of my friends and family and seeing them before and after the game. For the team, playing in a hostile environment. You always circle these games on the schedule.
Darryl (KC)
What was your most vivid memory of playing at Notre Dame?
Anthony Fasano
(3:06 PM)
I would have to say running out of the tunnel pretty much every game. It's something special that people talk about every time. It can't be duplicated. Being introduced and running out on the field is special.
Jeff (RI)
Anthony, you're a TE, normally a position that doesn't get a lot of publicity. But in recent years, the TE has become more of a focal point of offenses. How fun has is been to be a part of the new TEs?
Anthony Fasano
(3:08 PM)
I agree with you. It's a growing position in the NFL and throughout football. Athletes are becoming bigger, stronger, faster and that allows TEs to become premiere parts of the offense. They can block but also stretch the field and be consistent passing threat. I'm excited to be a TE in these times.
Brad (Beverly, Ma)
What has it been like playing for Joe Philbin?
Anthony Fasano
(3:09 PM)
I played for a couple of different coaches before. That's been a part of my career in the NFL, adapting to new coaches. But I think the relationship has been great. I instantly had a bunch of repect for Coach Philbin seeing how he runs his team, as well as the assistant coaches.
Steve (DC)
How much of a video game player are you?
Anthony Fasano
(3:09 PM)
Sad to say, I haven't played a video game in about five years.
Anthony Fasano
(3:09 PM)
A lot of my teammates do and a lot of conversation goes around the lockeroom about it. I just can't seem to find the time for video games in my life right now.
Brad (Beverly, Ma)
I know the Jets are viewed as the phins main rivalry but shouldn't the Patriots be the team you are trying to overcome because they have been the model for success in the AFC east.?
Anthony Fasano
(3:11 PM)
Wins and losses count equally against those teams, as well as the Bills. We seem to have three rivals every year, because you play them twice a year. For me, growing up in New Jersey, I have never been a Jets fan. They also seem to be a little more vocal in the media. So that helps to build the rivalry emotions.
Nathan Onderko (I wish South Bend)
I'm the biggest ND fan you will find, and I have supported you ever since you were drafted. Do you think that the Irish will go undefeated? Sorry a little off topic
Anthony Fasano
(3:12 PM)
I do. I think they have a couple of more tests in a couple of really good teams in OU and USC and a couple of trap games if they don't take them seriously, they can be beat. It's college football, so you don't know what could happen. I think for the first time in a long time an undefeated season is a possibility.
Anthony Fasano
(3:12 PM)
I appreciate the support. Go Irish and go Dolphins!