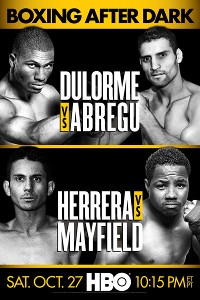 Welcome to SportsNation! On Wednesday, we're going inside the boxing ring when Karim Mayfield stops by to chat about his fight against Mauricio Herrera on Saturday.
Mayfield (16-0-1, 10 KO) takes on Herrera (18-2, 7 KO) on the undercard of the Thomas Dulorme-Luis Abregu bout. The fight takes place at the Turning Stone Resort & Casino in Verona, N.Y. at 10:15 p.m. ET/PT on HBO Boxing After Dark.
Mayfield, 31, turned pro in 2006. After taking a draw in the third fight of his pro career, he has won his last 14 fights, including a fifth round TKO in his last fight in May. He has fought, and won, at least twice a year since 2007, with four wins each in 2007 and 2009.
Send your questions now and join Mayfield Wednesday at 3 p.m. ET!
More Special Guests: Previous chats | SportsNation
Buzzmaster
(3:04 PM)
Karim is here!
Kevin (DC)
how long were you in camp for this fight?
Karim Mayfield
(3:05 PM)
About 6 weeks straight.
Evan (Dallas)
Do you watch a lot of film on your opponent, or do you let your trainer prepare the gameplan?
Karim Mayfield
(3:05 PM)
It's both. I do watch. I might notice something they might not notice. I want to get an idea of what they look like and their mentality.
David (LA)
Yoyu have a lot of KOs...is that something you look for or do they just happen?
Karim Mayfield
(3:06 PM)
Exactly, they sort of happen. But when I do feel they are hurt, I try to capitalize on them being hurt.
david (fl)
what was the worst part about camp?
Karim Mayfield
(3:07 PM)
Good question....Having to push through my first 10 rounds of sparring with 3 different partners, early in the camp.
Derrick (NY)
what have you learned so far in your career?
Karim Mayfield
(3:08 PM)
That you have to do what's necessary. You have to be able to adapt to different styles.
alex mares (CA)
how do you feel fighting in hbo for the first time in the big time and what is your game plan going against maurico herrera
Karim Mayfield
(3:09 PM)
I'm excited. I just look to capture the moment.
Dan (NYC)
what's the gameplan for the fight?
Karim Mayfield
(3:09 PM)
You'll see me come out and basically the middle of the ring will be mine. He likes to push people back, so I'll come out and establish my territory first.
Gary (VA)
do you follow any other sports?
Karim Mayfield
(3:10 PM)
I love playing football with my managers. I still play tackle football with my homeboys. That's just the kind of dude I am.
Sel (CT)
Who are some names you would like to fight in the future?
Karim Mayfield
(3:11 PM)
Brandon Rios, ideally. Garcia. And other guys too, if I move up.
Jake (IN)
who are some fighters you like to watch? Favorite of all time?
Karim Mayfield
(3:12 PM)
I would say the guys that I like to watch in the ring are different people for different reasons. I like the all out brawl that happened a few weekends ago. And I like technical guys. I like sportsmen like Roy Jones in his prime. My favorite fighter of all time, there are a couple: Ali, Roy Jones, Marciano, Willie Pepp.
sk (uk)
how does it feel like training with amir
Karim Mayfield
(3:13 PM)
It was cool. We actually won't start sparring until I get back next week. I'm looking forward to that. Cheers!
Chris Fiegler (Latham,NY)
What is the Best & the Worst Sports Facillity that you have Fought at?
Karim Mayfield
(3:14 PM)
Oakland Colesium for one, was a good one. Because of all of the sports fans, Raiders, etc. and it was local. Albany was a big crowd. I like anywhere with a large crowd. I love the large crowd.
RJ (OH)
Karim, big fan, looking forward to this Saturday. Do you anticipate being the first guy to stop Herrera, and how do you make set it up?
Karim Mayfield
(3:15 PM)
Let his overaggressiveness be the reason for his demise.
Will (College Park, Md)
Do you consider this the biggest fight of your career so far?
Karim Mayfield
(3:15 PM)
Yes, but the last four have been the biggest for me. Forbes on TV, next was the title fight, the next I was a main event and now I'm here. Every time I get there, it's the biggest in the last four.
Karim Mayfield
(3:18 PM)
Tune into the fight this weekend. You'll be hearing my name more. Thanks for sending in the questions asking. Hit me up on Twitter - @KarimMayfield1 - or Facebook and I'll answer your questions there too.