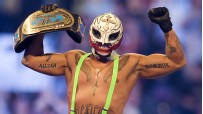 At 5-6, Mysterio is the smallest World Heavyweight Championship winner.
Welcome to SportsNation! On Wednesday, WWE superstar Rey Mysterio stops by to chat about his wrestling career as well as the release of THQ's WWE '13 video game which releases on Oct. 30.
Made for the Xbox 360, PlayStation 3 and Nintendo Wii, WWE '13 follows up last year's WWE '12. The video game provides the most authentic, seamless WWE experience, with improved critical gameplay and presentation elements, while also including the largest wrestler roster to date.
The veteran wrestler Mysterio, @reymysterio, first joined WWE in 2002 and is a two-time world heavyweight champion. In 2006, he won the Royal Rumble, after entering the ring second and is one of 21 wrestlers to be a WWE Triple Crown champion.
Send your questions now and join Mysterio Wednesday at 2:30 p.m. ET!
More Special Guests: Previous chats | SportsNation
Buzzmaster
(2:27 PM)
Rey is here!
Matt (Chicago)
What is the worst injury you have suffered from wrestling?
Rey Mysterio
(2:28 PM)
Two injuries have been really bad. My ACL tears and my bicep tear. If I had to put one in front of the other, I would have to say the last ACL tear, which was almost a year and a half ago.
Chris (Denver)
How much of a video game player are you?
Rey Mysterio
(2:29 PM)
Enough to get through and to beat my son every now and then.
Rey Mysterio
(2:29 PM)
But I could use a little more practice.
Leonardo Jr (torrington CT)
how many lucha libre mask do you have?
Rey Mysterio
(2:29 PM)
I want to say close to 500.
Mac from Wv [via mobile]
Do you play as yourself in the WWE games ? If not who do you play as?
Rey Mysterio
(2:30 PM)
I do try to pick myself. That's the only way I get to enjoy the features of Rey Mysterio in the video game.
Mac @call_me_mac_d [via mobile]
Do you play as yourself in the WWE video games? If not, who is your favorite wrestler to play as?
Ray Stinger Jr (Pittsburgh)
Hi Rey! Which wrestler would you never want to be in the ring with if they were in a bad moood?
Rey Mysterio
(2:30 PM)
I would have to say it would be between Undertaker and maybe Stone Cold Steve Austin.
Matt (Chicago)
How do you think your high-flying style of wrestling has given you the success you have had in WWE?
Rey Mysterio
(2:31 PM)
I feel that first and foremost my style has impacted the wrestling audience in the WWE universe because I try to stay innovative.
Rey Mysterio
(2:31 PM)
That's what keeps the fans on their feet wanting more.
Colin (Miami)
What's your favorite video game console to play on?
Rey Mysterio
(2:32 PM)
I would have to say PlayStation.
Manali (India)
Hi Rey,From very young age Rey is the part of wrestling world so; I want to ask what difference or change he is observing in wrestling style and world?What message he want to give for new generation wrestlers?What are the future plans?Plz do visit the India :)We love you Rey :)All the best :)Keep doing Best :)
Rey Mysterio
(2:33 PM)
Definitely the Attitude Era. WCW from 1998 to 2001 which is when Luche Libre pretty much entered WCW. We were performing every night with high flying non stop action.
Gio (Chicopee)
Rey when are you going to go after the wwe championship again
Rey Mysterio
(2:34 PM)
We were going after the tag team titles this Monday, but we lost our opportunity. I would think as soon as we get a rematch with whoever becomes champion in Hell in a Cell.
Ishmam Choudhury (Montreal,QC)
Who are you excited to versus with in WWE 13?
Rey Mysterio
(2:35 PM)
I would like to see Rey Mysterio against Stone Cold in there. That's the fun thing about the video game, you can create a match that you would want to see.
Mac from WV [via mobile]
Do you think that the WWE video games are good for the sport?
Rey Mysterio
(2:36 PM)
Oh, of course. I think if anything, we always promote the fact that what you see on TV you shouldn't try at home. Next time you feel like you want to get into the wrestling mode and throw your little brother or sister around, pick up the video game and throw each other around on the TV!
Matt (Chicago)
What is your favorite match from your career?
Rey Mysterio
(2:37 PM)
Yeah, I have a match that was voted match of the year that was in Las Vegas, Halloween Havoc PPV for the WCE. Eddie Guerrero v. Rey Mysterio.
Ben Walker (United Kingdom)
Do you miss the Cruiserweight division and would you like to see it reinstated?
Rey Mysterio
(2:37 PM)
I would love to see it reinstated.
Rey Mysterio
(2:37 PM)
That division was a division that got me noticed by the fans.
Matt (Chicago)
How long do you want to keep wrestling?
Rey Mysterio
(2:38 PM)
As long as I can go. I'm a person that just relies on faith and God's will. He will eventually tell me when it's time.
Mark (New York)
Rey, does your son wear the mask to school?
Rey Mysterio
(2:38 PM)
No he doesn't. A while back, I did get a couple of outfits made for him and my daughter. They've definitely outgrew them by now.
Leonardo Jr (torrington CT)
What were some your favorite wrestling matches in your early years in the WWE?
Rey Mysterio
(2:39 PM)
I've way too many good matches with different opponents. It's hard to just pick one.
Ryan F (Middlesborough UK)
What made you want to be a WWE/F Superstar?
Rey Mysterio
(2:40 PM)
Just following in my uncle's footsteps.
Jeff (RI)
we all see you on TV, but what's something behind the scenes that people don't realize about being a WWE superstar?
Rey Mysterio
(2:42 PM)
I think when we are hurt or we're sick we have to stay on focus. Not to long ago, I wrestled on a Monday night and I had food poisoning. I was in the ring with food poisoning. Sometimes you don't realize our health. They just see us perform out there and say that was good. But in the back, the cameras aren't recording anymore and you tend to yourself. In this case, I had to go to the doctor's right away.
Rey Mysterio
(2:42 PM)
Thank you for the support. Don't forget to pick up WWE '13 on Oct. 30!