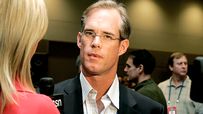 Welcome to SportsNation! On Wednesday, long-time sportscaster Joe Buck stops by the to chat about the Giants-Tigers 2012 World Series, which begins Wednesday at 8 p.m. ET on FOX.
With the start of the World Series, MLB and Taco Bell are partnering up on the "Steal a Base, Steal a Taco" campaign. If any player steals a base during the World Series, everyone in the U.S. gets a free taco.
As a six-time Emmy Award winner, Buck is currently the lead play-by-play announcer for Fox Sports, covering the MLB with Tim McCarver and the NFL with Hall of Famer Troy Aikman. He started with FOX in 1994.
Send your questions now and join Buck Wednesday at noon ET!
More Special Guests: Previous chats | SportsNation
Buzzmaster
(12:01 PM)
We've got Joe!
Rich (New Jersey)
Hi Joe, With the Giants having home field advantage in the World Series, how'll will the Tigers pitchers fair when having to bat in San Francisco?
Joe Buck
(12:02 PM)
It's always a question. It's something you wonder about, but with interleague play it's less of a concern. These guys are good athletes. The problem back in '06 was the Tigers fielding their position. I think the bigger part is they lose an extra bat in their lineup. They'll have Young play LF, but it will cost them one of their bats. It's something the AL teams have to deal with.
Jeff (CT)
Who's the best possibility to get us this taco?
Joe Buck
(12:04 PM)
Probably right off the top, Austin Jackson, the leadoff hitter for the Tigers is someone I'd look to. Even Infante, the No. 2 hitter. The problem with that is Cabrera and Fielder are up next and you don't want to get out in front of them. Blanco at the bottom of the lineup has been great at home and has great speed. He'd be my pick on the Giants.
Sean (Omaha, NE)
What do you do when the NFL Season ends until the start of baseball season?
Joe Buck
(12:05 PM)
I try to stay home as much as I can. I might take one quick trip of vacation. My girls are in school at that point. I go on spring break with them and then get ready for baseball. It's a quick offseason. But I like it that way, I'd rather be working than sitting around.
Chris (Ga)
Joe,You do a great job. What do u think of the umpireing crew, Good or some good ones left off?
Joe Buck
(12:06 PM)
I think for the most part, the umpiring has been very good as opposed to last. I don't look at any name on the list that jumps out on me. I think we should all appreciate, after seeing what we went through in the NFL umpiring on all sides. Whatever the crew is, they're going to do a good job and they'll think we're second guessing them and criticising them in the booth, but we're just pointing out what you're seeing at home.
alex mares (CA)
who do you think is going to win the world series tigers or giants
Joe Buck
(12:07 PM)
I think the Tigers with their off time, the benefit is they have their pitching lined up the way they want. The downside is they're facing a team with a lot of momentum. Earl Weaver used to say that the momentum is only as good as your next starter. And the Tigers have the best in baseball. I'm anxious to see how their bats go. The Tigers were expected to be here since they signed Prince Fielder. I think they'll be tough to beat.
Bill (FL)
are you able to be a fan of baseball?
Joe Buck
(12:08 PM)
I love it. This is how I grew up, going to these games. There is nothing I would rather do than sit at a baseball game. Even these games which is a lot of nights. It's a lot of fun. I'm a huge fan of the game and I'm a real big fan of long series. If we get a game 6 or 7, it will be a lot of fun at Fox.
Timothy Irvin (Los Angeles)
Hi Joe, I know that you and Tim McCarver are professional broadcasters, and thus, have no "rooting" interest in the outcome of a game or series...but both you and McCarver have Cardinal red blood pulsing through yor bodies. Was there just a little part of you that felt a pang of pain in sympathy with Cardinal Nation after game 7?
Joe Buck
(12:10 PM)
I thought it was an unbelievable atmosphere. Our broadcast sounds better when the home team is in a position to clinch and that trumps all for me. This team in San Francisco has been unbelievable. This crowd makes our cameras shake. We're just rooting for long series. We got it last time and they completely shut down the Cardinals and I'm anxious to see them take on the Tigers.
Tommy (Chicago)
based on ball parks, which team wins?
Joe Buck
(12:11 PM)
There is no ballpark like San Francisco's. I've said this on broadcasts before, the worse your ticket is, the better your view. The players don't understand how pretty this place is. From where I sit, I'm looking at tankers, the beautiful bay. We've got camera shots of the city. This place trumps all in terms of beauty.
Cal (ATL)
how crazy was that doubleheader?
Joe Buck
(12:12 PM)
I can't believe I made it to the game on time. Tim was thankful that I did. Taking a trolley was a TV stunt. I could have shown up 20 minutes earlier. We were making it a little more dramatic than it needed to be, but that's the way we do it at Fox. It was fun.
Joe Buck
(12:12 PM)
Watch! Watch the World Series. Go get your free taco when somebody steals a base.