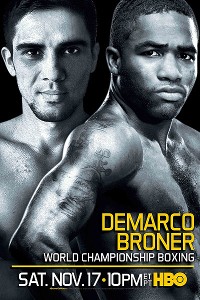 Welcome to SportsNation! On Thursday, we're going inside the boxing ring when lightweight Adrien Broner stops by to chat about his championship fight this weekend against Antonio DeMarco.
Broner (24-0, 20 KO) takes on DeMarco (28-2-1, 21 KO) at Boardwalk Hall in Atlantic City, N.J. Saturday at 10 p.m. ET/PT on HBO's World Championship Boxing for DeMarco's WBC lightweight title.
Broner, @AdrienBroner, fights for the second time in his career in New Jersey, and his first time in Atlantic City. Broner has won his last four fights via knockout. DeMarco will be making his third title defense, all coming in 2012.
Send your questions now and join Broner Thursday at 1 p.m. ET!
More Special Guests: Previous chats | SportsNation
Brendan Murphy (Michigan State University)
Since this is your first (official) fight at 135lb in the Lightweight Division, is there anything you plan on doing differently in the ring? (i.e.: Strategy, movement, punch selection, etc.)
Adrien Broner
(12:59 PM)
Nothing different, I just want to come out victorious and put on a good show for Atlantic City.
Chris (Detroit)
How hard has it been in going up to lightweight?
Adrien Broner
(12:59 PM)
No, it hasn't been hard. I know this is a big fight for me on paper, but I make hard work look easy.
Sasha West (New York, NY )
where can we purchase Adrien Broner gear
Adrien Broner
(1:00 PM)
It's not out yet.
jr (bronx)
are you exited to be fighting in NJ?
Adrien Broner
(1:00 PM)
I'm very excited to be the first big event after the hurricane. That's a good thing for the city.
Gabe Saginaw Mi [via mobile]
The Can Man! I believe after Mayweather and Pacquiao that you are the next pound 4 pound King in the future. Will you be moving up to Junior welterweight soon. There is a lot of great challengers in that division. Good luck Saturday Champ.
Adrien Broner
(1:01 PM)
Definitely.
victor (north jersey)
i'll be in attendance saturday night, are you going to come out putting on a performance before you got in the ring as well as inside it?
Adrien Broner
(1:01 PM)
Of course.
KK (GR,MI)
It's my opinion that the best fighters are from the midwest. James Toney, Ray Robinson, Floyd Mayweather, Joe louis, and many more. Could you see yourself compared to those fellow midwest fighters after your career is over?
Adrien Broner
(1:02 PM)
Of course, I am from the midwest, right?
Joydeep (Philippines)
Can you tell us something about your song "Cook" and do you plan to get in the rap business?
Adrien Broner
(1:02 PM)
Make that a positive.
Chris Fiegler (Latham,NY)
what do you think of the other fights on the card?
Adrien Broner
(1:02 PM)
My main focus is on DeMarco.
javi (argentina)
what are his biggest strengths in the ring?
Adrien Broner
(1:03 PM)
Who cares?
Marvin,M (San Antonio,Tx)
All i want to know is after you destroy DeMarco will you whip out D Brush? lol, No really do you plan to stay at Lightweight and wreak havoc or is this just a quick stop? Make hard work look easy good luck! I am indeed a Huge Fan of the Can Man
Adrien Broner
(1:03 PM)
It depends on Benjamin Franklin.
steve (New York, NY )
what have you been working on the most?
Adrien Broner
(1:04 PM)
You'll see Saturday night.
victor (north jersey)
what weight do you think you top out at?
Adrien Broner
(1:04 PM)
Welterweight.
Jay (VA)
best division? Best fighters?
Adrien Broner
(1:05 PM)
Any division Adrien Broner's in.
Henry (Buffalo)
do you like being active on FB and Twitter?
Adrien Broner
(1:05 PM)
Yes, I do. I love the social network.
Iwan Evans (North Wales)
do you like being compared to Mayweather?
Adrien Broner
(1:06 PM)
It's cool, but there's only one Floyd Mayweather and only one Adrien Broner.
KK (GR,MI)
Do you stil live in Ohio? If yes when will you relocate and will it be Vegas?
Adrien Broner
(1:06 PM)
That's too personal.
Mauricio (DMV)
How did you jump into pro status? did you ease your way in and let promoters find you? or did you just make the leap yourself and look for your own exposure?
Adrien Broner
(1:06 PM)
Everything found me.
Ryan (CA)
what can we expect after this fight? Obviously you'll win.
Adrien Broner
(1:07 PM)
Duh.
Adrien Broner
(1:14 PM)
Support me this weekend. Follow me on Twitter: @AdrienBroner.