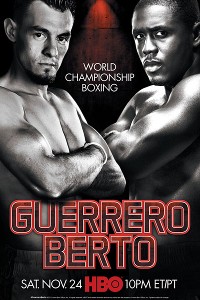 Welcome to SportsNation! On Tuesday, we're jumping inside the boxing ring when Andre Berto stops by to chat about his title fight this weekend against Robert Guerrero, who chats Tuesday at 3:30 p.m. ET.
Berto (28-1, 22 KO) takes on Guerrero (30-1-1, 18 KO) for Guerrero's interim WBC welterweight belt. The fight takes place at the Citizens Business Bank Arena in Ontario, Calif. Saturday at 10 p.m. ET/PT on HBO's World Championship Boxing.
Berto, @AndreBerto, owned the WBC welterweight belt from 2008-11, making five championship defenses. He lost the belt to Victor Ortiz in April 2011, for the only loss of Berto's career.
Send your questions now and join Berto Tuesday at 3 p.m. ET!
More Special Guests: Previous chats | SportsNation
Andre Berto
(3:01 PM)
Thanks to everybody for joining the chat. Let's get started!
Aaron (yuba city) [via mobile]
Excluding yourself who do you feel is the best in your weight class and are you open to a fight with him?
Andre Berto
(3:02 PM)
Floyd Mayweather is the pound-4-pound best and Manny is great too. There are a few guys that are on that list and I'm open to fight anyone of them.
Luis Torres from Texas [via mobile]
what's your favorite thing to do in your camp that gets you in top shape for your fight?
Andre Berto
(3:02 PM)
I love doing wind sprints.
David Silva (San Diego)
Are you willing to make a prediction on how this fight will end?
Andre Berto
(3:03 PM)
Yes, I predict that I will win.
Timmy l [via mobile]
After berto beats Guerrero, is an Ortiz rematch possible?
Andre Berto
(3:03 PM)
Hey, anything is possible after this fight but right now my camp is focused on Robert Guerrero.
miguel [via mobile]
Do you think your experience fighting at this weight will propel you to victory even though it's been awhile since your last fight?
Andre Berto
(3:04 PM)
Yes, I believe that one of the advantages I have is my experience in the right.
Rob (NY)
What's up Andre ,Do you feel that this fight against Guerrero is tougher fight than Ortiz or no?
Andre Berto
(3:05 PM)
Every fight at this point is a tough fight.
Greg Reyes/ kingsville, tx. [via mobile]
Do you think your aggression in the fight, will over come Roberts quick,snappy jab and his over all punching power?
Andre Berto
(3:06 PM)
I believe a lot of different things will be key to this fight and my aggression is definitely one of them.
Zim (Boston)
How will the long layoff affect you? Have you trained differently than you did for the Ortiz fight where you seemed to run out of gas in the later rounds?
Andre Berto
(3:06 PM)
I did train differently and I feel a lot better going into this fight.
jay [via mobile]
Wht u think ur advantage is over the ghost in this fight
Andre Berto
(3:07 PM)
My speed, power and explosiveness are my biggest advantages in this fight.
Alex (Chicago)
Any thoughts about moving up to 154? There is some good competition and seems like your frame would work there.
Andre Berto
(3:07 PM)
We will have to wait and see.
David Silva (San Diego)
If Manny Pacquaio and Floyd Mayweather were to step into the ring today who do you think wins?
Andre Berto
(3:08 PM)
I'm not sure. Both guys are very talented so I don't have prediction for that one.
David Silva (San Diego)
Other than boxing what sports do you follow?
Andre Berto
(3:09 PM)
I love football and basketball and I'm a fan of the Heat and Redskins.
Domani (Canada)
How does your day start in training camp?
Andre Berto
(3:10 PM)
I start with a five to six mile run.
speed bag scissorhands (new jersey)
Andre, do you believe the speed bag is a good tool for boxers , i get alot of haters saying its just for show.
Andre Berto
(3:11 PM)
The speed bag is good for boxers, it teaches you to keep your hands up. It's definitely good for boxers.
Andre Berto
(3:13 PM)
I appreciate all the support you guys have given me over the years. Be sure to tune into HBO at 10 p.m. ET Saturday night as I take on Robert Guerrero for his interim WBC welterweight belt.