Chat with Juan Manuel Marquez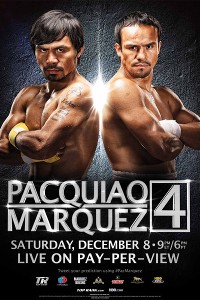 Welcome to SportsNation! On Wednesday, we're going inside the boxing ring when Juan Manuel Marquez stops by to chat about the his fourth fight with Manny Pacquiao, scheduled for Saturday.
Marquez (54-6-1, 39 KO) takes on Pacquiao (54-4-2, 38 KO) for the second time in 13 months, with Pacquiao winning the last fight via close decision. MGM Grand Garden Arena in Las Vegas will host the bout, which will air live on HBO PPV starting at 9 p.m. ET/6 p.m. PT.
Marquez, fighting for the second time in 2012, owns a 0-2-1 record against Pacquiao in their previous three fights, spanning the last eight years. The Mexican boxer has lost just three times in the last six years and is No. 5 on ESPN.com's Pound-for-Pound rankings. Pacquiao chats Wednesday at 1 p.m. ET.
Send your questions now and join Marquez Wednesday at 1:30 p.m. ET!
More Special Guests: Previous chats | SportsNation
Buzzmaster
(1:39 PM)
Juan is here!
Sam (San Jose (CA))
Do you plan to weigh in lighter than the 147 limit again or are you gonna experiment at that weight?
Juan Manuel Marquez
(1:39 PM)
I want to be at 143-44.
jorge (los angeles, ca)
will you be trying your best for a knockout?
Juan Manuel Marquez
(1:40 PM)
We are going to try, but we have to be smart about it. We have to figure out the best way to attack, but it is something we're trying to do.
Alvaro (Miami)
If it goes twelve rounds do you think you will get a fair shake with the Judge?
Juan Manuel Marquez
(1:41 PM)
All I am asking is to get a fair shake. I want them to see the fight and judge on that, not what they think they are seeing.
Juan (Bay Area, Ca)
What is your favorite post weigh-in meal?
Juan Manuel Marquez
(1:41 PM)
Spaghetti. Pastas.
Stuart (Englewood, NJ)
If you win for real this time, will you consider retiring? What if you lose again? will you retire?...ganalo campeon!
Juan Manuel Marquez
(1:42 PM)
I just think we have to wait until after the fight to see what's next. It's an important fight. We'll see what's out there after Saturday.
Mike Edwards (Boise Idaho)
How bad were you you hurt when pacman knocked you down that third time in the first fight?
Juan Manuel Marquez
(1:43 PM)
I don't think I was hurt. There were some knockdowns, but I wouldn't have gotten up if he had hurt me.
Luis (Fairfield, CA)
As a proud Mexicano, thank you for making us proud campeon! How do the cheers of all Mexicans motivate you during a fight?
Juan Manuel Marquez
(1:43 PM)
I do hear them, when I'm in the ring. I hear all of the support. I can tell you that it really motivates me.
Jrod (R.C., CA)
If many judges score round based on effective aggression, how do you plan to incorporate that in to your counter punching attack to ensure close round go your way?
Juan Manuel Marquez
(1:44 PM)
Not only aggressive, but you have to be intelligent and smart in there. Everything has to come into play. You need power. Everything.
Bob (Las Vegas)
You are a slow starter in your fights but in this fight are you looking to jump on pacquiao from round 1?
Juan Manuel Marquez
(1:45 PM)
In this fight, we have to start from the beginning. We have to start quick and that's what I plan to do in the first round.
Miguelg (Ontario,CA)
Do you think is going to be a close fight? I think who ever lose this fight they career is going donwards, pacquiao last 3 fights werent pretty
Juan Manuel Marquez
(1:45 PM)
I think that it will be a good fight, because the first three have been good. I don't think about anything else. It will be a good fight.
Alex (Salonika)
You have faced both Mayweather and Pacquiao. Who you think is the most dangerous?
Juan Manuel Marquez
(1:46 PM)
Without a doubt Pacquiao.
Geo (Oakland,ca)
Marquez.manny just said he's looking to knock you out!but I don't think so how will show him that your greater then him?
Juan Manuel Marquez
(1:47 PM)
I think it's a question of being focused. I know he's going to come after me. I know I'll be ready for him. It will be hard for him because I will be very smart and know what he will be going to do.
Gerardo (AZ)
Juan Manuel, which places in Mexico do you like to visit?
Juan Manuel Marquez
(1:48 PM)
I love going to the beach Cancun, Puerto Vallerta. Those kinds of places.
Sun Devil (Los Angeles)
Juan, congrats on your great career thus far. Are there any other boxers you want to fight before you retire?
Juan Manuel Marquez
(1:48 PM)
I am not thinking ahead at all. I'm just thinking abuot Saturday. I'm focused on Saturday, not what's going to happen in the future.
Brad (Gadsden,Alabama)
Juan, If you played football what position would you play?
Juan Manuel Marquez
(1:49 PM)
I actually like football. I would love to be a quarterback.
Mac (carlisle, pa) [via mobile]
As a professional boxer, how do you feel about the emergence of the UFC and MMA as a whole?
Juan Manuel Marquez
(1:50 PM)
I have seen a little bit of it. But I think it's a sport with no technique or art to it. It's a sport, but I don't see the attractiveness of it.
kevin nazario (rockledge,florida)
what change in your strategy are you implicating, to try and beat pac.
Juan Manuel Marquez
(1:51 PM)
We worked a lot on our speed for this fight. It's important. We need to be quick and strong, but we also need to be fast.
Dan (NJ)
Any regrets in your storied career?
Juan Manuel Marquez
(1:52 PM)
I don't have any regrets at all in my career. I think I've done everything I have wanted to do. When I look back, I will be very satisfied with what I've done.
Buzzmaster
(1:53 PM)
Thanks Juan Manuel! Everyone be sure to check out the fight on Saturday night starting at 9 p.m. ET/6 p.m. PT on HBO PPV.