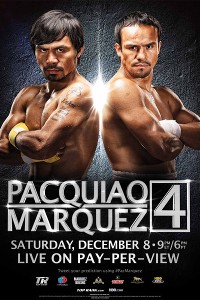 Welcome to SportsNation! On Thursday, we're going inside the boxing ring when legendary trainer Freddie Roach stops by to chat about his pupil Manny Pacquiao's fourth fight against Juan Manuel Marquez on Saturday.
Marquez (54-6-1, 39 KO) takes on Pacquiao (54-4-2, 38 KO) for the second time in 13 months. MGM Grand Garden Arena in Las Vegas will host the bout, which airs live starting at 9 p.m. ET/6 p.m. PT on HBO PPV.
Roach, a Massachusetts native, won the trainer of the year award in 2003, 2006, 2008 and 2009. As a professional boxer, Roach turned pro at 18 and went 40-13 before retiring in 1986 at the age of 26. He was inducted into the International Boxing Hall of Fame in 2012.
Send your questions and join Roach Thursday at noon ET!
More Special Guests: Previous chats | SportsNation
Freddie Roach
(12:00 PM)
Hello everyone! I'm ready for you questions!
Jason (Vermont)
Does it get harder or easier to prepare for an opponent you've faced three times before?
Freddie Roach
(12:01 PM)
It does get a little easier. You have to come up with a gameplan and to get in the best shape and fire away.
Joe Meyers (Charlotte, NC)
What did it mean for you to be inducted into the boxing hall of fame?
Freddie Roach
(12:01 PM)
It was a great moment for me. It was a hard time getting there but well worth it!
Nick (corona) [via mobile]
How many more fights do you think Pacquaio has left before he retires?
Freddie Roach
(12:02 PM)
I would say at least 2 more for sure.
Don (Atlanta)
How would manny have matched up against hector camacho in his prime?
Freddie Roach
(12:02 PM)
Two guys with hand speed. But Manny has a bigger punch and I think that would be the deciding factor.
Alex (Houston)
Manny didn't hurt Charles Barkley did he when they hung out? Does Manny have a jumpshot?
Freddie Roach
(12:03 PM)
He didn't hurt Barkley. No punches landed! Manny does have a pretty good jumpshot though.
Rigo Cruz (Gaithersburg, Maryland)
At this point in Manny's career would you rather see him fight Mayweather or Canelo?
Freddie Roach
(12:03 PM)
Bring 'em both! No problem!
Matt (Chicago)
What have you learned as a trainer from the previous fights against Marquez?
Freddie Roach
(12:04 PM)
He's always been a great counterpuncher and he has put some muscle on. We just need to keep him off-balance and that is what we will do.
Timo (San Diego)
What do you make of Mayweather saying he will fight twice in 2013? Will it be Canelo and Guerrero you think or will somebody else slip in?
Freddie Roach
(12:05 PM)
He's real quiet right now. He hasn't said much. I think he has Pacquiao on his mind.
John(NJ) [via mobile]
Freddie, last time you were here u mentioned working on restoring the fire in Manny during this training period. Do u see it? And more importantly, does he?
Freddie Roach
(12:05 PM)
He has four knockdowns in camp and we haven't had that in a long time. He is a much more focused fighter right now.
Matt (Chicago)
What does Manny have to do different in this fight to avoid controversy this time?
Freddie Roach
(12:05 PM)
Just knock him out!
hector (chicago)
should the referee have stopped the m.taylor vs chavez fight??
Freddie Roach
(12:06 PM)
One punch can change a man's life. He's closest to the action and making the best call he can.
Sulu,Philippines [via mobile]
Manny needs more to work his right hand in order to beat Marquez convincingly.
Freddie Roach
(12:07 PM)
Marquez has never seen his right hand and I think that will make the difference in this fight. Thanks for the questions! Don't miss the fight Saturday night!