Chat with Ray Rice, Ahmad Bradshaw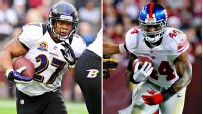 Check out
#BradshawandRice
to win free stuff.
Welcome to SportsNation! On Tuesday, Baltimore Ravens running back Ray Rice and New York Giants running back Ahmad Bradshaw stop by to chat about the final two games of the NFL season.
At 9-5, Rice's Ravens have already clinched a playoff berth and are one win away from clinching the AFC North title for the second straight year. Bradshaw and his Giants currently sit in a three-way tie for the NFC East division lead, along with the Redskins and Cowboys.
While at ESPN on Tuesday, Rice and Bradshaw are giving away free copies of the new Nintendo WiiU game "ESPN Sports Connection." Every time they mention the game during an ESPN interview, any fan using the hashtag #BradshawandRice on Twitter has the chance to win. Go here for more information.
Send your questions now and join the chat Tuesday at 1 p.m. ET!
More Special Guests: Previous chats | SportsNation
Buzzmaster
(12:56 PM)
We'll have Ray Rice and Ahmad Bradshaw chatting here in a few minutes!
Buzzmaster
(12:58 PM)
Ahmad is here!
Dave (Seattle)
Ahmad, how much trash talking are you and Ray doing today, since you play each other this weekend?
Ahmad Bradshaw
(12:59 PM)
I don't talk trash until someone says something to me. It's every game, though.
Ahmad Bradshaw
(1:00 PM)
It depends what team it is, the rivals. If nobody likes each other at the time. I don't say anything until someone starts, then I'm all in.
Will (LA)
How crazy is what Adrian Peterson is doing this year?
Ahmad Bradshaw
(1:00 PM)
It's remarkable, the things that he's doing. He's about to catch Eric Dickerson. Coming off the injury is the most remarkable thing. How it didn't effect him at all, how he's still poweful. His moves. Everything.
Alex (Anaheim)
Ahmad, do you prepare differently for a tough defense like Baltimore?
Ahmad Bradshaw
(1:01 PM)
Just working with great linebackers like that. I just worry about the flow of different plays. If they sit back on different plays. You have to study a great defense like that and great players like that in Ray Lewis.
Luke (Chicago)
Excluded yourselves, which running back in the NFL do you think is the most underrated? (I would say my boy #22 for the bears, but I'd like to see what you guys think)
Ahmad Bradshaw
(1:02 PM)
Hmmm...good question.
Ahmad Bradshaw
(1:02 PM)
I would have to say Danny Ware from the Bucs. He's a great back. Third down back.
Chris (Denver)
So what makes ESPN Sports Connection so cool?
Ahmad Bradshaw
(1:03 PM)
It has six different games. It gives you options to do different things. And it comes out around the holiday. The Wii gives you a good workout. You should be set for the holidays.
Steve (Sonoma)
You both are amazing, well rounded RBs. You can do it all at your position. Does it come natural or did you have to work on getting the full set of skills, blocking, pass catching, running, at your position?
Ahmad Bradshaw
(1:04 PM)
With me, it's just the nature of the contact and love of the sport. In high school I played defense, which helped me to like the contact even more. Being able to run and block comes with the position, but also comes with playing defense as a high school player.
Ahmad Bradshaw
(1:05 PM)
I have the Napoleon complex. I like to prove people wrong. I was always told I wasn't going to do it. I am used to blocking defenders.
Ted Waters (San Diego)
What is your favorite part of being an NFL player?
Ahmad Bradshaw
(1:06 PM)
Just that it was a dream when I was growing up. I can go against the best youngs. The best thing is the benefits.
Mick (CA)
Ahmad, despite not having you last week you haved launched me to my SuperBowl this year! Thanks! Oh, and if you go this weekend can I get 100 and a TD for Christmas? Thanks.
Ahmad Bradshaw
(1:06 PM)
I have 140 yards to get to 1,000 and that's a goal for me this year. 100 yards would be good for me for this game. Maybe I can get 140 for you and a couple of TDs.
Z (DE)
What are your thoughts about the way you are used in your offense?
Ahmad Bradshaw
(1:08 PM)
I feel like you can always use your RB a little bit more, within any offense. A lot of NFL offenses use their RBs as a WR and we don't a lot. He's looking downfield most of the time. But I feel any RB can be used more as a WR.
Kevin (Md)
coolest person you met after the SB win?
Ahmad Bradshaw
(1:09 PM)
Floyd "Money" Mayweather after the first Super Bowl.
Kirk (DC)
How confident do you think your team is about making the playoffs?
Ahmad Bradshaw
(1:10 PM)
Very confident. We hold our own destiny. We can play better when our backs are against the wall.
Ahmad Bradshaw
(1:10 PM)
I'm very confident in our team and our players.
MA (NYC)
What's the vibe in the Giants locker room this week?
Ahmad Bradshaw
(1:11 PM)
We're excited for the opportunity. We still have a chance for the playoffs with these next two games and at the division. The vibe is still the same. We don't get down after a loss. We rebound pretty well. Coach Coughlin talks about responding after a loss. We have to respond this week.
Ryan (San Diego)
What made you decide to connect with this game?
Ahmad Bradshaw
(1:11 PM)
I just love sports. The WiiU is a great system to play sports games on and be interactive.
Ahmad Bradshaw
(1:12 PM)
You're not just holding the controler, you're doing whatever the person on the screen is doing.
Matt (Baltimore)
Even though I am a Ravens fan, I am touched by how the Giants team responded and honored the victims in Newtown, CT. Reading about Victor Cruz's tribute brought a tear to my eye. Keep up the good work!
Ahmad Bradshaw
(1:13 PM)
I didn't even know he was going to do that. I felt it was a great tribute for Newtown.
Ahmad Bradshaw
(1:14 PM)
Keep believing. Believe Big Blue! For the next 2-6 weeks. We'll be all right!
Buzzmaster
(1:22 PM)
Thanks for chatting Ahmad!
Buzzmaster
(1:23 PM)
Sorry everyone but it looks like Ray will not be chatting with us today.