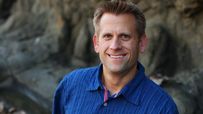 Welcome to SportsNation! On Monday, Sport Science host John Brenkus stops by to chat about his Emmy Award-winning TV show, as well as his project to name the Greatest Athlete of All-Time.
Sport Science uncovers sports' biggest myths and mysteries by utilizing cutting-edge technology to measure momentum, friction and the laws of gravity. In addition to his role as host of Sport Science, Brenkus, a Univeristy of Virginia graduate, is also the director and creative director of all BASE Productions programs.
Send your questions now and join Brenkus Monday at 2 p.m. ET!
More Sport Science: Chats | Index | Videos | Blog | @Sport_Science
John Brenkus
(2:01 PM)
Still licking my wounds from a crushing Redskins defeat, but in honor of staying optimistic "there's always next year!"
Jeff (RI)
Which sports voting so far have you found the most interesting?
John Brenkus
(2:02 PM)
I was surprised that LeBron James didn't get more love in the basketball bracket.
David (Washington)
How hard was it putting together nominations for categories that involved multiple sports? Olympics, action sports, dual sport athletes all are broad.
John Brenkus
(2:03 PM)
We went through a long process for all of the categories. The ones with multiple sports were more difficult because we had more factors to consider.
Pam (Boston)
How hard was it to analyze past generation athletes for the Greatest Athlete project?
John Brenkus
(2:04 PM)
It's challenging to analyze all the athletes but we feel our metric gets it right.
Will (TX)
Are you already starting to plan Sport Science segments for the Super Bowl?
John Brenkus
(2:05 PM)
Stay tuned!
David (San Diego)
Aside from revealing the winner of this competition, are there any other things planned for the final show?
John Brenkus
(2:06 PM)
Yes, you will see how we would have ranked the athletes if there wasn't a popular vote.
Peter (Denver)
Which athlete that's been voted in so far do you think has the best chance to win the whole bracket?
John Brenkus
(2:06 PM)
We really won't be able to tell until all of the athletes are voted in.
Kevin (Indy)
With the NHL coming back, is there any sort of experiment or data analysis that can be done to see how a lockout would effect athlete performance?
John Brenkus
(2:08 PM)
It's difficult to tell because each athlete has been doing his own thing. Some may have been working out harder than what they wouldn't have been if working under the supervision of a team. We just don't know.
Derrick (Chicago)
Concussions are a hot topic in the sports world right now. How much more do you think science can go, in terms of learning how the brain reacts to injury?
John Brenkus
(2:09 PM)
A lot further. I think we are just in the early stages of learning about brain trauma in sports.
Trevor (LA)
The nominees for action sports are current athletes, is that because action sports as a whole is a more modern group of sports?
John Brenkus
(2:09 PM)
Precisely.
Mike (San Diego)
When it comes to A.Peterson, how much did his natural athleticism help Peterson recover quicker than others?
John Brenkus
(2:10 PM)
Peterson is that unusual athlete who has an amazing body and mind. When you hear him talk, he never thought for a moment that he woudn't come back. He his truly an outlier.
Evan (Dallas)
as a part of your greatest athlete of all time project, have you done anything to analyze the difference between athletes today and those from the past?
John Brenkus
(2:12 PM)
A lot of our analyzing has to do with using a ranking metric. We compare players to not only their contemporaries but to every athlete that has ever played the sport. That way athletes from the past aren't at a disadvantage from modern day athletes.
Chris (DC)
With there actually being some science behind Marshawn Lynch's use of candy for an extra boost, why do you think other athletes don't try the same thing?
John Brenkus
(2:15 PM)
A lot of athletes do use sugar but in the form for jelly, bars, Gatorade etc. Not many use the true to form candy bar to get their sugar intake.
John Brenkus
(2:16 PM)
Thanks for all your support and stay tuned for more Spots Science segments to come.