Chat with Gennady Golovkin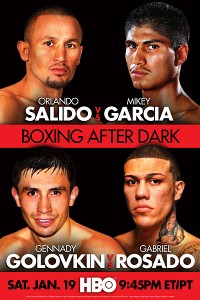 Welcome to SportsNation! On Wednesday, we're going inside the boxing ring when Gennady Golovkin stops by to chat about his WBA middleweight title fight this weekend.
Golovkin (24-0, 21 KO) takes on Gabriel Rosado (23-5, 13 KO) for Golovkin's WBA belt. Madison Square Garden in New York will host the fight Saturday, that airs at 9:45 p.m. ET/PT HBO's Boxing After Dark.
Golovkin, the silver medalist at the 2004 Athens Olympic Games, makes the sixth defense of his WBA belt. He first won the belt in 2010 following a first-round knockout of Milton Nunez. This will be Golovkin's second straight fight in the United States. He defeated Grzegorz Proksa via fifth round TKO in September.
Send your questions now and join Golovkin Wednesday at 2:30 p.m. ET!
More Special Guests: Previous chats | SportsNation
Buzzmaster
(2:28 PM)
Gennady is here!
Willie (San Francisco)
You've only had three fights where you didn't get a KO, will you be looking for another KO Saturday?
Gennady Golovkin
(2:29 PM)
I think so, yeah. I think this is boxing. I think so. Probably, yes.
David (LA)
Where do you keep your silver medal from the 2004 Olympics?
Gennady Golovkin
(2:30 PM)
I have the silver medal in boxing and it's a great time for me.
Tim (TX)
You haven't gone the distance in a fight in 5 years....do you go into a fight thinking KO?
Gennady Golovkin
(2:31 PM)
There is a different style with this fight. It's a great fight for us, for the people, for the fans.
Greg (DC)
How much longer do you think you will stay at middleweight?
Gennady Golovkin
(2:31 PM)
I don't know. I don't know right now.
Peter (Boston)
what do you think of the other fight on Saturday, Salido-Garcia...who wins?
Gennady Golovkin
(2:33 PM)
Oh, I think it's a very good fight for Salido and Garcia. Because two guys from Mexico, who is best?Who is the champion? Salido has a good team and Garcia too. Salido has good power. It's a good fight for him and for Garcia....it's a great fight.
Steve (LA)
would you be open to a unification bout?
Gennady Golovkin
(2:34 PM)
Right now in middleweight I think the next fight in the future will be in Germany. Right now it's not about how many belts I have, I just want to be the No. 1 in junior middleweight, middleweight and super middleweight.
Joydeep (Philippines )
What do you remember most about competing at the olympics?
Gennady Golovkin
(2:35 PM)
The semifinal fight. It was a very hard fight against a good fighter. Very good speed. Good fight.
Christian (Puerto Rico)
I am fan of yours as you did your preparation for this fight?
Gennady Golovkin
(2:35 PM)
We prepared for two months. I went to my camp in California. Two months I've been preparing.
Gennady Golovkin
(2:36 PM)
Hard work every day we trained.
Matt (Phx)
what do you think about fighting in New York City?
Gennady Golovkin
(2:36 PM)
Oh, I like New York City. It's like my country. The people have good energy, good atmosphere. It's just work, work, work. Everyone is working. It's a lot like my country.
Joydeep (Philippines)
You're always smiling. You think its important for a boxer to have such a positive mind frame?
Gennady Golovkin
(2:37 PM)
Yes. I am very positive. I like to box. I like my life. I am happy every day.
Andrew (Farmville, Virginia)
GGG, you looked spectacular against Proksa and ever since you've been incredibly popular with American boxing fans. Will you continue to fight often until you get a big name fight? Nothing would make me happier than to see you up against Chavez Jr. or Martinez
Gennady Golovkin
(2:38 PM)
Yes, absolutely. On Sept 1 it was my first fight in the U.S. Every fight is better, better, better for me for the fans and the people. Thank you to HBO for my first fight and now my second fight in the U.S.
Jeff (DC)
who is your favorite fighter?
Gennady Golovkin
(2:39 PM)
Sugar Ray Robinson is my favorite boxer of all time. He is a middleweight. I saw him and liked him.
Chris Fiegler (Latham,NY)
What is the Best & the Worst Sports Facillity that you have Fought at?
Gennady Golovkin
(2:40 PM)
Madison Square Garden is one of the best fighting venues in the world. MGM and Madison Square Garden. I love Madison Square Garden.
alex mares (CA)
what is your gameplan coming to this match
Gennady Golovkin
(2:41 PM)
For me, it doesn't matter who is next. I am ready. Right now, for this fight, I am ready.
Galeke (Kazakhstan)
Hi Gennady! Wish you best luck on Saturday night! I know that your next fight may take place somewhere in Europe. Can it be on undercard of Wladimir Klichko's show? And will we see you fight against Pirog?
Gennady Golovkin
(2:42 PM)
I want my next fight to be in the United States. It's good for me, because I have style. I have power. I have good speed. Just like American style.
Lamar (Oakland)
Gennady, have you had a chance to see my boy Andre Ward fight yet? Still undefeated and Gold Medal winner.
Gennady Golovkin
(2:43 PM)
He's a good fighter. He's a good man. I think he would be a good fight for me. He's got a good style. I have a good style. In the future, why not? I want this fight.
Buzzmaster
(2:44 PM)
Thanks for chatting Gennady. Good luck on Saturday!