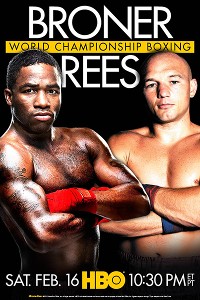 Welcome to SportsNation! On Thursday, we're going inside the boxing ring when Adrien Broner stops by to chat about his WBC lightweight title defense this weekend.
Broner (25-0, 21 KO) takes on Gavin Rees (37-1-1, 18 KO) in Broner's first lightweight title defense. Boardwalk Hall in Atlantic City, N.J. will host the fight Saturday that airs on HBO's World Championship Boxing at 10:30 p.m. ET/PT.
Broner, @AdrienBroner, won the WBC lightweight belt with an eighth-round TKO of Antonio DeMarco in November. This will be Broner's second straight fight in Atlantic City, after having never previously fought there.
Send your questions now and join Broner Thursday at 2:30 p.m. ET!
More Special Guests: Rees chat, 2:30 ET | Previous chats | SportsNation
Buzzmaster
(2:21 PM)
Adrien Broner will be here at 2:30 p.m. ET to take your questions!
Buzzmaster
(2:26 PM)
We've got Adrien!
Steve (CA)
how do you relax after a tough day of training camp?
Adrien Broner
(2:27 PM)
After a tough day, I go eat some steak and potatoes and take a shower.
David (FL)
You've got a lot of KOs. What do you look for in your opponent before going for the big punch?
Adrien Broner
(2:27 PM)
I don't look for it. I let it come.
Chris (Denver)
Adrien, what's the max weight class you think you can get up to?
Adrien Broner
(2:27 PM)
Any weight class my opponent feels comfortable with.
Derek (Dallas)
what's your favorite sport outside of boxing?
Adrien Broner
(2:28 PM)
Basketball.
Karl (DC)
Would you ever take a fight with Mayweather?
Adrien Broner
(2:28 PM)
Negative. That's my big brother. We family.
Larry (NYC)
How do you make sure when you go for the knockout punch that you don't get ccountered?
Adrien Broner
(2:28 PM)
I don't go for knockout punches.
Ryan
what round will we see a KO?
Adrien Broner
(2:29 PM)
It can happen in any round, so keep your eyes on the TV.
Frank (Bronx NY) [via mobile]
A.B. I'm expecting it to be light work for you on Sat. night..140 by the end of year/1st quarter next year??
Adrien Broner
(2:30 PM)
Who knows.
meshach (uk)
just wanted to know if when your done with gavin rees if your gonna fight the winner of burns vs vasquez
Adrien Broner
(2:30 PM)
Sure.
Chris (Vegas)
does it get old fighting in Vegas?
Adrien Broner
(2:30 PM)
Negative. It won't ever get old.
Adrien Broner
(2:31 PM)
Follow me on Twitter. Support me and I will fight for you.
Buzzmaster
(2:32 PM)
I guess Adrien had to run folks. Thanks for chatting.