Chat with Dereck Whittenburg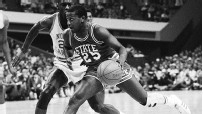 Whittenburg was the high scorer of the '83 tournament, netting 120 points in six games.
Welcome to SportsNation! On Monday, we're talking NCAA Tournament when member of the 1983 champion North Carolina State Wolfpack Dereck Whittenburg stops by to chat some hoops.
Whittenburg, @DWhittNCstate, is famous for his long shot (pass?) that Lorenzo Charles grabbed out of the air and dunked for the game-winning basket in the championship game. The Jim Valvano-coached NC State defeated favorite Houston 54-52 for the school's second national title.
The '83 Wolf Pack is featured in the latest ESPN 30 for 30 film "Survive and Advance." Whittenburg will be at this year's Final Four in Atlanta hanging out with fans as a part of Allstate's Team Mayhem. Fans can win $50,000 and tickets to the Final Four through ESPN's Tournament Challenge.
Send your questions now and join Whittenburg Monday at 1:30 p.m. ET!
More Special Guests: Previous chats | SportsNation
Buzzmaster
(1:34 PM)
Hang on folks...Dereck will be here in a few minutes!
Kevin (Chicago)
How much did you guys make fun of coach once you saw footage of him running around like he did after the game was oveR?
Dereck Whittenburg
(1:37 PM)
Part of the story was is I hugged him for eight straight games. When he was running around, he didn't know what to do, because he usually hugs me, but couldn't find me. He didn't know what to do after he couldn't find me. We always teased him about that. He just ran around and found a pile. It was crazy. Really crazy.
Erick (San Francisco)
What's the response been since the premiere of the film?
Dereck Whittenburg
(1:39 PM)
It's been unbelievable. I have people calling my voicemail crying. I've gotten 3,000-4,000 Twitter followers. I've gotten calls from Barkley, John Saunders, people from ESPN, CBS, NBC, you name it.
Evan (Dallas)
Dereck, as more and more time passes since the '83 title game, do your stories about the game say more and more how that was really a pass to Lorenzo?
Dereck Whittenburg
(1:40 PM)
Well, I think more importantly as time goes on, the run that we had really gets bigger and bigger. You look back and one or two inches either way, I'm probably not talking to you guys today. I think it's incredible that for the first time in 30 years everyone can see what happened during the season, as opposed to that one play.
Jay (Seattle)
If I win these tickets, will you be cool if I just ask you about the game against Houston the entire time we are hanging out?
Dereck Whittenburg
(1:41 PM)
Without a question. You can ask me anything about the whole season if you want. Ironically, 30 years ago, we won the ACC Tournament in Atlanta. They do a great job of hosting. If you win, I will be more than happy to chat about that game or anything with the Final Four.
Will (LA)
How involved were you in the creation of Survive and Advance?
Dereck Whittenburg
(1:42 PM)
Well, as everybody says it was my baby. 18 months ago I went to ESPN with my friend Johnathan Hock, who's a wonderful producer. I brought him with me, we gave three presentations. Jon is telling the story through my eyes of 30 years ago. He's seen every take. But more importantly it was a great team, Jon, Hock Films, the team. I don't think we could have told the story any better.
Thomas (LA)
How often do you and the other guys on the team get together?
Dereck Whittenburg
(1:44 PM)
Well, at least once per year. We haven't gotten together recently. Since we've lost four guys from that '83 team, we have tried to make a point, starting with this film that's going to be a beginning of us getting together at least once per year. You'll be surprised at how many teams taht accomplish something like that don't get together. You'd be very surprised.
Paul (TX)
I think it gets glossed over that Olajuwon won the tournament MOP that year...did you guys ever talk about that? And how come no one from NC State won the award?
Dereck Whittenburg
(1:45 PM)
Well, I was the MVP for NC State and he was the MVP for Houston. A lot of people didn't know that I was one of the top 5 scorers in the whole entire tournament. We got the trophy, we wanted the team awards. Olajuwon was a great player and very deserving.
Timmy (Chicago)
What do you think of State's chances this year?
Dereck Whittenburg
(1:46 PM)
Believe it or not, I think they have a good draw. Temple won't be an easy out. NC State is very talented. They shoot over 50 percent, average about 80 points per game. I think they have a chance to get to the Sweet 16. I think they have a chance to beat Indiana, because they can score the basketball.
Sarah H. (Raleigh)
What's your fondest memory of Jim Valvano?
Dereck Whittenburg
(1:47 PM)
Wow. I have so many. My fondest memory of V is all of the special times we spent in the office. From Day 1, he said if you ever want to talk, come into my office. There were many occasions that I would stop by his office about once or twice per week. We really built a bond throughout the years.
Dereck Whittenburg
(1:48 PM)
I hope everybody enjoyed the film. For those who have not seen it, it's a must see. It's not just a basketball film, it's a life story about a team and a bunch of guys who accomplished something together.
Buzzmaster
(1:48 PM)
Thanks for chatting Dereck!