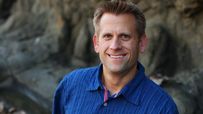 Welcome to SportsNation! On Thursday, Sport Science host John Brenkus stops by to chat about his Emmy Award-winning TV show. Sport Science brought in 15 NFL prospects to participate in the "Sport Science Combine" prior to the 2013 NFL draft.
Sport Science uncovers sports' biggest myths and mysteries by utilizing cutting-edge technology to measure momentum, friction and the laws of gravity. In addition to his role as host of Sport Science, Brenkus, a Univeristy of Virginia graduate, is also the director and creative director of all BASE Productions programs.
Send your questions now and join Brenkus Thursday at 2 p.m. ET!
More Sport Science: Chats | Index | Videos | Blog | @Sport_Science
Buzzmaster
(2:01 PM)
We've got John!
Buzzmaster
(2:03 PM)
D'oh! I jumped the gun. John will be here in 10 minutes.
Jason (NC)
What sort of response did you get from the fans about the GOAT project?
John Brenkus
(2:16 PM)
A huge, positive response.
Henry (Buffalo)
Was there any athlete in the SS Combine that completed an event with a result that surprised you the most?
John Brenkus
(2:16 PM)
Yes. EJ Manuel's touch pass result set a Sport Science record which was previously held by Colin Kaepernick.
Karl (Denver)
How close to perfect form would you say Stephen Curry is on his jumpshot?
John Brenkus
(2:17 PM)
Considering he hit more 3-pointers this year than any player in NBA history, I'd say it's pretty close to perfect.
pj (midlo)
what is the margin for making/missing a basketball shot from 3 point length
John Brenkus
(2:19 PM)
It depends on the angle of entry. For example, Curry's 55-degree shot increases the available area the ball can pass through the hoop by 20 percent versus a 45-degree shot.
Tim (Medford, OR)
I know this is somewhat late, but why do you think Kenjon Barner fell so far after testing so well on Sport Science?
John Brenkus
(2:20 PM)
I think it's a perception of the team valuing the RB position. Alfred Morris went late in the draft last year and as a rookie finished second to Adrian Peterson. I don't think the round you're taken in has any correlation, any more, to how well you'll do in the NFL. I firmly believe that Barner is a baller and will make an immediate impact.
Clay (West Monroe, la)
Greatest athlete series was awesome! How about a most amazing sports feats series? Vince Carter dunk, Usain Bolts 9.58, Michael Phelps WR...lots of options
John Brenkus
(2:21 PM)
We're working on something similar to that as we speak.
Nick (USA)
Have y'all ever done a sports science on what it takes to throw a 100 mph fastball? or will you ever do one
John Brenkus
(2:21 PM)
Of course!
Nick (Brady)
What NFL player has the quickest reaction time to the snap and how does theirs compare to Usain Bolt reaction to the starting gun?
John Brenkus
(2:23 PM)
The better question is how quickly would Usain Bolt react standing up like a WR in the NFL? Coming out of blocks and getting off of the line in the NFL are two different things. Of course you'll have a better reaction time coming out of the blocks because of biomechanical advantages. If I had to guess, I don't think Bolt would be the quickest out of the blocks in the NFL. He's not even the closest to the quickest in the sprinting world.
John Brenkus
(2:24 PM)
While Bolt has an amazing top gear, the better question is being able to change direction. Think of Jerry Rice, the greatest WR of all time, but not even close to the fastest.
Otto (CA)
How does hand size affect a quarterback's throwing velocity and ability to throw a tight spiral? I am surprised by Kaepernick's throwing ability with such small hands.
John Brenkus
(2:26 PM)
Drew Brees doesn't have particularly large hands. Your hands just need to be "big enough." Obviously, there is a sweet spot in the hand size to ball size ratio.
Brett (CA)
Who has been the most off the charts player you have tested?
John Brenkus
(2:28 PM)
It was Dee Milliner.
John Brenkus
(2:29 PM)
Milliner, Mingo, Ansah, Manuel, Vaccaro, all tested very very high.
John Brenkus
(2:30 PM)
More great Sport Science segments coming your way. Thanks for your support.