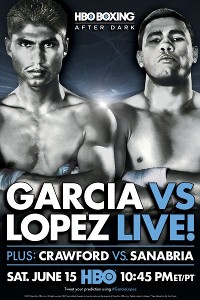 Welcome to SportsNation! On Friday, we're going inside the boxing ring when legendary boxer George Foreman stops by to chat about the Mikey Garcia-Juan Manuel Lopez title fight he is co-promoting this weekend.
The undefeated WBO featherweight champion Garcia (31-0, 26 KO) faces Lopez (33-2, 30 KO) on Saturday night. American Airlines Center in Dallas hosts the fight at 10:45 p.m. ET/PT on HBO Boxing After Dark.
Foreman founded his boxing promotion company "Foreman Boys Promotions" with his sons earlier this year and worked on their first fight in April. The company is aligned with mega promotions company Top Rank. The former heavyweight champion officially retired in 1997, following a career where he went 76-5 (68 KO).
Send your questions now and join Foreman Friday at 1 p.m. ET!
More Special Guests: Previous chats | SportsNation
Buzzmaster
(12:59 PM)
We've got George!
Kyle (FL)
How do you think Dallas will respond as a fight city?
George Foreman
(1:00 PM)
Well, a lot of people don't know that Dallas is a championship fight city. It hasn't happened in a long time, but this one is big.
Jeff (DC)
George, how did you get your company involved in this fight?
George Foreman
(1:01 PM)
I was hungry to get back into boxing, because I have a son in boxing. He lost interest, but I wanted to stay involved. I talked to Bob Arum. I said I want to get involved and my sons do too.
Tommy (Bosotn)
Champ, what have you learned so far these last few months about being a promoter?
George Foreman
(1:02 PM)
Most of all, I learned if you want to have fun, boxing is loaded with fun. There is a lot to learn and it can all be positive if you want it to. First thing, pay the fighter.
Ashly (Houston, TX)
This is going to be a great fight. I wish I was there to wave my Puerto Rican flag!
George Foreman
(1:02 PM)
Everybody is crossing the boarder from Mexico, but I doubt there will be a lot of Puerto Rican flags. I'll bring one myself.
Matt (Colorado)
Hey, Big George! Love your fights and love your grill! What steps do you think we need to take to bring back the glory days of US heavyweight boxing?
George Foreman
(1:03 PM)
Just like any other fruit and vegetables, it takes a little longer time to grow heavyweights. But in the next 4-5 years, look for the old good times to be back again. It will just take a few years.
Alonzo (Dallas)
SHould be a great fight do you plan on bringing more fight to Dallas I cannot wait to go see this one. Also do you think Canelo is fighting Mayweather to soon.
George Foreman
(1:04 PM)
If Dallas responds to this one, we'll know we're in the right spot and we'll come right back.
Vin (Little Rock)
I always thought the Shannon Briggs decision was one of the biggest robberies I've even seen. How were you able to smile in the ring after that?
George Foreman
(1:05 PM)
If you going into boxing and you're not prepared to smile, you won't last long. I've learned to laugh at everything. You have to laugh about it. George, people ask me, were you robbed? But you'd be surprised at the paycheck I got. Back home, you're only crimed and robbed when someone's taking your last dollar.
Dave (NJ)
what kind of fight do you think we'll see?
George Foreman
(1:06 PM)
I'm looking for a knockout. I can't tell you what round. But Mikey, he throws punches. Lopez, he's from Puerto Rico and like all Puerto Rican fighters, he doesn't step back. If this fight goes 10 rounds, I'll be surprised.
Jacob (Kansas City)
What's your ultimate goal for Foreman Boys Promotion?
George Foreman
(1:07 PM)
What we'd like to do is to start off slow and make it into a comfortable, secure promotion company where fighters know they will be taken care of. What we'd like to be known for is they paid their fighters.
slater (west by god virginia )
First I like to say that your an all time great in the ring, and that I also always enjoyed your commentary work which was always insightfull. My question for you is if you were in your 1970's prime today do you belive you could beat wladimir, and what would your strategy be?
George Foreman
(1:08 PM)
I don't make much of the heavyweight division at all. It's on life support. I'd hate to say it's dead, because eventually there will be some guys with personality. Wladimir is a good fighter, but we suffer from a lack of personality in the heavyweight division.
Jevin (Dallas)
You're still known for your KO power, but who's the person that ever hit you the hardest?
George Foreman
(1:09 PM)
I don't know who I hit the hardest. But Ronnie, he hit me the hardest. He hit me so hard that it didn't even hurt. All I know I was on the canvas. And then he did it again.
Anthony (Queens, NY)
The second question is, How do you see Canello Vs Mayweather going? Mayweather barely beat De la Hoya, nd Canelo is stronger younger and with better defense than De La Hoya at the time, how do you think this fight will go, obviously Mayweather has better defense tho? And as an aspiring boxer i want to know what advice you have for me? other than work hard and stay dedicated
George Foreman
(1:10 PM)
I think the Canelo-Mayweather fight could possibly the most aggressive and interesting match in possibly the last 10 years. Canelo has a career ahead of him. This is a big fight. He'll do well because Mayweather can't hurt anybody. It will be hard to beat him because he finds a way to win. I think it's Canelo's fight to lose.
Ron (Tucson) [via mobile]
George, is your fight with Moorer your greatest victory?
George Foreman
(1:11 PM)
I look back at all of the matches I had and in the dressing room I was equally afraid of all of them. Joe Frasier was the biggest one. I was so afraid. He was my biggest win by far. Just leaving the dressing room was a victory.
Jason (NYC)
do you give your guys any tips?
George Foreman
(1:12 PM)
The good thing I've run into is among the fighters, they've had great trainers. They are blessed with great trainers, but if the kids ask me anything, I'll tell them. Save your money and hide your chin.
Grace (Chicago)
will you be ringside?
George Foreman
(1:13 PM)
I will be ringside watching. This is one of the most curious fights I've seen in a long time. I'm curious to see who wins and how.
George Foreman
(1:15 PM)
I truly enjoyed myself. You had great questions.