Chat with Willie Randolph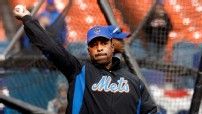 Randolph won two World Series titles as a Yankees player and four as a Yankees bench coach.
Welcome to SportsNation! On Tuesday, we'll chat about the MLB season and all-star game with former New York Yankee second baseman and New York Mets manager Willie Randolph.
Randolph spent 12 years of his 18-year MLB career with the Yankees, serving as the captain in his final three seasons with the Yankees in 1986-88. After serving as a Yankees bench coach for 11 years following his playing days, Randolph managed the Mets from 2005-08.
Randolph, a six-time all-star, is working with Subway, and Jared "The Subway Guy" this all-star break, to encourage fans to Tweet Subway, @SUBWAY, about their healthy and active lifestyles. For information on Subway's menu and new $4 meal deals, go to Subway.com.
Send your questions now and join Randolph Tuesday at 2:30 p.m. ET!
More Special Guests: Previous chats | SportsNation
Alex (Anaheim)
What was the most memorable season of your career?
Willie Randolph
(2:27 PM)
Wow...that's probably 1977. It was our first world championship, my second year in the league. We had lost to the Big Red Machine in 1976. That was a special year. We regrouped and won back to back titles.
Jeff (DC)
Willie....how fast were you at making those sandwiches at Subway today?
Willie Randolph
(2:28 PM)
HA! Actually, if you rank 1-10, I give a 5. I had a blast. My favorite is turkey with provolone on wheat. I love to eat healthy and Subway allows me to do that. At 59, people tell me I look good, so I guess I'm healthy and active and doing well. It was a good experience making the sandwiches.
Mitch (yo)
Do you know why Kershaw isn't starting the All Star game? He's been better than Harvey so far and isn't the all star game about rewarding the players that have been the best? Kershaw leads the league in ERA, WHIP and WAR which are the 3 most important stats. So how on earth isn't he starting?
Willie Randolph
(2:30 PM)
Harvey has had a tremendous year and maybe there are some guys who are more deserving. But the time is right. They're back in New York. Harvey is going to be a stud, just like Kershaw is already. It's good for baseball. I hope he does well because he's a great kid. The Mets could use that positive energy right now.
Steve (CA)
most memorable all-star game?
Willie Randolph
(2:31 PM)
Two, really. 1977, Yankee Stadium. I was a 22 year old kid and I was rubbing elbows with the best in the game. Then in 1989 in Boston. All of the players gathered around home plate. I'm looking left and right and seeing all of these living legends and current players. In the middle of famous Fenway Park. That's got to be a close second.
Ronnell (San Jose)
Willie, big fan of you on the A's. Favorite memory playing for the Town?
Willie Randolph
(2:32 PM)
Actually, it started out great, but ended up disappointing. I got a chance to play with the great Tony La Russa. I got a chance to play on a team with Rickey Henderson, Dave Parker, we had a great group of guys. It was the first time I had a chance to get back to the World Series. But it ended up on a sour note because we were swept by the Reds. David slayed Goliath.
Chris (GA)
what do you think of the meaning associated with the ASG??
Willie Randolph
(2:34 PM)
I'm not a huge fan of it. You shouldn't have to have an incentive to win an all star game. But if it adds some juice to it, then fine. I remember when the all star game was about pride. The game is managed differently. You try to get everyone in if you can. There seemed to be a little more edge to it in the past. I'd like to see it get back to that, to play a game you'd want to win ordinarily anyway.
Keith (Ohio)
Grew up watching you play. You started really young didn't you? Like 20 or 21?
Willie Randolph
(2:36 PM)
It was unbelieveable. I was a baby at the time. I can't believe when I look back that I was that young when I broke in. I had a great opportunity with the Yankees after starting with the Pirates. I was just focused on solidifying a job. I remember being in my backyard knowing the lineups to the teams and thought I'd never be in the position where I'd be a teammate and hanging out with these guys. But I was able to get my start early and play almost 18 years. I was fortunate enough to get through the minor league system. I was gifted, fortunately, and took advantage of it.
Lenny (FL)
what was your hardest order today?
Willie Randolph
(2:37 PM)
I think it was, and I love the sandwich, the meatball sandwich. I think there was too much sauce on it. I had to make the guy another one!
Keith (Ohio)
Do you recall how your game evolved in terms of stolen bases? I remember you as a base stealer for the first few years but then not as much after that...
Willie Randolph
(2:38 PM)
I always had great speed. I evolved right off the bat. 4-5 years in a row I averaged 30 SBs a year. I had a knee injury early on in my career and I slowed down due to arthritis. I got smarter and improved my technique. I always had some good speed. I grew up talking to and being around good base runners. When I was a rookie, I was already pretty polished.
Erik (Denver)
halfway mark World Series picks?
Willie Randolph
(2:41 PM)
I don't make predictions like that, because things change so quick. I like to wait a month or so into the second half. The second half start is imperative. Get the season going and talk to me in a month and I'll let you know.
Willie Randolph
(2:41 PM)
Enjoy the game tonight. It's a great game that we all love. Appreciate all of the stars that are playing because they will be the face of the game's future.