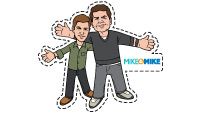 ESPN Radio hosts Mike & Mike have a few things to discuss Thursday.
Welcome to SportsNation! On Thursday, ESPN Radio hosts Mike Greenberg and Mike Golic stop by to chat about everything football, from Thursday night's kick-off to the 2013 NFL season to Week 2 of college football.
The football-mad hosts of Mike & Mike (6-10 a.m. ET on weekdays, ESPN Radio, ESPN2) will quiz fans on footlongs and football, while giving away free sandwiches in the heart of New York City on Thursday for a lunchtime celebration of Subway's SUBtember.
But the football talk won't stop there. Send your questions now and join Mike & Mike on Thursday at 2:15 p.m. ET!
More Mike & Mike: Search Greeny | Search Golic | @Espngreeny | @espngolic
Mike Greenberg
(2:16 PM)
We're ready for some football, there's no question about it. The start of the NFL season should be a national holiday.
Jason (Dallas)
What's the biggest storyline heading into the NFL season?
Mike Greenberg
(2:17 PM)
The biggest storyline for me is if the young QBs from last year will take a positive step in development. Will RG III, Andrew Luck and Russell Wilson take that next step towards greatness. I bet they all will.
Mike Golic
(2:18 PM)
My biggest storyline is the top AFC teams and the holes they need to fill in with their teams.
Chris (DC`)
So....who was the better sandwich maker?
Mike Greenberg
(2:19 PM)
I have to give it up to Golic. While nobody will ever call him artistic, he made really good sandwiches today.
Mike Golic
(2:19 PM)
Food is my middle name. Anything involving food I'm usually good at.
Sarah (Chicago)
Golic, How often do you you pay a visit to Subway?
Mike Golic
(2:20 PM)
I would say at least every other day. Me, my wife, my three kids are huge Subway people.
James (Miami, FLa.)
Golic, what is your favorite Subway Sub?
Mike Greenberg
(2:21 PM)
I always get turkey, double meat with all the veggies, oil, vinegar and mustard.
Mike Golic
(2:22 PM)
Sweet teriyaki chicken on nine-grain bread with American cheese, lettuce, pickles and a little chipotle sauce.
Kevin (FL)
Is there really no place in the NFL for Tim Tebow?
Mike Golic
(2:23 PM)
At this point, no. He just doesn't have the skills to be a NFL passer. You can't win if you can't pass.
Tim (Broncos land)
Who wins tonight's NFL season opener? What will the score be?
Mike Greenberg
(2:24 PM)
I like Denver to win in a close game. The Ravens will make it tough, and if they were playing in Baltimore then I'd have them winning. Broncos 27-Ravens 24.
Mike Golic
(2:24 PM)
I have Broncos winning too but by the score of 30-24.
Juan Jimenez (Saginaw,MI)
Hey Golic, when are you and Greeny going to take over Espn first take and debate Skip and Stephen A. Smith?
Mike Greenberg
(2:25 PM)
Anytime they like us to. I've been on there a couple of times as a guest and it's always been fun.
Mike Golic
(2:25 PM)
I think it would be fun. I know Greeny and I can team up but I don't know if they can.
Mike Greenberg
(2:26 PM)
That's right, I think they will end up debating each other instead of debating us.
Max (Reno, Nv)
Golic, If Greeny tried to give a motivational speech to your Notre Dame team would your teammates A) duct taped him to the goal post or B) laugh him out of the locker room or C) punch him in the face or D) all three
Mike Golic
(2:27 PM)
That's a spectacular question. I'd say they will tape him to the goalpost starting with his mouth. Then they'll tape the rest of his body. That would be the perfect hazing for Greeny.
Luke Bistor (Huber Heights, OH )
Retired players sounding off against old teammates and teams. Most recently "baby" LT on Sanchez and Urlacher or Bears "faking injuries". Are LT ad Urlacher trying to get some hype and get a analysis spot? Is this considered unprofessional in the NFL? I heard Revis shared info about Jets offensive, not mad about that, he still playing and had a first week matchup against old team, I'm good w that!
Mike Greenberg
(2:30 PM)
I don't think so. I think both those guys are really smart and really good. It's their time now to tell the truth. I give them a lot of credit for it.
Mike Golic
(2:31 PM)
When you play and your life is inside the locker room, you don't say things like that. When you're an analyst you do. It's that simple.
Mike Greenberg
(2:32 PM)
Go Jets!
Mike Golic
(2:34 PM)
Happy to start the NFL season. Make sure you go to Subway for SUBtember before the games and grab your $5 footlong all month long.
Buzzmaster
(2:35 PM)
Thanks guys for stopping by. Check out Mike & Mike weekday mornings form 6-10 a.m. ET on ESPN Radio and ESPN2.