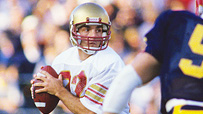 Flutie won six MVP Awards and three Grey Cups in the CFL.
Welcome to SportsNation! On Wednesday, College Football Hall of Famer Doug Flutie stops by to chat about the college and pro football seasons.
Flutie, a 2007 inductee into the College Football Hall of Fame, was the 1984 Heisman Award winner and is probably most famous for his Hail Mary pass to help Boston College defeat Miami in 1984. After four years in the NFL, Flutie went on to a hall of fame career in the Canadian Football League before returning to the NFL to play eight more seasons.
This year, Flutie is working with Capital One to award the Capital One Cup, an NCAA Division I athletics award that honors the top men's and women's college programs in the country. Fans can also vote on the Capital One Mascot Challenge.
Send your questions now and join Flutie Wednesday at 3:30 p.m. ET!
More Special Guests: Previous chats | SportsNation
Buzzmaster
(3:29 PM)
We've got Doug!
Chris (DC)
Doug, if the Capital One Cup were around when you were in school and you wanted to play another sport to help your school, what would you have liked to play?
Doug Flutie
(3:31 PM)
Definitely basketball. Our basketball program was top 20 at the time, made the Sweet 16. I came back for a fifth year and was going to play, but Donald Trump came in and vetoed it because I was already under contract. Basketball was my first love, no doubt.
Doug Flutie
(3:31 PM)
I don't know if that would have given us any extra points or not for the Cup.
Kurt (Buff)
Doug, can you PLEASE come back to Buffalo and reverse the Flutie Curse that has kept us down since you left?
Doug Flutie
(3:32 PM)
Yeah, I'll come back for the scout team in practice! Mentally and athletically, I still feel like I could do it, but you just don't want to get hit any more. That would get in the way. As you get older, you get rid of the ball quicker, because you just don't want to get hit anymore.
Ryan (LA)
Doug, what was the best non-football, non-basketball team at BC when you were there?
Doug Flutie
(3:32 PM)
Had to be hockey. I know they made the Final Four. I am pretty sure they won a national championship while I was there. BC hockey is still running strong.
Keith H (Seattle)
Russell Wilson reminds me of your rollout QB style. Does he remind you the same way? (PS. The Hail Mary against Miami was the the greatest "Out of My Seat" moment watching football. Thanks again.)
Doug Flutie
(3:33 PM)
Yes. The thing I like most about him is he's an excellent pocket passer as well. I always felt I could throw from the pocket as well and the scrambling is a bonus. That's what I see from him as well. He's in a two-back offense and he has the ability to make plays on his own. That's a bonus.
Jason (Boston)
Doug, have you given Baldwin the Eagle any words of wisdom in the mascot challenge?
Doug Flutie
(3:34 PM)
Yeah, start working the social media to make people aware so you can get some votes. Don't let these East Carolina people beat you! It's embarrassing!
Doug Flutie
(3:34 PM)
Taking out an official on gameday might get you some awareness. Go out on the field and make a tackle.
Alex (Anaheim)
Glad to see recognition for more than just a few college sports! is that why you're involved?
Doug Flutie
(3:36 PM)
I think more than anything it was the all around sports. The non-revenue generating sports. I love the amateur status of college sports. Nothing is purer than just going out and playing for the love of the game. For field hockey, soccer, track to get the extra attention is very important to me.
Terry Christopher (Philly)
Doug - what does it mean to you to see your mascot Baldwin the Eagle in the Capital One Mascot Challenge for the first time ever?!? How do you suppose Baldwin pump up his team as they head into face #3 Clemson this weekend?
Doug Flutie
(3:37 PM)
I love it. I love anything that brings a little attention to Boston College. It's still a transition year and their athetlic programs are on the upswing. With the Mascot Challenge, it brings attention to our mascot and our school.
Chris (LA)
What were moments at BC that stood out?
Doug Flutie
(3:38 PM)
We played at Clemson my sophomore year when they were champions and we tied them. That was one of the big games where we got attention. 2-0 against Alabama, 2-0 against A-M, 3-0 against national champions.
Mikey (Lackawanna,NY)
What was your favorite moment/game in your NFL career?
Doug Flutie
(3:38 PM)
One of my favorite moments was coming back from the CFL in my first season back in Buffalo, my first start, running a boot leg TD and winning that game. That signified me being back.
Doug Flutie
(3:39 PM)
That and throwing for TD passes against the Bears to beat Ditka and McMahon.
Doug Flutie
(3:39 PM)
That was a retribution type thing.
Mike (Brooklyn)
What's up with athletics on Chestnut Hill? The basketball team seems to have been rebuilding forever and the football team hasn't been good in quite a few years. Thoughts on improving either.
Doug Flutie
(3:40 PM)
We have had a few down years. The new AD is doing a great job. I like Steve Addazio as the head coach. We are turning things around.
Pete (Menomonie)
Doug, you seem to be a very good athlete. What other sports do you excel it? Ever consider playing anything other than football?
Doug Flutie
(3:41 PM)
If it weren't football, it would have been basketball. I always played baseball. Since I retired, I've played in adult baseball leagues the last 6-7 years. I get my competitive fix.
Jeff (PA)
Is Bama still the best in collegE?
Doug Flutie
(3:41 PM)
Yes, I do. There have been a couple of other teams that have been more explosive so far. But when it comes down to it, I think Alabama deserves to be No. 1 right now.
Kyle (VA)
are you happy to see the BCS go?
Doug Flutie
(3:42 PM)
Not that I'm happy to see the BCS go, but I am very excited to see a playoff enter the picture. It wouldn't hurt my feelings to go to an 8 team playoff.
John.C (Buffalo,NY)
Do you feel that either the 98 or 99 Buffalo Bills teams could have made the SuperBowl if it weren't for a few mishaps? Those teams were stacked especially with you at QB.
Doug Flutie
(3:43 PM)
No doubt about it. I thought we had a real chance. Our 99 team had one of the best defenses in the league, as well as a good solid running game. We could have played with anyone at that time.
Doug Flutie
(3:43 PM)
Thank you for following the chat. Go Eagles!