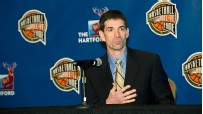 Stockton won two Olympic gold medals for Team USA.
Welcome to SportsNation! On Wednesday, basketball Hall of Famer John Stockton drops by to chat as the 2013-14 NBA season gets underway, as well as his new autobiography "Assisted."
Stockton spent his entire 19-year NBA career with the Utah Jazz, ending with his No. 12 being retired by the team. The Gonzaga product led the NBA in assists nine times, retiring as the all-time assist leader in league history. He holds first place on the list by nearly 4,000 assists.
Nobody thought Stockton would be as good of a player as he turned out to be, and that is the story he tells in his new book. He shows readers his very personal side and the path he took to becoming an all-time great NBA player.
Send your questions now and join Stockton Wednesday at 2 p.m. ET!
More Special Guests: Previous chats | SportsNation
Diana (Boise)
What did you learn most about yourself while writing your book?
John Stockton
(2:03 PM)
Nothing.
John Stockton
(2:04 PM)
I'm just kidding. I learned how many people had a large impact on my life and what great stories they are to tell.
Nick (MN)
What are your thoughts on the new age of PG's who tend to be score first over pass first? Do you think the assist is a becoming lost art in today's NBA?
John Stockton
(2:05 PM)
I think there are a lot of ways to play the PG position. Scoring first is a way that works for them and their teams. I personally like to watch PGs that like to work for others.
Ken (Monterrey, Mexico)
John, what do you attribute your NBA success to? What was your daily routine like that prepared you to be so successful?
John Stockton
(2:06 PM)
I've been lucky to have great coaching, great teammates and a desire to keep getting better. That slowly over time helped me grow from an average high school player to the NBA.
KC Jones (Heartland of Utah (Farmington))
Thanks for taking time to chat! Looking forward to reading your book. Knowing you spent all your years playing for one franchise, my question is: Did you ever entertain the idea of playing somewhere other than Utah? If so, where?Thanks!
John Stockton
(2:07 PM)
No. Once I came to Salt Lake City I didn't want to go anywhere else. It was home sweet home for me.
Raj (Salt Lake City, UT)
What advice would you give to a young PG who's a rookie in the NBA?
John Stockton
(2:08 PM)
Pay attention to everything you see on the floor and log it. Save your money and pay your taxes.
Jeremy (NJ)
if you were starting a team from scratch, and building it around your PG, would you rather have rose, parker, cp3 or westbrook?
John Stockton
(2:09 PM)
I would take Chris Paul or Tony Parker.
Pay (UT)
Do you ever see yourself being involved with the Jazz organization anytime in the future? Thanks for all your great years!
John Stockton
(2:10 PM)
I've never separated myself from the Jazz. I still feel like I am with them.
Brady (Chicago, IL)
First, I love you.Second, you look like you should still be the starting point guard for the Utah Jazz. They could definitely use you. How have you stayed in such great shape?
John Stockton
(2:11 PM)
I have a consistant workout and I play basketball on Sunday's.
Stephen (Cincinnati)
Did you do layups during games, because you found it more reliable than dunking, or because you were unable to dunk. If the answer is the former, are you still able to dunk today?
John Stockton
(2:12 PM)
I was barely able to dunk therefore I found layups more reliable. And no, I can't dunk nowadays.
Dan Roberts (North Carolina)
John,For the record: You are all my all-time favorite sports player. Thank you for so many great years of incredible basketball. Who was the hardest point guard to play against? Who did you hate playing against (if different)? Thanks!
John Stockton
(2:13 PM)
Isiah Thomas, Mark Price, Kevin Johnson, Gary Peyton and Jason Kidd. They were are difficult but I looked forward to each contest.
Victor (Monroe,La)
John Do you think Utah will be in the playoffs this year?
John Stockton
(2:14 PM)
I think that's a tall order. They are very young and a lot will depend on how much the progress.
Jordan Cummings (Orem, UT)
What are your fondest memories of your 19-year career? If you could go back, what would you change? Do you have any regrets?
John Stockton
(2:15 PM)
On the court, I would say our victory over Houston to get to the NBA Finals. I don't think I would change anything. Struggles are what made everything worth while.
John Stockton
(2:17 PM)
Thanks, for all the great questions. I enjoyed the chat!