Chat with Dale Earnhardt Jr.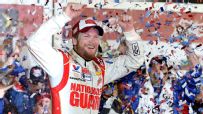 Dale Earnhardt Jr.'s Daytona 500 victory on Sunday marked the 20th win of his career.
Welcome to SportsNation! On Tuesday, Daytona 500 winner Dale Earnhardt Jr. drops by to chat about winning Sunday's race to open the NASCAR season.
Driving the No. 88 Chevy for Hendrick Motorsports, Earnhardt won the second Daytona 500 of his career (his first came in 2004). By getting to Victory Lane on Sunday, he snapped a streak of 55 races without a win.
Earnhardt made good on his promise to join Twitter if he had won the Daytona 500. From his @DaleJr handle, he has already tweeted out several pictures since Sunday's victory.
Send your questions now and join Earnhardt on Tuesday at 10 a.m. ET!
More Special Guests: Previous chats | SportsNation
Buzzmaster
(9:49 AM)
Dale Jr. is on Mike & Mike right now. He'll be here shortly to answer your questions!
Buzzmaster
(9:56 AM)
Dale is here!
Brian (Ames, IA) [via mobile]
What went through your mind when you were told you had picked up debris with a handful of laps left?
Dale Earnhardt Jr.
(9:57 AM)
I wasn't really worried about it. We had the water temperature cooled down and we only had to run two laps. The tape would make the car run faster, if anything.
Jason (Santa Fe, Texas)
Congrats on the HUGE win for yourself, and us Jr Nation fans. How do you rest to move on to Phoenix, after such an emotional and draining race?
Dale Earnhardt Jr.
(9:58 AM)
Well, I'm doing a media tour for NASCAR all over the country. That's really a fun way to decompress and come off the high of winning the race. Once we get to Phoenix, I'll be good and ready to get back to work.
Jeff (MA)
Hey Dale, the Red Sox won the World Series last year by growing out their gnarly beards. Now that you've won Daytona, are you going to just let the beard keep going on it's own?
Dale Earnhardt Jr.
(9:59 AM)
I tried to do that, but I get a lot of complaints. And I think my sponsors and my ownder Rick Hendrick appreciate me keeping it in check.
Clayton. De [via mobile]
Did you take notes from the winning for the Sumer race we can have sweap
Dale Earnhardt Jr.
(9:59 AM)
We're going to have to build a new car, they kept my car in the museum in Daytona. If we can replicate the strength of the original car, we'll have a great shot of winning.
pisces1298 [via mobile]
Now that U have 1 win, what is your mind set going into the next 25 races before the Chase? How aggressive will U be to win more races?
Dale Earnhardt Jr.
(10:00 AM)
We can be very aggressive. The win locks us into the Chase and we don't have to worry about how we're going to make the Chase any more. We can just worry about wins.
Derek Chevalier (Brockport, NY)
Did you thank Jeff Gordon for giving you that push? Congratulations by the way, that was the most exciting Daytona has been in the recent years!!
Dale Earnhardt Jr.
(10:01 AM)
He came to Victory Lane. I did tell him that the push was a big reason why we won the race. I've been crediting him in every interview we've done in the last two days.
Michael A (Philadelphia)
What are your expectations of your Redskins this year?
Dale Earnhardt Jr.
(10:02 AM)
It's hard to guage this early in the offseason. It will be interesting how much activity they have in free agency and if they can find some gems in the draft. Once we get into camp, it will be fun to see the positional battles. I love going to the final preseason games to see how much the depth the team has gained in the offseason, especially the special teams.
Michael Akard (Blountville TN )
How big is this win for and for your team with Steve Letarte leaving next year?
Dale Earnhardt Jr.
(10:03 AM)
This is his first Daytona 500 win. Steve's first. All of the guys on the team that he's hired and brought in, they're happy to give it to Steve. It meant a lot to win with Steve going out. A lot of emotion in that.
Shane A (Hamburg, PA)
Which celebration party was better after the 1st or 2nd 500 win?
Dale Earnhardt Jr.
(10:03 AM)
I haven't had a chance to celebrate yet. We've done a lot of media since I got out of the car. I think we'll have a party, probably after Vegas.
bill corsica pa [via mobile]
was your dad on your mind in victory lane?
Dale Earnhardt Jr.
(10:04 AM)
I always think about my dad. He's always in the back of my mind. That helps me make good decisions. It has an influence on my life in every decision and everything I do.
Ed (Queens Village)
What do you do in a long rain delay?
Dale Earnhardt Jr.
(10:04 AM)
I laid on a couch in some sweatpants and watched TV. I just laid around and took advantage of an opportunity to relax.
TJ (South Dakota) [via mobile]
With the way you ended last season and to start off this year with a win. Are you more confident than ever before in your career?
Dale Earnhardt Jr.
(10:05 AM)
This is definitely the most confidence I've ever had as a driver. I feel like I'm doing some of my best work. The strength and depth of my team is as good as it's ever been.
Shane Miles [via mobile]
How does it feel knowing us fans, always have your back? I pretty much about cried when you won.
Dale Earnhardt Jr.
(10:06 AM)
The fan support is the biggest motivating factor in the job. I didn't start driving race cars because of the fame or the money, but the most rewarding factor is being complimented on what you do and your fans are always the first to do that. When you're having struggles, they're the first to hold you up and support you. They are a big part of our team. They're a driving force behind a lot of our success.
Josh (Portland, ME)
I was shocked to see you had 254K followers on twitter before you ever joined....I knew Jr Nation was strong, but how long before you crack 1mm followers? Does this surprise you?
Dale Earnhardt Jr.
(10:08 AM)
Not knowing much about Twitter, I don't really know how to measure growth. So, if there were very little growth or if it was exploding like an atom bomb, I wouldn't know the difference! But I am enjoying my first 48 hours on Twitter. It's been fun to share our media tour with the fans.
Mike (Nijmegen, The Netherlands)
Hi Dale, I was up until 6AM the other night to see you win the Daytona 500. I had to wake up at 7AM to go to school. But it absolutely was worth it! Congratulations. My question: how difficult was it to focus on your task under that caution with 2 to go and not thinking about what it would mean to win the 500 again and get too excited about that?
Dale Earnhardt Jr.
(10:09 AM)
Every time the caution gets out, it resets everything and you worry about losing momentum and losing control. When the caution comes out, the leader relinquishes that. You can't wait to get out under green and reseize that.
Adrian Guzman (Mexico)
Does winning the first race of the season take any pressure off you and your team's shoulders?
Dale Earnhardt Jr.
(10:09 AM)
It does take pressure off. We don't have to worry about making the Chase. We can concentrate on going to the track and racing.
Derrek (Manhattan, KS)
So how do you channel the momentum of this win in relation to the rest of the season?
Dale Earnhardt Jr.
(10:10 AM)
I think our team feeds off of our success. There shouldn't be any problem using the win to build confidence. Winning fires us up. We have a chance to win multiple races this year.
Chris (Alabama)
Do you think the Olympics should have racing as a sport?
Dale Earnhardt Jr.
(10:11 AM)
I don't know how that would fit, to be honest with you. It's not a traditional sport in the sense that track and field is. I don't see that ever coming about.
Larry (MI)
Hey Dale, Congrats on the 500 win. What does it mean to you to be one of eleven drivers in the history of NASCAR to win multiple Daytona 500's?
Dale Earnhardt Jr.
(10:11 AM)
Yeah, the feeling of winning that race is so amazing that you get addicted to it and you want to do it again. It is awesome to be in a small fraternity like that, among select drivers.
Shane A (Hamburg, PA)
Who is the biggest celebrity to contact you since winning the 500?
Dale Earnhardt Jr.
(10:12 AM)
I'm not sure. I haven't had a chance to really sift through the remarks on my Twitter account. But I had some buddies, Kenny Chesney and a couple of other people that had my number. Steve Spurrier called me. That was bad ass. The Ol' Ball Coach.
chad buksa (rayland, ohio)
As thoughts turn to phoenix, another track where you run really well, what are your thoughts about the new qualifying procedures? Congrats on the 500 win, I'm enjoying it almost as much as you!!
Dale Earnhardt Jr.
(10:13 AM)
It's going to be really exciting, I think, for the fans, during qualifying. For the drivers, it's going to be a lot more hectic and it won't be so lame and drawn out as the old format. There will be high energy.
Ronnie, Dubuque, IA [via mobile]
How much did it mean to you to not only win the 500 10 yrs after your first daytona triumph, but also to win it on the debut of your fathers legendary #3?
Dale Earnhardt Jr.
(10:14 AM)
I really didn't think much about the 3. That car is just another competitor that I will have to run against every week. I really like the situation with Austin and Richard. I'm happy for them.
Nino (Bay City, MI)
I have watched you since 2000, I have NEVER seen you so excited after a win. It looked like some sort of pressure was released after the win, would you agree?
Dale Earnhardt Jr.
(10:15 AM)
Yeah, that was by far the most excited I've been after a race. It did relieve a lot of pressure. Winning that race, it's the biggest race of the year. Nothing compares.
Nick (MN)
Hey Dale, congrats on the big win! What are your thoughts about the new Chase format for this year?
Dale Earnhardt Jr.
(10:16 AM)
I think that the Chase format will be more fun for the drivers. The elimination factor is new. That will put more pressure on the drivers. We need that as drivers.
Mike (Nijmegen, The Netherlands)
How is your head doing after concussion more than a year ago? Do you still need check ups and what do you think of the new NASCAR rules regarding concussions?
Dale Earnhardt Jr.
(10:18 AM)
I like the new rule. I'm glad that NASCAR implemented the impact test. It's a great way to understand a concussion, but also an awesome way to treat it. Treating it is the most important thing. I'm feeling great. After last season, I can put it behind me. Going forward, it's all about prevention, not putting myself in that position again.
Zack(Michigan) [via mobile]
Congrats on the huge win Do you feel that your team this year is stronger then in 2004 when you won six races?
Dale Earnhardt Jr.
(10:19 AM)
I think this team is has a lot of similarities. That was a real strong team. We were really fast at a lot of different tracks. This team is a little more consistent, maybe that's because of the experience, being around all these years.
Dale Earnhardt Jr.
(10:19 AM)
Thanks to the fans for coming to the chat. Some great questions. I hope everyone enjoyed it. Thanks for your support. I hope y'all are enjoying this win as much as I am.