Chat with Michelle Beadle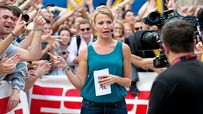 Welcome to SportsNation! On Tuesday, we're welcoming back an old friend when Michelle Beadle drops by to chat as her return-to-ESPN week continues.
After nearly two years away, Beadle, @MichelleDBeadle, returns this week to ESPN, and her former role of co-hosting SportsNation (weekdays, ESPN2, 3 p.m. ET). She will host alongside Marcellus Wiley, @marcelluswiley, and Max Kellerman, @Max_Kellerman.
Beadle first joined ESPN in 2009, prior to the launch of SportsNation. She previously worked for "The Michael Kay Show" on 1050 ESPN New York and as a YES Network reporter for the New Jersey Nets. Prior to returning to ESPN, the former Texas resident worked for the NBC Sports Network.
Send your questions now and join Beadle on Tuesday at 11:30 a.m. ET! And check out our new Instagram account!
More SportsNation: Facebook | @MichelleDBeadle | @SportsNation | SportsNation.com
Buzzmaster
(11:26 AM)
Beadle will be joining us shortly! She's just getting properly caffeinated for the chat.
Michelle Beadle
(11:37 AM)
Good morning, chickadees! I wanted to say another word, but they wouldn't let me.
Kevin Hart (LA)
Welcome BAck Beadle!!!! What took you so long to come back?
Michelle Beadle
(11:38 AM)
I was held up in customs.
Todd Burke (Columbus, OH)
Did the Mighty Leroy Jenkins join you to LA? If so how does like the beaches?
Michelle Beadle
(11:38 AM)
He's not here yet. He will be joining me in April and he will have his bikini bod ready.
Joe (Nashville)
We sure missed you, Michelle! First question of the day: are you still hot?
Michelle Beadle
(11:39 AM)
No. Not at all.
Chris (LA)
Did it hurt when you missed the mark when they shot you out of a cannon?
Michelle Beadle
(11:39 AM)
It did, but we still have a lawsuit pending, so I can't get into it too much.
Gabriel (San Antonio) [via mobile]
Why did you leave SN? It's not the same without you!
Michelle Beadle
(11:40 AM)
Umm I never left. What are you talking about?
Austin (Houston, Texas) [via mobile]
What made you want to comeback to SportsNation?
Michelle Beadle
(11:41 AM)
Seriously I just really missed fun. Having fun and being ridiculous.
Colin (Chicago)
Can I have 5 bucks? I'll get you back.
Michelle Beadle
(11:42 AM)
I only have $3.48
Mike (Nj)
Undertaker or Brock? Or does cm punk interfere with the match? Let the storylines begin
Michelle Beadle
(11:43 AM)
I have a hard time seeing Undertaker losing. The streak lives! I'm not convinced CM Punk is coming back.
Zach (Around town)
What did you learn most from your time with NBC?
Michelle Beadle
(11:44 AM)
Where to get the good soup at 30 Rock.
Andrew (the Moon)
What is your favorite thing to enjoy from one of ESPN's Vending Machines?
Michelle Beadle
(11:45 AM)
Great question, Andrew. First off, big fan of the moon. Funyons and Red Vines.
Italian Bob (San Antonio)
Who is the sexiest in what order?? Colin, Max or Marcellus??
Michelle Beadle
(11:46 AM)
Dad? Inappropriate question.
Joe (Green) [via mobile]
Will you go on a date with me if the Cavs make the playoffs?
Michelle Beadle
(11:47 AM)
Yup, and I will pay for it and it will include a helicopter and lobster.
Eric (Bloomington, IN)
Michelle, will you revive your role as the pirate and bring back the "Walk The Plank" game?
Michelle Beadle
(11:48 AM)
I very much would like to. It's kind of the only reason I am back.
Rufus (The Heartland)
Did you watch Raw last night?
Michelle Beadle
(11:50 AM)
Saw most of it, Rufus. I'll ask the questions around here. What did you think?
Jack Washington, D.C. [via mobile]
Just wanted to let you know that Jordan punching story is probably the greatest thing I've ever heard thank you for that
Michelle Beadle
(11:51 AM)
I had never heard of it either!
Karan (Funky Town) [via mobile]
Beadle. Hi. What's your favorite movie?
Michelle Beadle
(11:52 AM)
Ladybugs. RIP Rodney Dangerfield. Jonathan Brandis oooof.
Chester Copperpot (Wa)
Heeeeey yooooooou baaaaaack!
Kris (LA)
Who's your favorite Workaholic?
Michelle Beadle
(11:54 AM)
Anders. He's adorbs AND funny. So that like makes him Suuuuuups Adorbs. It's math.
Steve Kerr (TNT)
Michelle, why did you have to reopen up old wounds? My eye hasn't stopped hurting since they show aired and Barkley and Reggie won't leave me alone.
Keith H (Seattle)
Let's get to the real important stuff. Which do you prefer: French fries, onion rings or tater tots?
Michelle Beadle
(11:55 AM)
Tots ... no fries ... no all of them.
Lance (A beach in Florida)
Can we compare the star power in the WWE to the shortage of clowns? People just aren't choosing that career?
Michelle Beadle
(11:56 AM)
I've chosen to remain silent on the shortage of clowns in this great nation. But needless to say, it disturbs me greatly.
Shelton - Chicago, IL [via mobile]
As a Bulls fan I miss Marco Belinelli. Grade his performance so far in a Spurs uniform. Thx!
Michelle Beadle
(11:57 AM)
Io amo Marco Belinelli. Mi fa male quanto lo amo!
David (Tennessee)
Would you rather fight a horse-sized duck, or 100 duck-sized horses?
Michelle Beadle
(11:58 AM)
Good question Reddit. One horse-sized duck. Killing one creature no matter what it's size will always be easier than squaring off with 100. DUH
Roscoe P Coltraine (Hazard County)
Will you marry me?
Michelle Beadle
(11:59 AM)
Sure, be here in an hour.
Nate (KC)
Favorite athalete: Tim Duncan or the undertaker
Michelle Beadle
(12:01 PM)
Good one to close on. Both fundamentally sound. Multiple titles. Very long arms. Please don't make me choose.
Michelle Beadle
(12:04 PM)
I hate typing so I'm done. Also, the suits tell me I need to promote our new Instagram account. It's mostly my bathroom mirror selfies and ab shots of Max and Marcellus: http://instagram.com/sportsnation