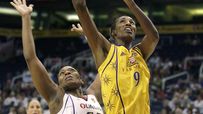 Leslie averaged 17.3 points and 9.1 rebounds in her 12-year career, all spent with the Sparks.
Welcome to SportsNation! On Tuesday, following the release of the NCAA women's basketball bracket, we'll chat with one of the greatest women's basketball players of all-time, Lisa Leslie.
Leslie retired from the WNBA's Los Angeles Sparks in 2009 as the league's career points and rebounds leader. She left as one of the most decorated players in league history, winning three MVPs, two WNBA titles and two WNBA Finals MVPs, in addition to four Olympic gold medals. In college, at USC, she was named the 1994 National Player of the Year.
This season Leslie serves on the Advisory Board for the Capital One Cup, an NCAA Division I award that honors the top men's and women's college programs in the country. Teams compete to earn points based on final standings and polls across 39 sports to determine the best in college athletics. The winners get the Capital One Cup trophy and $400,000 for student-athlete scholarships.
Send your questions now and join Leslie Tuesday at 2 p.m. ET!
More Special Guests: Previous chats | SportsNation
Buzzmaster
(2:01 PM)
Lisa is here!
Alan (Chicago)
How did you get involved in the Cup?
Lisa Leslie
(2:02 PM)
I got involved with Capital One because I really like that they're celebrating student athletes on and off the field. I like that they're able to win bragging rights for their team and their school. At the end of the day, it's about naming the best team and the best program. It's great from an athletic standpoint and a school standpoing.
Kelly (TX)
You've won numerous awards in your career...where do you keep them all?
Lisa Leslie
(2:03 PM)
Most of my large awards are here in my home. The smaller trophies are packed away in my garage.
Jason (CA)
What were you first thoughts when you saw the women's bracket come out last night?
Lisa Leslie
(2:04 PM)
The first thought is I wrote UConn all of the way through. The second one was, I was trying to find out from a standpoint of performance, if there would be any upsets. We all love the underdog.
Kelly (FL)
How closely do you still follow USC?
Lisa Leslie
(2:04 PM)
I am a Trojan for life. I follow them. In fact, when I think about USC, they are ranked 16 and hope to win this Capital One Cup. I am really rooting for the basketball team after winning the Pac-12 championship.
Alan (Chicago)
How many brackets do you fill out for the tournament?
Lisa Leslie
(2:05 PM)
All of them, both men's and women's brackets are completed. Check them out at BracketChallenge.NCAA.com.
John (Cleveland, OH)
Was there a shot that you thought was "the shot" of your career?
Lisa Leslie
(2:06 PM)
Hmmm. I think the day I scored 101 points. It would probably be all of those shots. That's the most baskets I've ever made in one day.
Henry (UConn)
What are the implications a win at the NCAA tournament will have on the race for the Capital One Cup?
Lisa Leslie
(2:08 PM)
The DI schools that win earn points based on their teams' national championships and top 10 finishes. The winners in both men's and women's programs win the Capital One Cup and $400,000 for scholarships. If you want to find out more information, go to: Facebook.com/CapitalOneCup.
Erika (Denver)
Is there anything you'd change about the women's game?
Lisa Leslie
(2:08 PM)
No, I really love the progress that the women's game has made from a rules standpoint. I love the pace of the game. I like the style of basketball. Maybe give them 6 fouls?
Katie (Florida)
What teams are at the top of the Capital One Cup women's standings?
Lisa Leslie
(2:10 PM)
Penn State is No. 1. If the PSU women's team wins in basketball, that would make it tough for everyone else. Florida State is No. 1 for the men right now. And Michigan State is behind them.
Lisa Leslie
(2:10 PM)
It really depends on who wins the tournament.
Rich (New Jersey)
Hi Lisa, You made four consecutive Olympic appearances, earned four gold medalsa and only one of two players to do that, what special memories do you have from the Olympics?
Lisa Leslie
(2:11 PM)
I think representing our country and wearing red, white and blue is truly one of the best things of my career. I loved wearing a gold around my neck and listening to the national anthem.
Jordan (South Florida)
Predictions for both tourneys?
Lisa Leslie
(2:13 PM)
I have UConn winning the women's tournament and Florida winning the men's tournament. You can see my full brackets at BracketChallenge.NCAA.com.
Lisa Leslie
(2:13 PM)
I based all my picks on the Team Performance Index (TPI).
Neil (LA)
What have you spent the most time on since you retired a few years ago?
Lisa Leslie
(2:14 PM)
Working. Public speaking has probably been the No. 1 thing that I do. I also do broadcasting from the Lakers, Clippers and Sparks. My biggest job is being a wife and mom.
Callan (San Diego) [via mobile]
How nice is it to know that Magic Johnson is now the owner of the Sparks, and that the franchise's future is in good hands following the turmoil during the offseason?
Lisa Leslie
(2:14 PM)
Having Magic has been a great addition to an already legendary franchise. It's one of the first. We are very thankful to be in business with Magic and his group.
Lenny (Boston)
how well is USC doing in the Capital One Cup?
Lisa Leslie
(2:15 PM)
USC is ranked No. 16 on the women's side. We are 14th on the men's side. We're not out of it, but we could definitely use some more championships to get some points. One or two national titles wouldn't hurt.
Lisa Leslie
(2:17 PM)
Thanks to the fans for following me and this chat. You can find out more about the Capital One Cup on Facebook.com/CapitalOneCup or Twitter: @CapitalOneCup. And you can follow me on Twitter: @LisaLeslie.