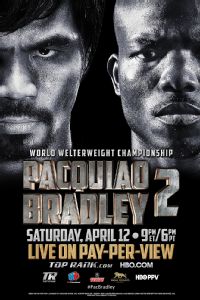 Welcome to SportsNation! On Tuesday, we're going inside the boxing ring when Manny Pacquiao stops by to chat about his title fight this weekend.
Pacquiao (55-5-2, 38 KO) takes on Timothy Bradley Jr. (31-0, 12 KO) for Bradley's WBO welterweight belt. The fight will be live from the MGM Grand in Las Vegas Saturday at 9 p.m. ET/6 p.m. PT on HBO PPV.
Pacquiao faces Bradley in a rematch of their June 2012 fight that Bradley won in a split decision, a result ESPN.com's Dan Rafael called "one of the worst" in boxing history. Pacquiao is No. 5 in ESPN.com's Pound-for-Pound rankings.
Send your questions now and join Pacquiao Tuesday at 3 p.m. ET!
More Boxing: Bradley chat: Wed. noon ET | Previous chats
Buzzmaster
(3:05 PM)
Manny is here!
Brian (Gilbert, AZ)
Manny, what would you like to accomplish in your boxing career before it is over?
Manny Pacquiao
(3:06 PM)
I want to make the fans happy. To continue to give them great fights and keep my name and my legacy continuing.
Las Vegas NV [via mobile]
How would you rate this training camp from the past training camps you had in the past?
Manny Pacquiao
(3:06 PM)
This was a very good camp. It's been very fun and relaxed.
Nick Mejia (Montreal)
Do you think Bradley will be more willing to go toe-to-toe this fight or will he attempt to run again as he did in the previous fight?
Manny Pacquiao
(3:07 PM)
We worked on different gameplans in training camp. But we believe it will be similar to the first fight.
Carm Joseph (Arlingto,TX)
Hey Manny, really big fan and know you'll fight great this coming Saturday. My question is, When you have Bradley hurt will you try to finish him or take a cautious approach?
Manny Pacquiao
(3:08 PM)
It depends on the situation. I don't expect a knockout but if it's there, I'll take it. I'm preparing for a long fight.
Koichi (NYC)
How does it feel to be fighting and training in the U.S. again after nearly a year and a half.
Manny Pacquiao
(3:08 PM)
I'm happy in the U.S. I have a lot of fun here.
chris , mission viejo [via mobile]
Manny, when bradley hit you in the first fight, did you feel any of those punches?
Manny Pacquiao
(3:09 PM)
It was a tough fight. I took some shots, but I don't really remember his punches. It was not an easy fight for me.
Carl Llamoso (Hillside, New Jersey)
Did you have any issues with your calf muscles on your training camp this time around? Cramps?
Manny Pacquiao
(3:10 PM)
I feel great. My trainer has helped me. I am ready.
Ricardo, Brooklyn, New York [via mobile]
What do you feel you have to do this around to defeat bradley convincingly ?
Manny Pacquiao
(3:10 PM)
I just have to dominate every round again, like the first fight. If you dominate the round, you dominate the fight.
Manny Pacquiao
(3:10 PM)
Be more aggressive.
Davis (Boston)
If you win, do you think there is a chance for Pacquiao-Bradley 3?
Manny Pacquiao
(3:12 PM)
I don't know. Bob Arum will pick the best fights for me. But I need to get through this fight first.
Jared Weisfelner Los Angeles, CA [via mobile]
Is this the most important fight of your career? If so, why?
Manny Pacquiao
(3:13 PM)
Yes. This one is the most important. I'm trying to prove that I'm still the best fighter in the world.
Ed (San Antonio) [via mobile]
Manny, what's your mental approach to this fight, now that dynamics are a bit different and Bradley has proven he can go to war if he needs to.
Manny Pacquiao
(3:13 PM)
I've just focused on my gameplan in training camp. Pray to God.
Andrew Z. (Struthers, OH)
What's the most important lesson you've learned in your career?
Manny Pacquiao
(3:14 PM)
To be able to adapt and change. I've changed trainers. I do things different at the gym sometimes, that I'm not used to. Try different methods and techniques. Work on the right hand.
Koichi (NYC)
Is there any fighter past or present that you would consider a dream fight (besides Mayweather), i.e. Aaron Pryor, Roberto Duran, etc.
Manny Pacquiao
(3:15 PM)
Yes, Sugar Ray Leonard, Julio Cesar Chavez. Those guys would have been fun.
Christian West Palm Beach [via mobile]
Do you believe you still have knockout power ?
Manny Pacquiao
(3:16 PM)
Of course I feel like my power is still there. I've just been fighting bigger guys. But my power is still there.
Rudy (Miami) [via mobile]
Manny you are my favorite boxer. I appreciate your modesty and humility. Do you feel tim Bradley is a top 5 boxer pound for pound?
Manny Pacquiao
(3:16 PM)
Yeah, he's one of the best out there. He's strong. Very fast. He's a good boxer. A good fighter.
Jason (Philly)
what's the worst part about training camp?
Manny Pacquiao
(3:17 PM)
Being away from home.
Fern Castro (Miami, FL )
What does your diet consist of during training camp?
Manny Pacquiao
(3:18 PM)
I eat a lot of steak. Beef. Chicken. Soup.
Vinnie (NYC)
Do you watch yourself on HBO 24/7?
Manny Pacquiao
(3:20 PM)
We watched the show. I thought it was good. It gets me excited for Saturday.
Manny Pacquiao
(3:20 PM)
Thank you for your support. I'm excited for Saturday. I invite you to come and watch. I promise it will be exciting.